tiruppAvai
The word tiruppAvai always brings a fresh breeze of positive energy.  Full of wellness, the poem is embedded with literary, cultural, scientific, esoteric and devotional excellence. We are also blessed with a vast library of elaborate commentaries by many scholars in many languages and it is still counting. Let us together experience our divine ANDAL's journey of gyAna, bhakti and vairAgya to attain KrishNa.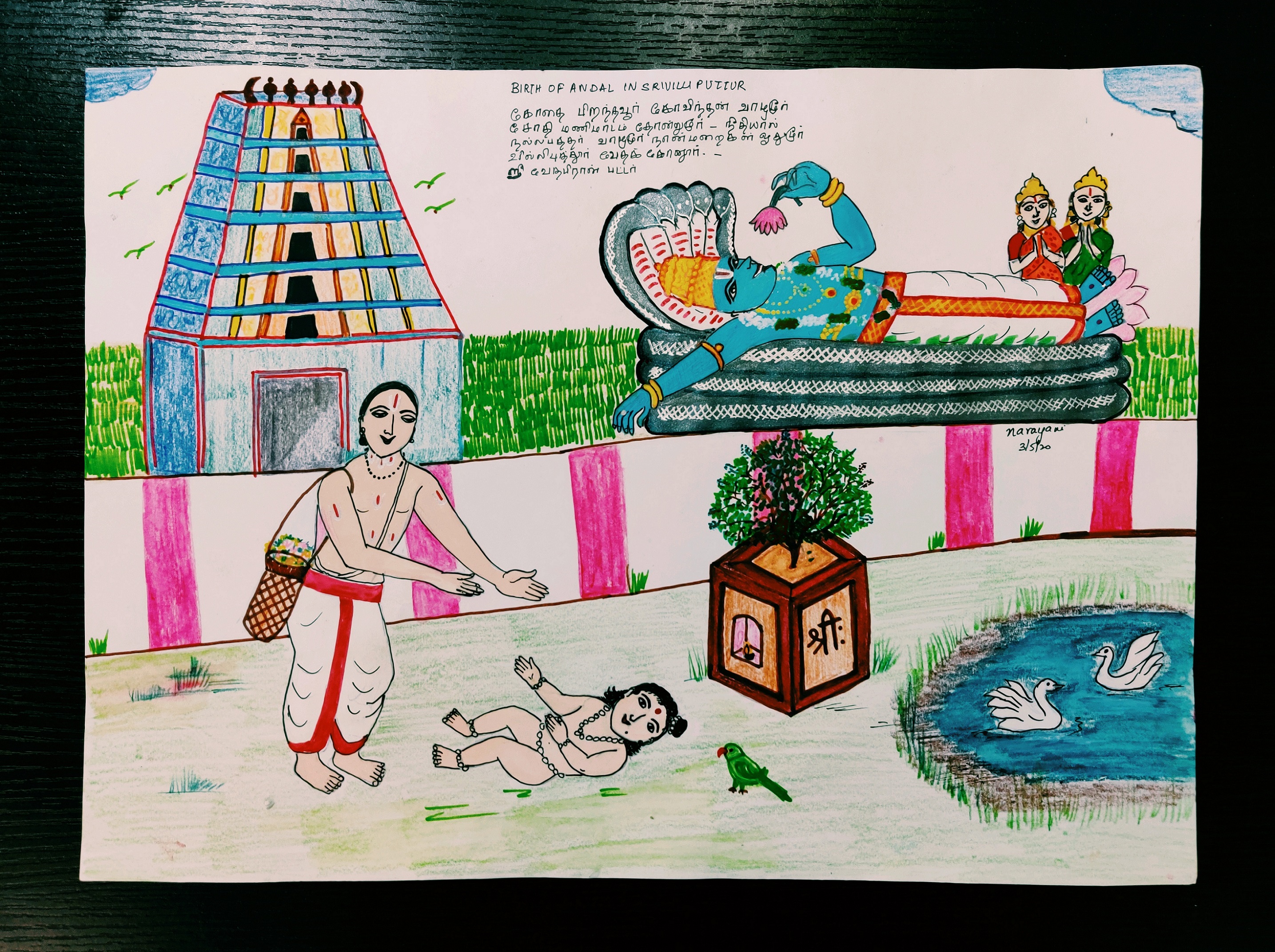 ANDAL CHARITRAM 
"ANDAL" the only female Azhwar regarded as an incarnation of BHU-DEVI was found by Vishnuchittah in his flower garden under a Tulasi Plant. She was born in SRIVILLIPUTHUR in the Tamil month of ADI under the constellation Pooram and was named "KODAI ". 
Vishnuchittah had the responsibility of delivering flower garlands to the presiding Deity of Srivilliputtur Vadabadrasayee. KODAI made these garlands and eventually started adorning them on her and after admiring it used to send it to the Lord. One day she was caught red-handed by her father. He became extremely upset and told her not to repeat it again. The very same night it is believed that Lord Vishnu appeared to Vishnuchittah in his dreams and asked, why he discarded Kodhai's garland instead of offering it to HIM. Vishnuchittah was moved and understood the Divine love of his daughter. From then on she obtained the name "ANDAL"(the girl who ruled over the Lord). She is also known by a phrase "SOODI KODUTHA SUDARKODI." 
As she grew to a marriageable age, she expressed her firm decision to marry only Lord Ranganathar. The Lord too informed Vishnuchittah in his dream ,that HE will get married to ANDAL at SRIRANGAM. The Lord then called for her. PeriyAzhwar took her to Srirangam and ANDAL disappeared into him.  Such was the intense love of ANDAL for Lord VishNu.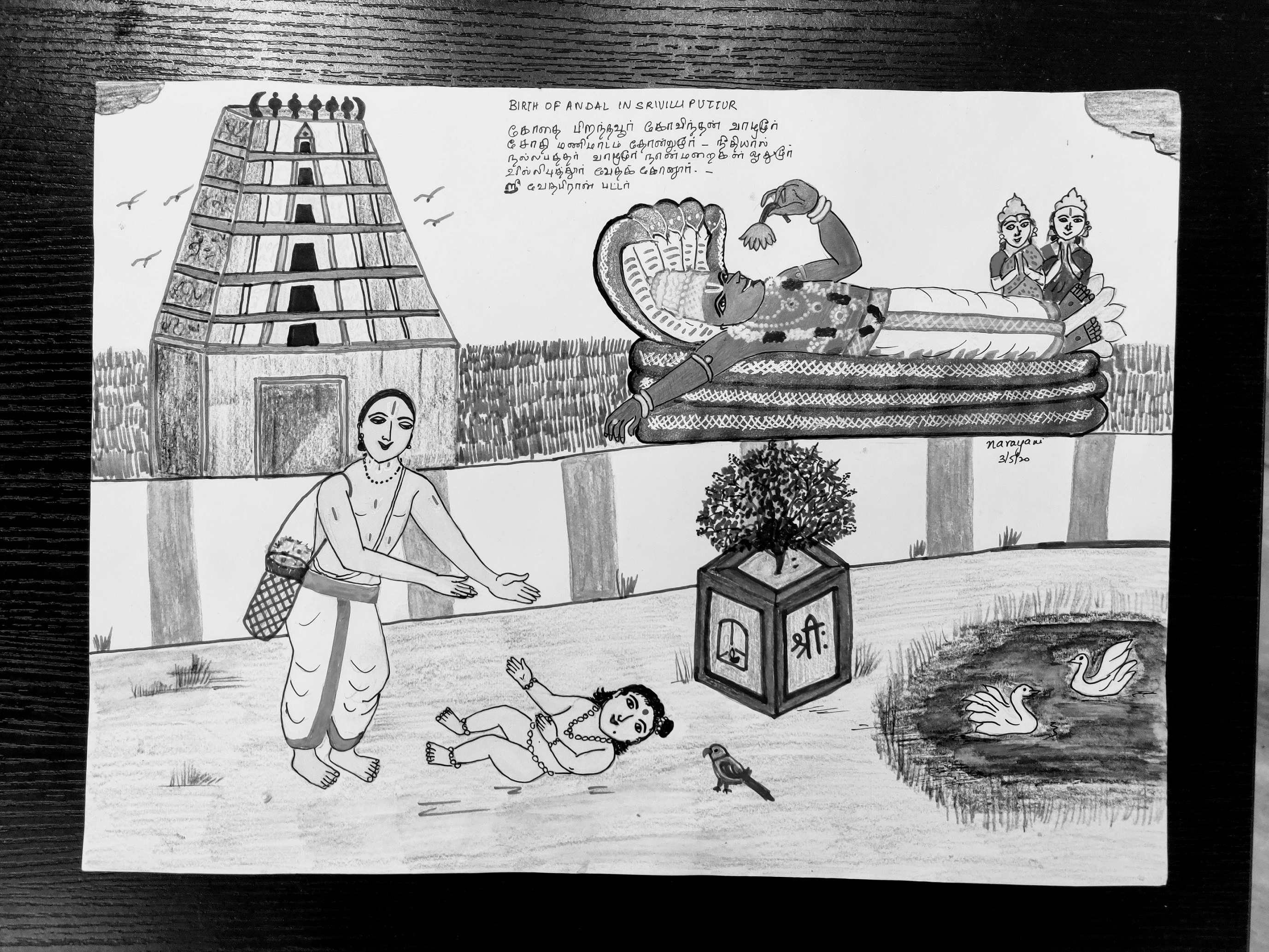 TIRUPPAVAI TANIYANS 
*Shri parAsara Bhattar's taniyan* 
நீளாதுங்க ஸ்தநகிரி தடீஸுப்த முத்போத்ய க்ருஷ்ணம் 
பாரார்த்யம் ஸ்வம் ஸ்ருதி ஸதஸிரஸ்ஸித்த மத்யாபயந்தீ 
ஸ்வோச்சிஷ்டாயாம் ஸ்ரஜி நிகளிதம் யா பலாத்க்ருத்ய புங்க்தே 
கோதாதஸ்யை நம இதமிதம் பூய ஏவாஸ்துபூய 
neeLaa tunga sthana giri thaTI supta mudhbOdhya krishnam 
paaraarthyam sthvam sruti sada siras siddham adhyaa bhayanthee| 
svOchchishaTaayaam sraji nigaLitam yaabalaathkruthya bhungtE 
gOdaa thasyay nama idamidham bhooya Evaastu bhooya: || 
May I offer my obeisance again and again to Goddess ANDAL called GOdhA who awakened Lord KrishNA resting with NEELA alias Nappinnai PirATTi, the embodimentt of gyAna and vairAgya. GOdA explained to Lord KrishNa her dependence on the Parabrahman as established in VedAs and Upanishads; and how she attained Him after binding Him with flower-wreaths that were already worn by her.  
*Shri uyyakkoNDAr's taniyan*. 
அன்ன வயற்புதுவை ஆண்டாள் அரங்கற்குப்   
பன்னு திருப்பாவைப் பல்பதியம்– இன்னிசையால்  
பாடிக் கொடுத்தாள் நற்பாமாலை  பூமாலை   
சூடிக் கொடுத்தாளைச் சொல்லு    
anna vayaRpuduvai ANDAL arangaRkup 
pannu  tiruppAvaip  palpadiyam innisaiyAl 
pADik  koDuttAL  naRpAmAlai pUmAlai 
chUDik  koDuttALai  chollu 
ANDAL, who hails from Puduvai (SrivilliputtUr), the land where swans wander, composed the tiruppAvai, a lovely poetic garland of many verses in sweet music in praise of Lord RanganAtha. Let us extol her who wore the flower garlands before they were offered to the Lord. 
சூடிக் கொடுத்த சுடர்க்கொடியே! தொல்பாவை, 
பாடி யருளவல்ல பல்வளையாய்,-நாடிநீ 
வேங்கடவற் கென்னை விதி என்ற இம்மாற்றம் 
நாங்கடவா வண்ணமே நல்கு 
 sUDik koDuththa suDarkkoDiyE tholpAvai 
 pADi yaruLavalla palvaLaiyAy–nADinee 
 vEnkaDavaR kennai vidhi enRa immAtram 
 nAngaDavA vaNNamE nalgu 
 Oh,  the one who gave flower garlands to the Lord after wearing them yourself! You gave us tiruppAvai that explains the austerity observed by young maidens.  You prayed with austerity to bind yourself with Lord VenkaTEshwara. Please lead us on the same path to reach You and EmperumAn.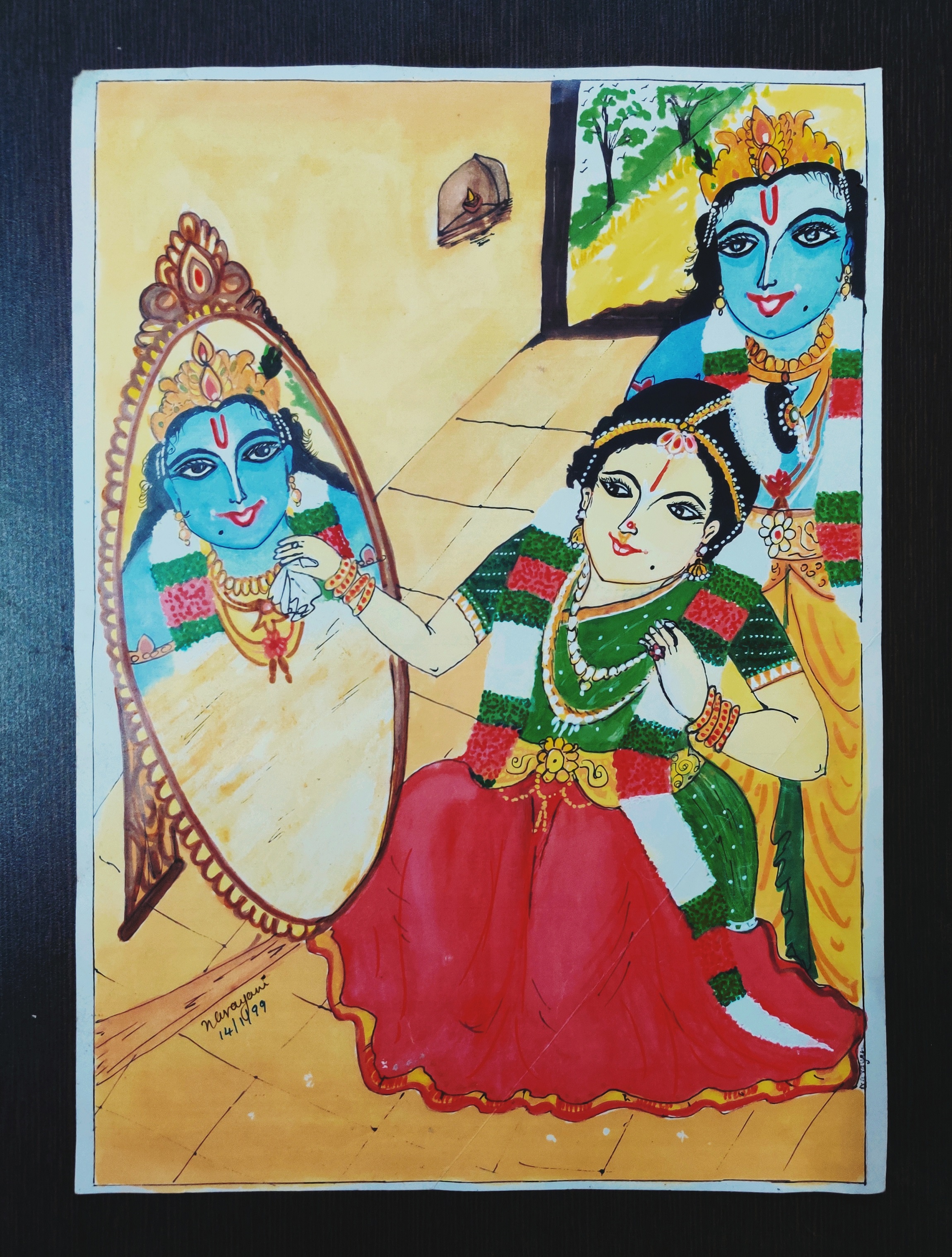 TIRUPPAVAI COMMENTARY
ANDAL assumes herself to be the cowherdess of  'AyarpAdi', awakens her peers to follow a certain discipline in view of attaining everlasting happiness and service to the Lord. Eventually selecting the month of "MARGAZHI" and as a monthlong process she sang 30 pAsurams (one for each day) for the "PAVAI NONBU", called "TIRUPPAVAI".  Each pAsuram ends with the special phrase "ELOr EmpAvAi", meaning Oh, my dear friends which is the speciality of tiruppAvai. 
TIRUPPAVAI 1 – MARGAZHI THINGAL.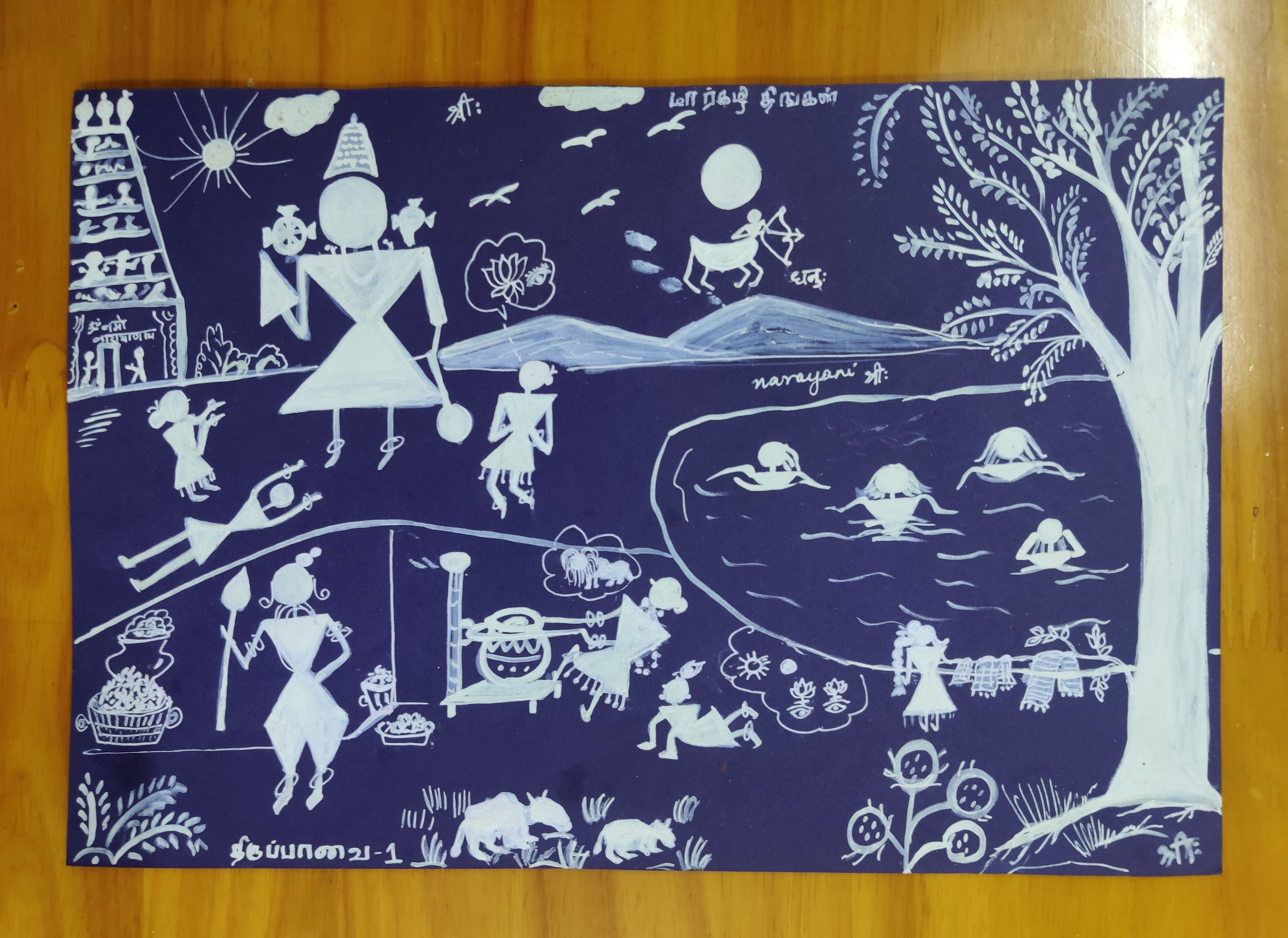 The First PAsuram is the introduction, where she invites all her companions for this PAvai NOnbu. 
As it is the first full moon day of the month of "MARGAZHI", Oh! The prosperous young girls always adorned with ornaments of the rich and wealthy AayarpAdi, those who are desirous of taking bath, please come along. HE who is the son of NandhagOpan, who holds a sharp headed spear, HE who is the young Lion-cub of YashOdA with very beautiful eyes. He who has a dark cloud like complexion, Lotus like reddish eyes, and face that shines bright both like the Sun and Moon, This Lord NArAyanan is the only saviour who will give us the (Parai) fruit of this PAvai nOnbu. ELOr EmpAvAi, please come and join this nOnbu and be praised by the people of the world. 
SRIMAN NARAYANAN is the sole means of attaining His Feet. This is the underlying meaning of this PAsuram. HIS grace along can lead us to attain the fruit or the goal. 
TIRUPPAVAI 2 – VAIYATHU VAZHVIRGAL.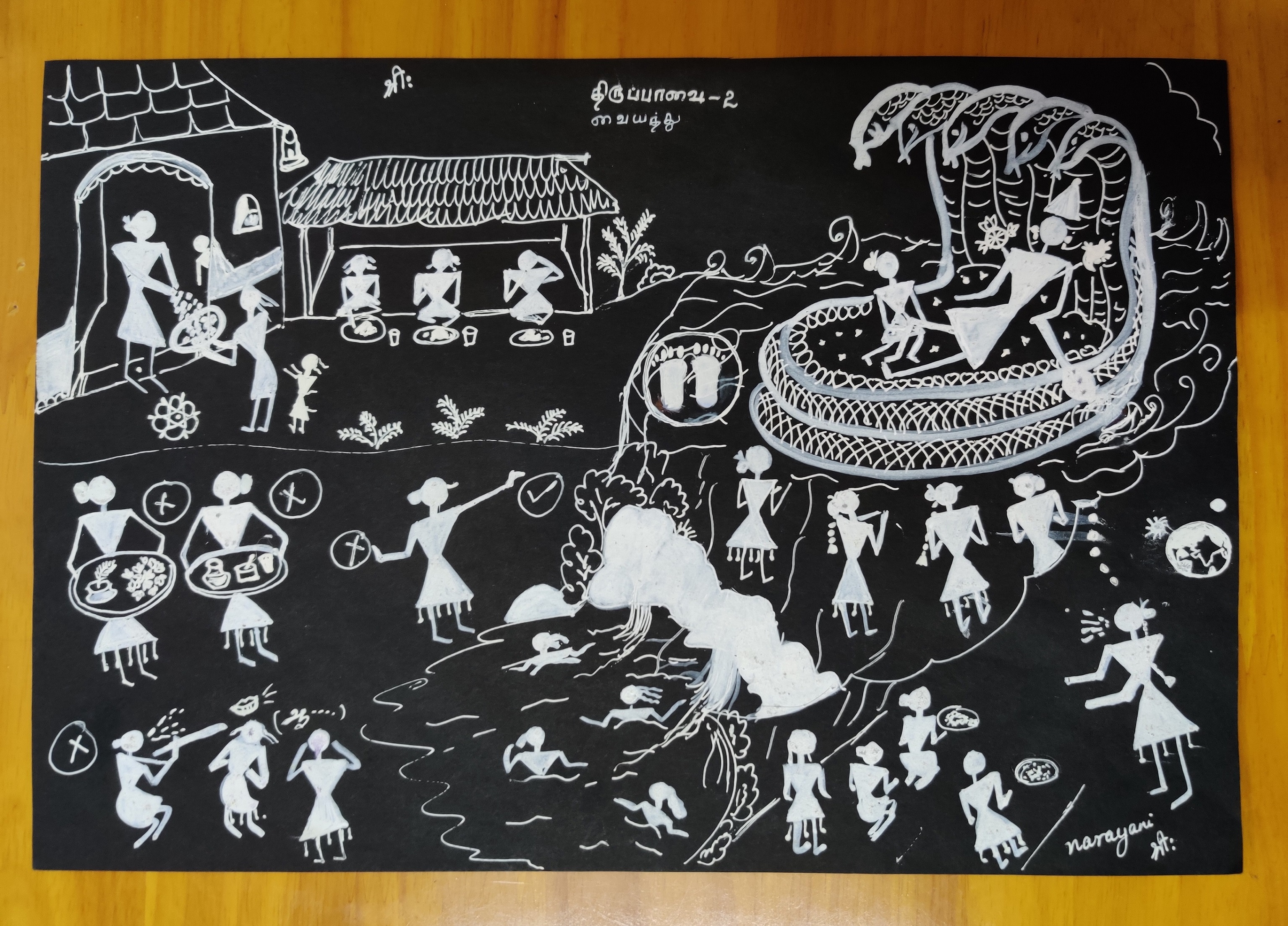 In this second PAsuram ANDAL describes about what is (to be done) KARTAVYAM and what is (to be discarded) TYAJYAM during the vratham. 
Oh! People who reside in this world! Realising the path of eternity listen to our austerities that we are to follow during our PAvai NOnbu. Singing the praise of the Lotus Feet of the Lord who rests on the milky ocean silently (Yoganidhrai), we will refrain from consuming Ghee and Milk, we will bathe at the set of the day. We shall not apply collyrium to our eyes and neither do we adorn our hair with flowers. We shall not do any unwanted and unprescribed duties, nor will we speak painful untruths. We shall give liberally to the needy and live a contented life. 
In short, this PAsuram lists, the qualities required to attain the desired goal. 
TIRUPPAVAI 3 – ONGI ULAGALANDA 
PASURAM 476 
ANDAL explains to her friends the fruits of the Shri vratam (pAvai nOmbu), if performed sincerely. 
Dear friends, If we sing the name of "UTTAMAN", the Lord TRIVIKRAMA who grew tall to measure the universe with His feet and take a holy bath, the whole earth is sure to get three sufficient rains per month. Nourished well by the rains, paddy crops will grow tall and fishes (kayal) will swim happily between them. The beetles/bees will sleep peacefully inside the petals of the kuvaLai flowers after drinking honey from their pollen.  The healthy cows with their full udders will give so much milk that the pots overflow.  In this way there will be inexhaustible prosperity on Earth. 
The  pAsuram with high thoughts urges us to sing the names of the Supreme Lord with dedication which will bestow undiminishing knowledge (gyAnam –  neengAda selvam). 
TIRUPPAVAI 4 – AZHI MAZHAI KANNA 
PASURAM 477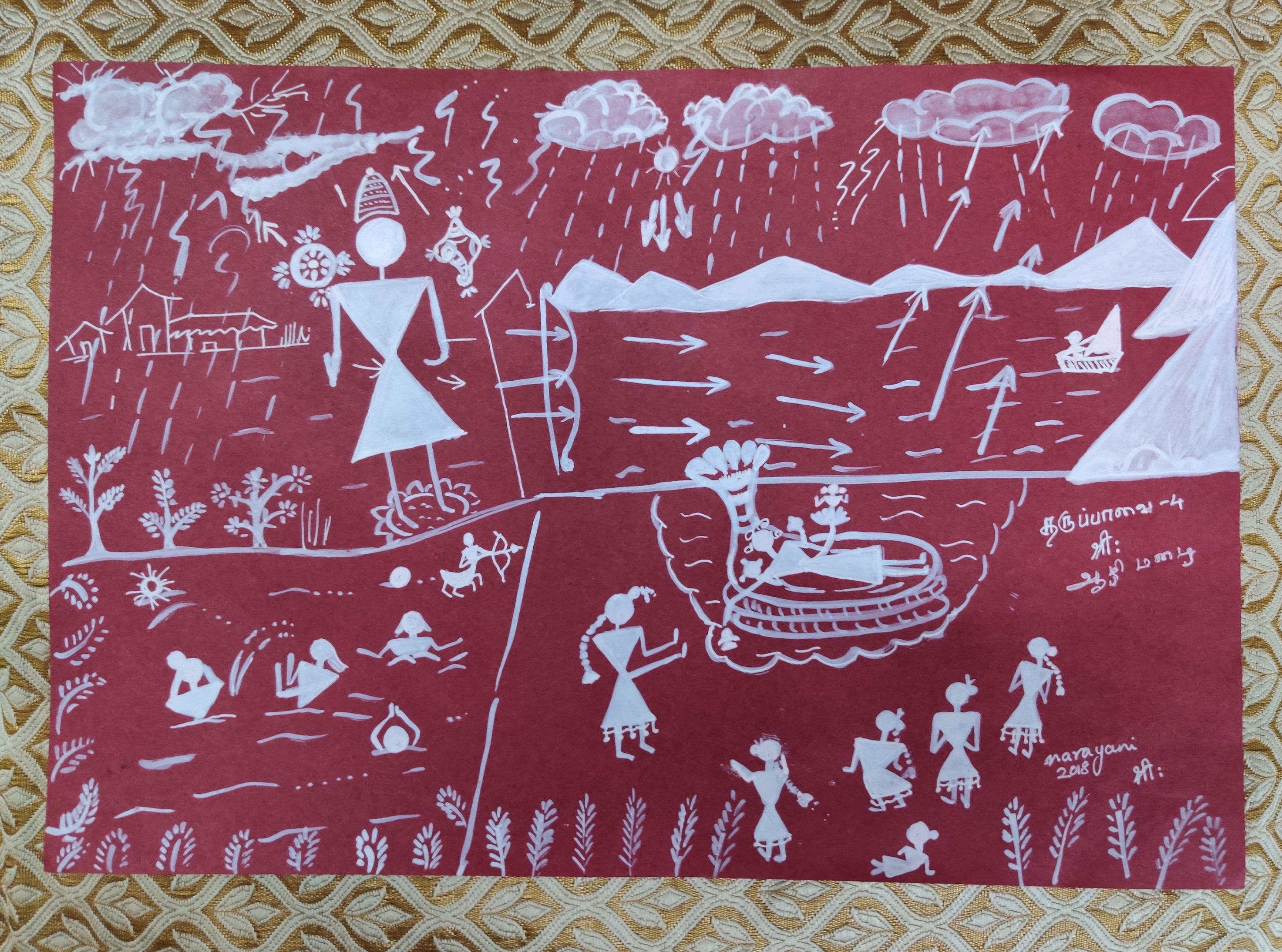 ANDAL now explains about the wonderful water cycle which causes rains, to her friends as they joyfully get ready for a holy bath. 
KannA!! The bestower of abundant rains capable of filling the deep oceans!! (Azhi mazhai kannA) will not hesitate to give us our bounties.  He penetrates the deep ocean (heat from the sun), lifts the heated water upto the sky (evaporation), takes the form of dark clouds (condensation) like that of His primordial form.(oozhi mudalvan). He, PadmanAbha then causes lightening that shines like His chakra and thunder that resonates like His conch.  His shArngams (arrows) pierce and hit the rain ladden clouds and He showers rains for the prosperity of the Earth. (precipitation). Dear friends, In this abundance, let us enjoy our holy bath. 
ANDAL emphasises on thanking Lord PadmanAbha holding weapons and meditating on Him as the primordial cause of everything. (jagat kAranan). 
TIRUPPAVAI  5 – MAYANAI MANNU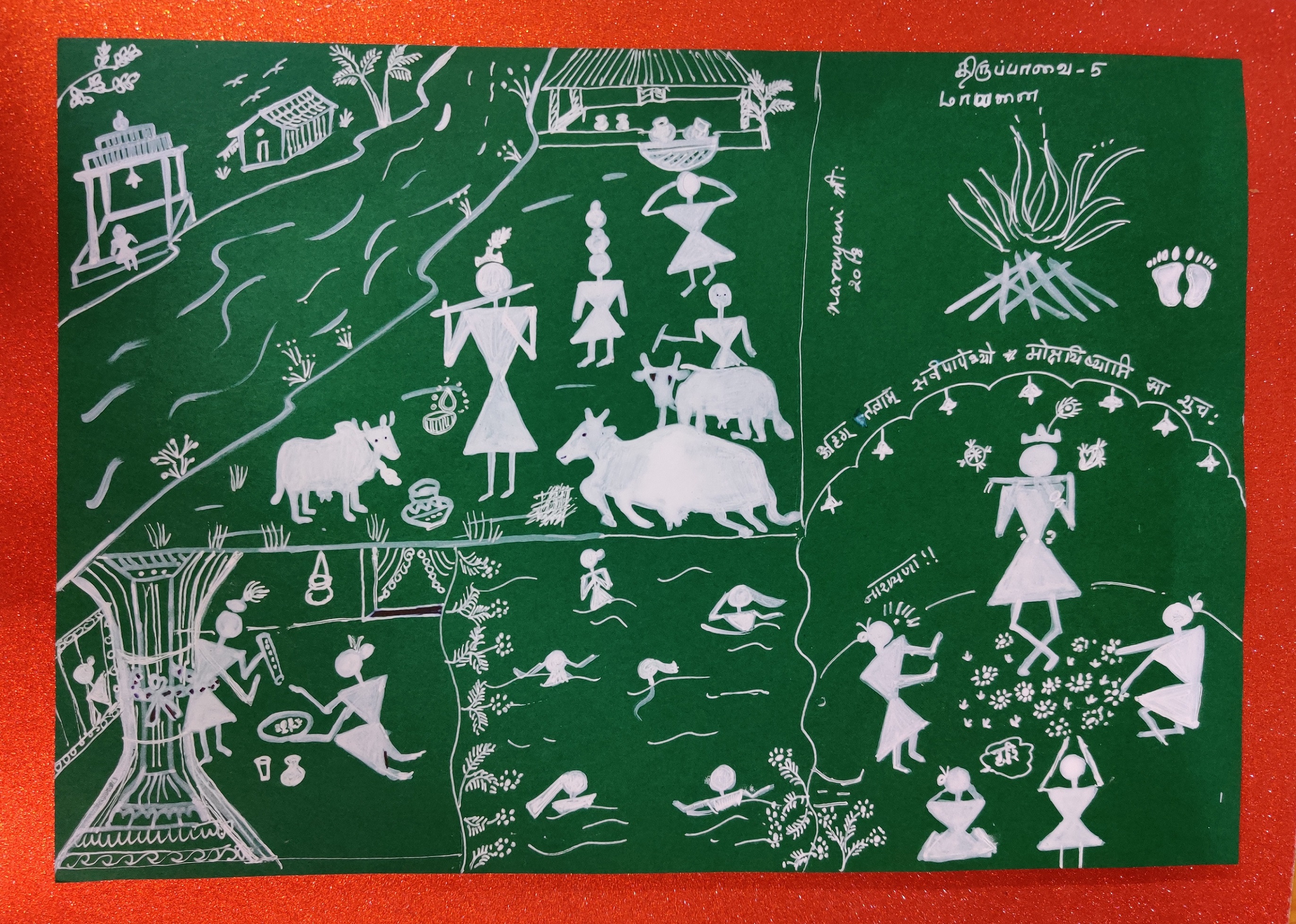 PASURAM 478
ANDAL continues to call her friends and tells them the kArmic  benefits of pAvai nonbu. 
He is mAyan, the One who is beyond human comprehension.  He is the celebrated child of Mathura. He resides on the banks of the pure and blemishless Yamuna. He is the bejeweled  divine lamp of the AyarpAdi clan. He is DhAmOdharan,  who gave sanctity to His mother's womb. 
If we, with our devotion,  worship Him with pure, fresh flowers (deed), sing His glory (speech), and constantly meditate upon Him (thought), all our sins — those we already committed,  the ones we are committing and those we may continue to commit,  will all be burnt to ashes, by His benevolence.  
ANDAL, in this pAsuram shows the benefit of single minded worship, that of deed, speech and thought  — kAya, vAk, manas. 
TIRUPPAVAI  6 – PULLUM SILAMBINAKAN
PASURAM 479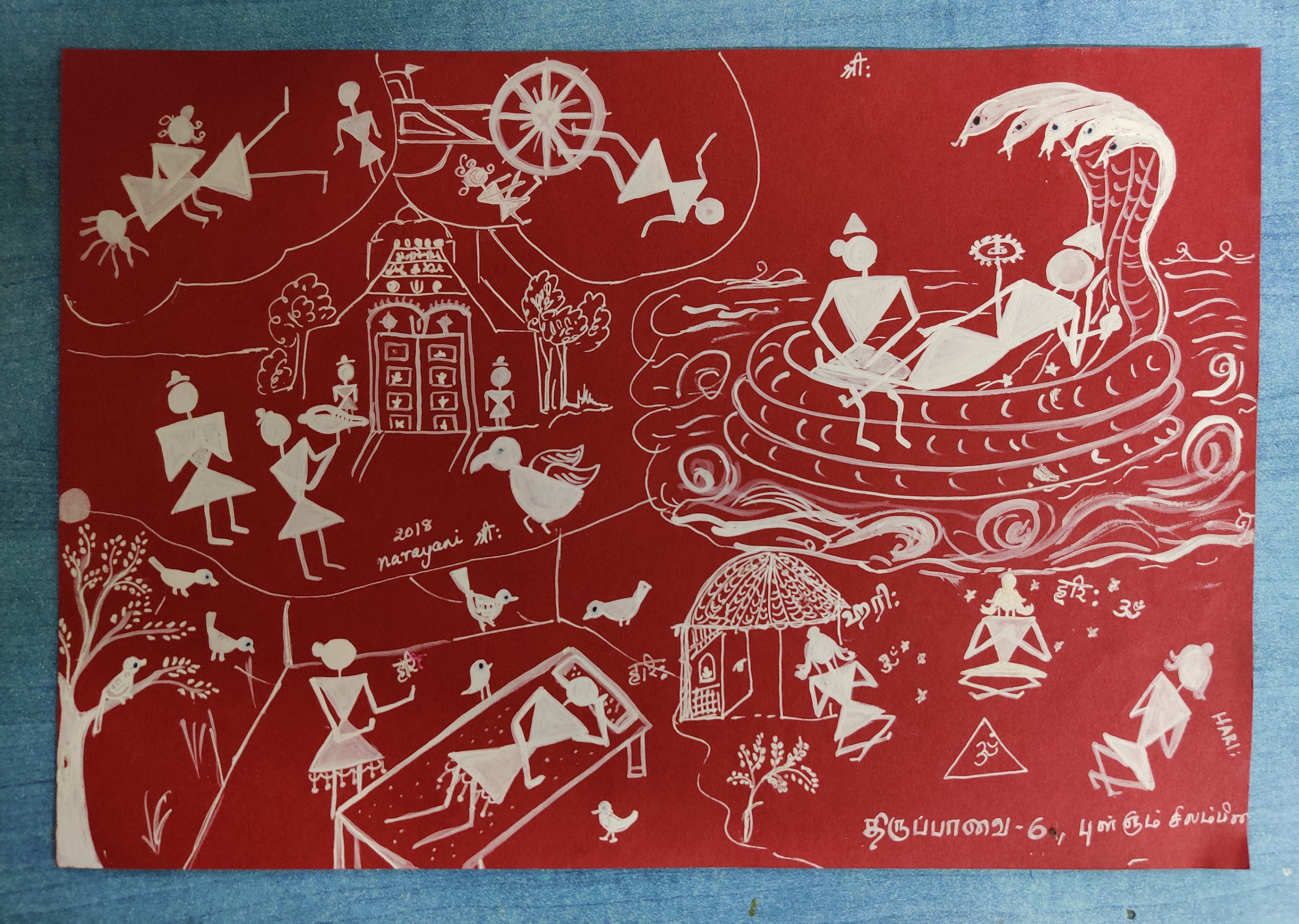 ANDAL awakens her friends to join her. 
Oh Child! Do wake up! Can't you hear the loud blowing of the white conch, from the temple of the Lord, who rides on the king of birds, the valiant Garuda? Join us to enjoy the experience of the Lord, who drank the poisoned milk from the bosom of the evil PoothanA. He killed SatakAsuran with his tiny feet, when he came disguised as a cart. He is the Primordial One, who reclines  on the white Adiseshan. Even the hermits and Yogis who treasure Him in their hearts have woken up, loudly chanting the name of Hari. 
ANDAL urges her friends to be inspired by the Yogis and chant His name which will be a soothing balm for the heart. 
TIRUPPAVAI 7 – KEESU KEESU
PASURAM 480
ANDAL goes to  wake  up the second friend who is immersed in  krishnAnubhavam . 
O Dear friend ! It's dawn. Can't you hear the  Bharadwaja ( AnaichAthan) birds chirping among themselves ? Are you possessed by some spirit  ( pEy peNNE)!  that you are still in deep sleep ?  The gopis of AyarpAdi have started churning the curds. Can't you hear the clanging of their bangles and  jewellery as they churn,  and also  the fragrance from their plaited hair ? O radiant girl !  We are loudly  praising the greatness of Lord nArAyanA and how HE took Krishna avatarA and  killed the demon* kEsi* !   You seem to hear us yet  pretend  to be  asleep ?  Please get up. WE wish to enjoy  HIS glories with  you,  as you are  our leader! 
The pasuram suggests that singing the glories of Lord nArAyanA ,( The Creator ) removes the tamO guna and increases our intention to do  bhakti ( satva guna).  
TIRUPPAVAI 8 – KEEZHVANAM VELLENDRU
PASURAM 481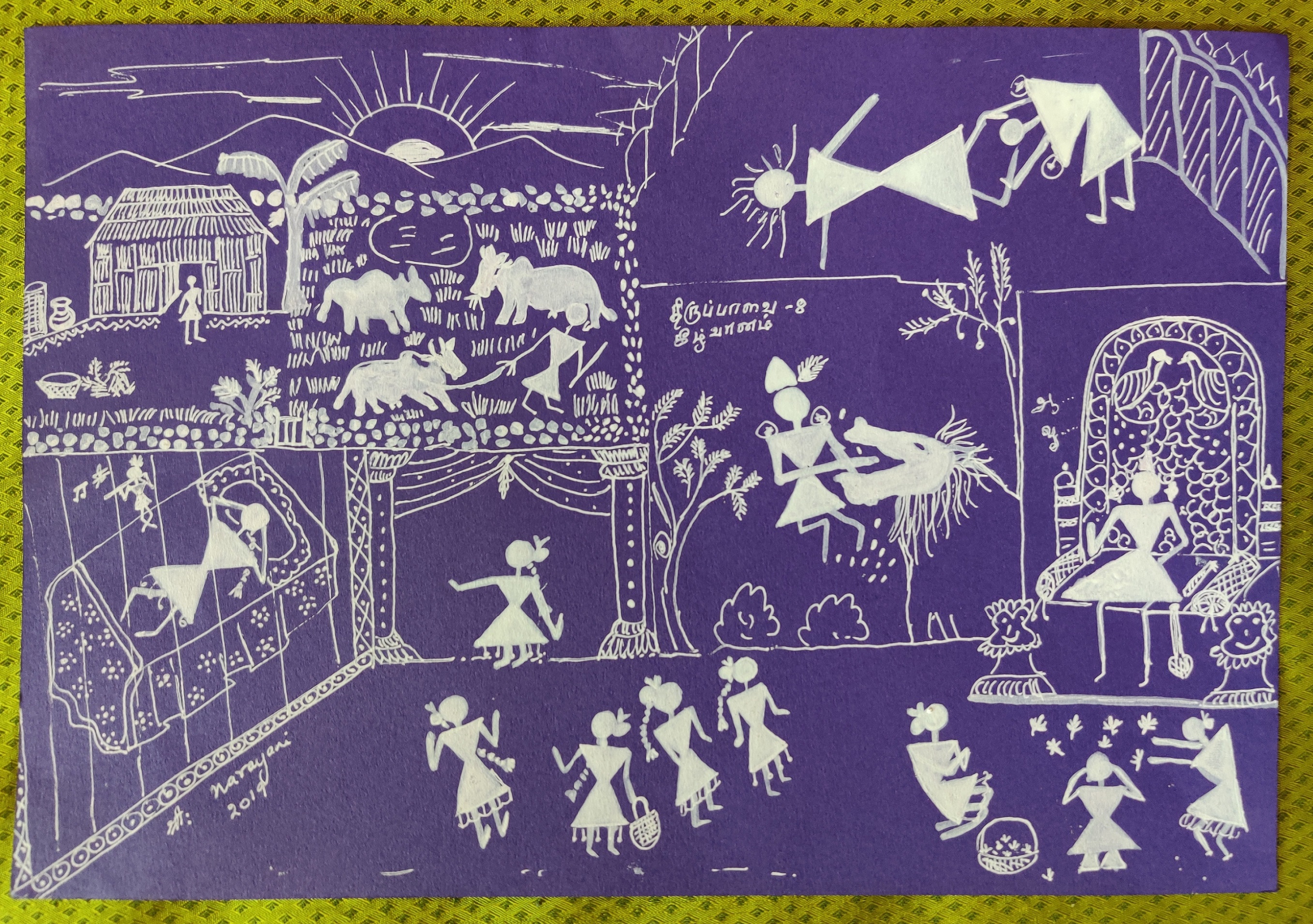 ANDAL  wakes up the third friend whose presence  is very important in the group as she is very close to Lord Krishna  and HE too adores her a lot .  
O inquisitive girl ! The eastern sky has lit up. The buffaloes are on their way to graze the early morning dewy grass* ( siruveeDu)* . We wish to take you along with us as you are the Lord's favourite.   We have told  some girls to  wait for us. O enthusiast One ! Please get up ! With you in the frontline  , let us sing the glories of  * dEvAdidEvan* ( ONE who has no ego) , who killed the rakshasa kEsi and the mighty  wrestlers. Hearing our pleadings,  HE will surely shower HIS mercy and compassion on us and give our gift* (paRai)* too.   
The  highlight of  this  pasuram  is that , with bhAgavatAs in the forefront ,  if we sing  HIS glories with bhakti , we will be blessed with HIS unending  grace and eternal bliss. 
TIRUPPAVAI  9 – toomaNi mADattu 
PASURAM 482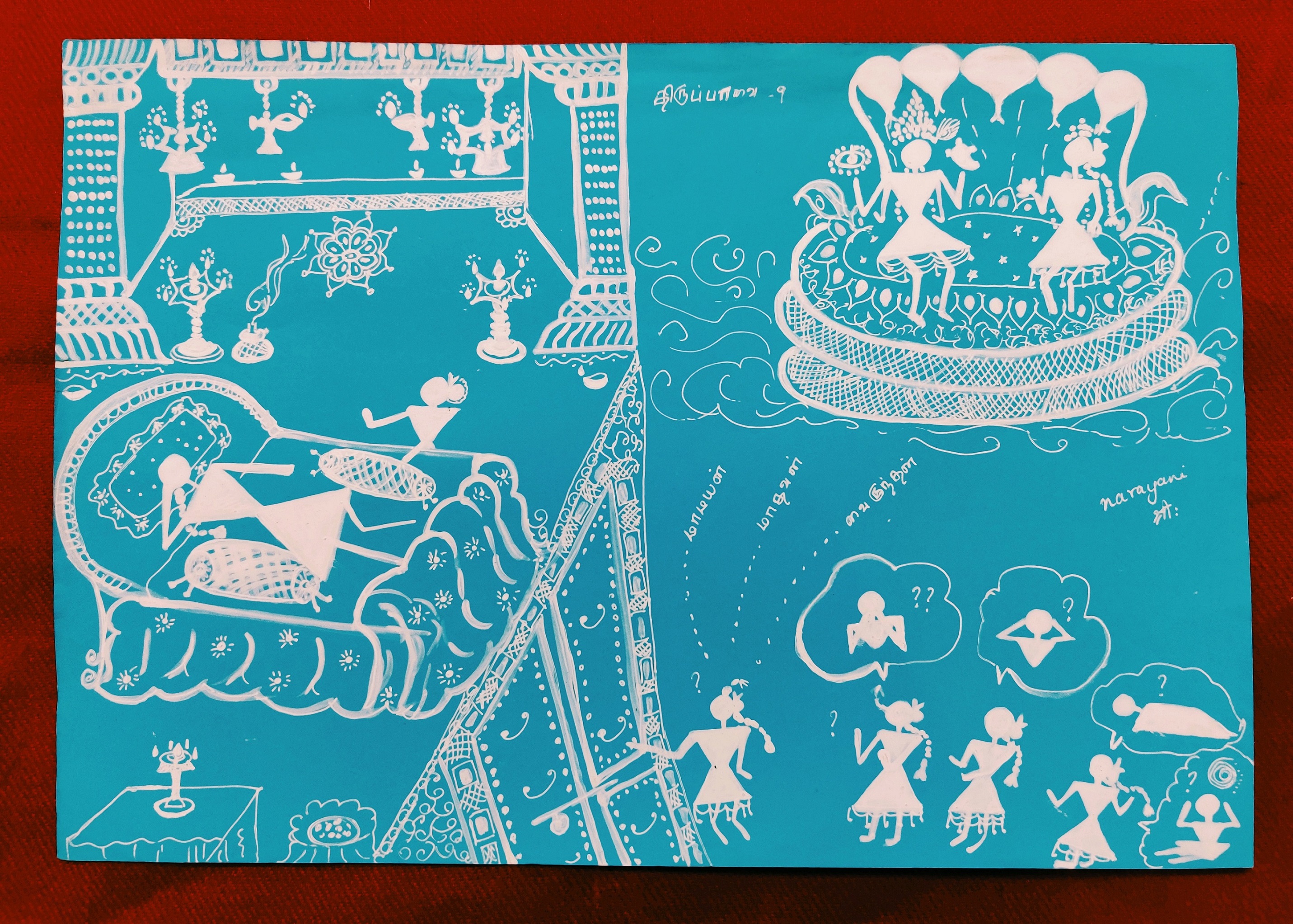 The young girls now awaken another friend who is still sleeping as if content with her bhakti. 
Oh Daughter of our Uncle sleeping nicely!!Open the latch of the gem-studded door.  Your gem studded hall is already filled with lit lamps and the fragrance of incense sticks. Dear Aunt ! Please wake her up. Is your daughter dumb, deaf, sick or has she been hypnotised into a long slumber?  We sing the names of "mA mAyan"- the great charmer, "mAdhavan"- the consort of mahALakshmi and "vaikuntan"- the Lord of SrivaikunTam hoping that she will get up on hearing our bhajans. 
This pAsuram is a reminder to the already devoted people –  not to be satisfied with their devotion but to awaken and join the mArgazhi nombu. 
TIRUPPAVAI 10 – NOTRU CHUVARKAM
PASURAM 483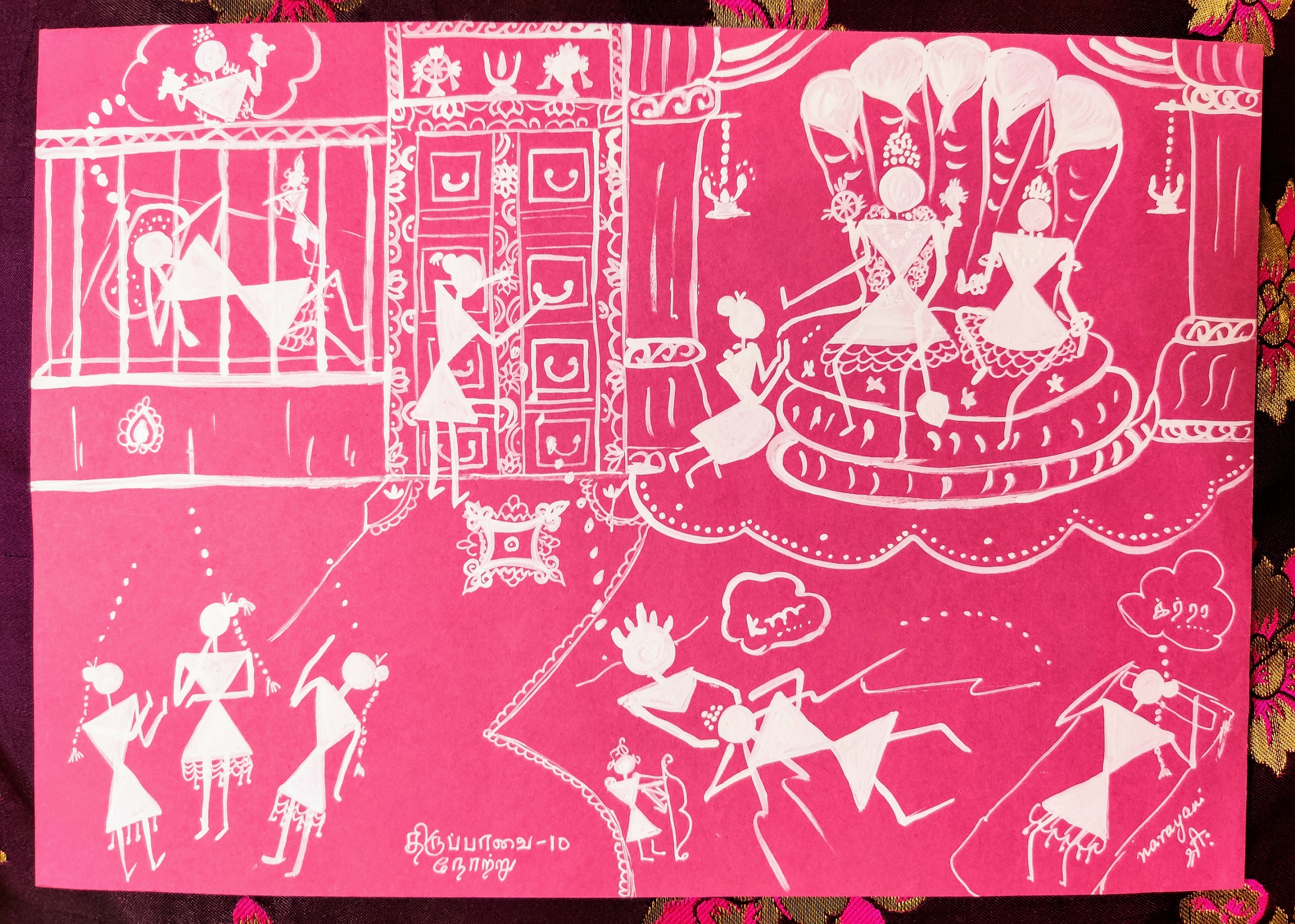 The girls now awaken a a friend who is sleeping as if she has alread entered swargam due to her previously completed vrata. 
Oh dear Lady! Have you already entered swargam after succesfully performing your vrata? Why are you not even replying? Wake up! Lord Narayana wearing fragrant tulasi garlands on his head (nAtra tuzhAy muDi) will bless us if we sing His glory. Did the KumbakaraNa who once fell into the death trap laid by Lord Rama, gift you his deep sleep. Oh my dear gem (arungalamE). Don't get captivated by this sleep! Wake up! Come steadily and open the door dear! 
Bhagavat anubhavam is not limited to one day. ANDAL urges even the accomplished bhagavatas to continue their penance to reach LORD NARAYANA.
TIRUPPAVAI 11 – KATRU KARAVAI
PASURAM 484
ANDAL goes to wake up an extraordinary beautiful girl (porkodi) of a distinguished and wealthy lineage in this pAsuram.
Oh, the unblemished golden jewel of the cowherds, who have milked at a stretch many milch cows and are capable of vanquishing their enemies. Oh, beautiful girl who resembles a peacock (punamayile) and has a hip like a snake's hood (putraravalgul), the one dearest to Krishna please get up and come. All your friends in the surrounding have gathered in your yard and are singing the praise of the dark black cloud like skinned Lord. Oh! rich girl! what is the use of you sleeping motionless and with no response?
The underlying idea of this song is that, having a rich wealth of knowledge blessed by an AchAryan, why do you sleep in fear? Sing Bhagavan nAmas and be engaged in the Ananda anubhavam.
TIRUPPAVAI 12 – KANAITTILAM
PASURAM 485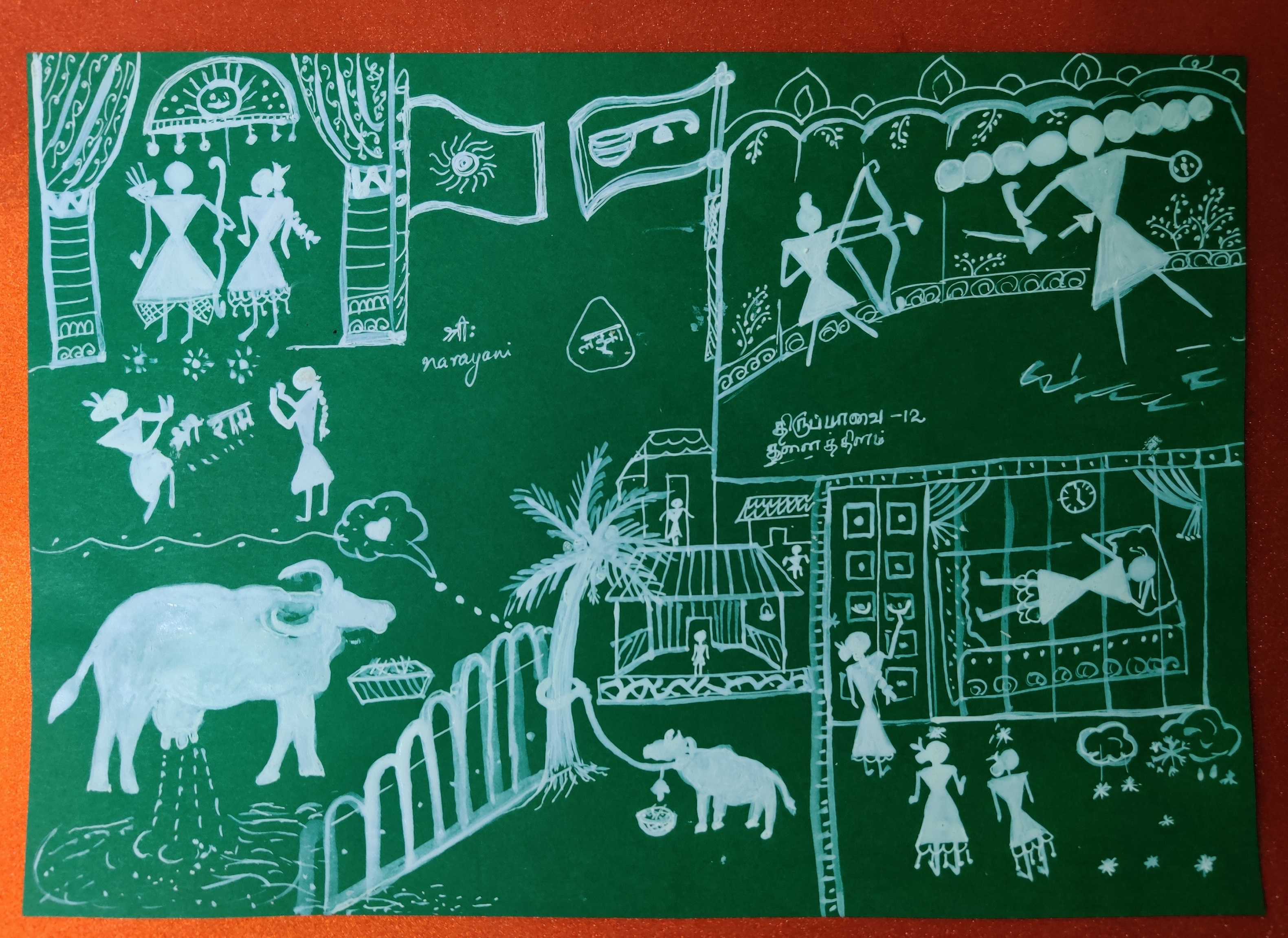 In the previous song ANDAL wakes up the daughter of a wealthy man, whereas in this pAsuram she wakes up the sister of the rich cowherd man.
The buffalos,spout out milk profusely at the very thought of their young calf and make the place slushy mixed with sand and milk.Oh the sister of such a wealthy man,(Nar chelvan thangAi), we your friends are standing at your entrance unmindful of the heavy dew fall on our head. Please wake up and open your mouth to sing the glory of our Dear Lord Rama who angrily slain down the emperor of Lanka. Oh sweet girl, please get up from your long sleep. The people of other houses have known that you are still sleeping.
The inner truth is that, The Lord pours out His mercy at the very thought of His bakthas, without any discrimination.
TIRUPPAVAI 13 – PULLINVAY KEENDANAI
PASURAM 486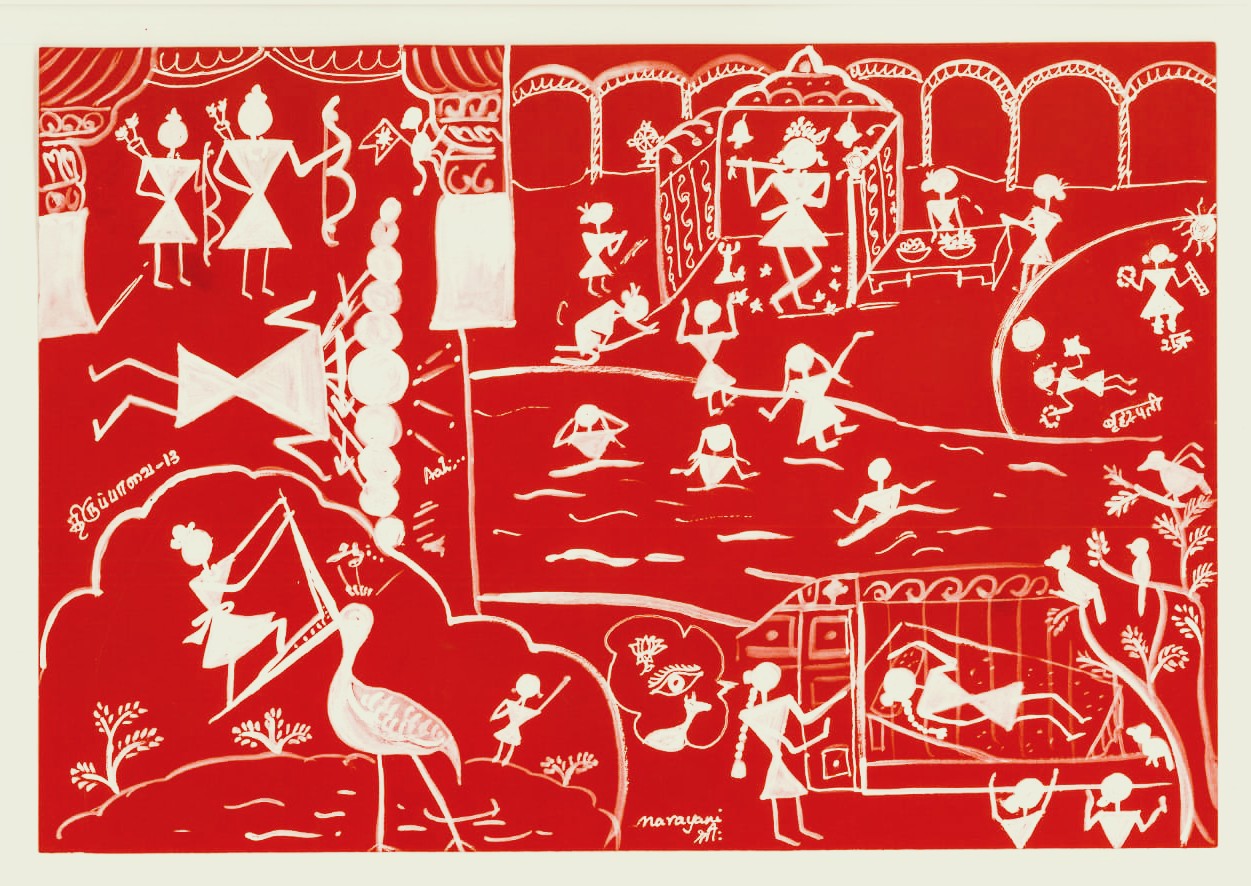 ANDAL and her friends now wake up a girl who knows about the pAvai nOnbu but is trying to avoid their association.
Arise from bed and join me to sing the praises of Lord KrishNa who killed the demon-crane bakAsura and Lord rAma who defeated the wicked king rAvaNa in the battle. Sukran, Venus (veLLi) has risen and Guru, Jupiter (viyAzhan) has set down. In this beautiful conjunction, all the other girls have gone to bathe in Yamuna while you are still sleeping. Birds have started chirping O maiden! You possess the eyes that resemble a deer's look or a Lotus on which bees suck nectar. Why do you still lie on bed, reluctant to take a dip in cool waters with bhagavan nAmas? As this is an auspicious day for nOnbu, shed your shamelessness, wake up and join us and perform the nOnbu smoothly.
This Pasuram insists that a prapanna should realise that all creation is for Bhagavat anubhavam and should hence engage in bhagavat kainkaryam of the valorous Lord and he should be in that thirst for ever.
TIRUPPAVAI 14 – UNGAL PUZHAKKADAI
PASURAM 487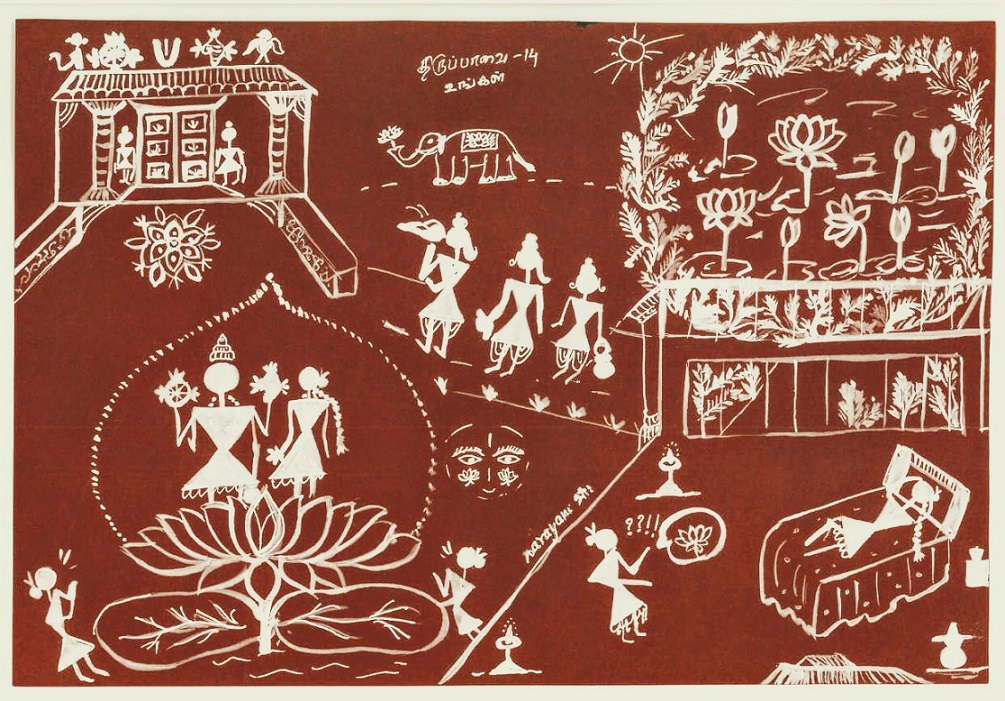 The young girls now plead another friend who had earlier promised to lead the group but failed to do so.
Oh little girl! Wake up! The red lotuses in your backyard have already blossomed and the lily has shut its petals. The saffron colour robed sanyAsis show bright with sparkling teeth after performing their anuShTAnas early in the morning. Let us emulate this pure sattva guNa and participate in the morning prayers. Oh boastful and talkative girl! nangAy! (nAnAdAy nAvuDaiyAy). You have failed in your commitment to get up first and awake us all. Nevermind, get up and use your speech skills to sing along with us the glory of Lord Krishna who his ever- glowing with his conch and chakra, with his pleasing kind lotus like eyes (pangaya kaNNanai- KaruNyam) and his powerful arms (strong enough to hold the shankh and chakra with ease.)
This pAsuram directs skillful people to follow the path of our seers in (pAratantriyam and sEshatvam) (i.e) Jeevan is not an independent entity (not a swatantran). He and all his skills are dependent on the Lord. (pAratantriyam) and He is a small fraction of the para brahmaN. (sheshatvam)
TIRUPPAVAI 15 – ELLE ILANGKILYE
Pasuram 488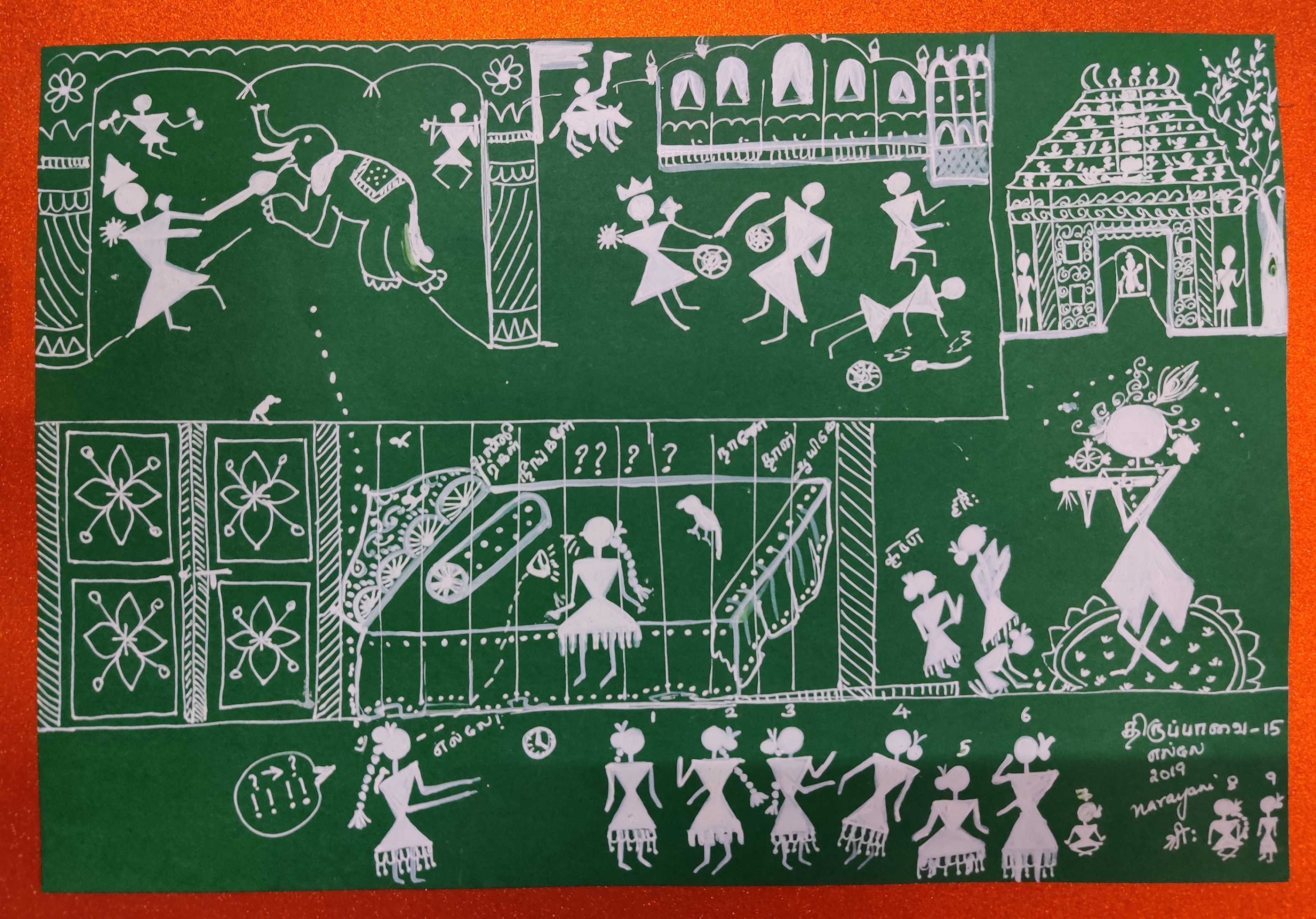 This pasuram is in the form of a dialogue between ANDAL and the gopi who is still sleeping. ANDAL doesn't want to leave behind any of her friends, while preparing for the pAvai nOnbu. She stands outside the gopi 's house and wakes her up.
 ANDAL…." Oh! The much talented dame, resembling a young parrot! Are you still asleep?"
The girl, still drowsy, replies…" Don't call out with your high pitched voices! I will come! Wait!"
ANDAL…" Oh yes! We know that you are smart with a sharp tongue!"
The girl…" It's not me with a sharp tongue. Rather, it's you who are smart. Nevertheless, let it be so. May I be called smart! Now, tell me what are you calling me for?"
ANDAL…" Wake up and join us to perform the Vratham."
The girl…" Have all of you come?"
ANDAL…" You can come out and count if you want."
The girl…"Where do you want me to go with you?"
ANDAL…" Come, so we can go and sing the praise of The One who killed the elephant, Kuvalayapeetam and The One who is capable of winning over enemies and making them His devotees."
 This pasuram defines the Sri Vaishnava lakshanam of not disrespecting Bhaghavatas and taking the blame on ourselves for the known or unknown mistakes. This diffuses any situation and evens out issues.
TIRUPPAVAI 16 – NAYAGANAY NINDRA
Pasuram 489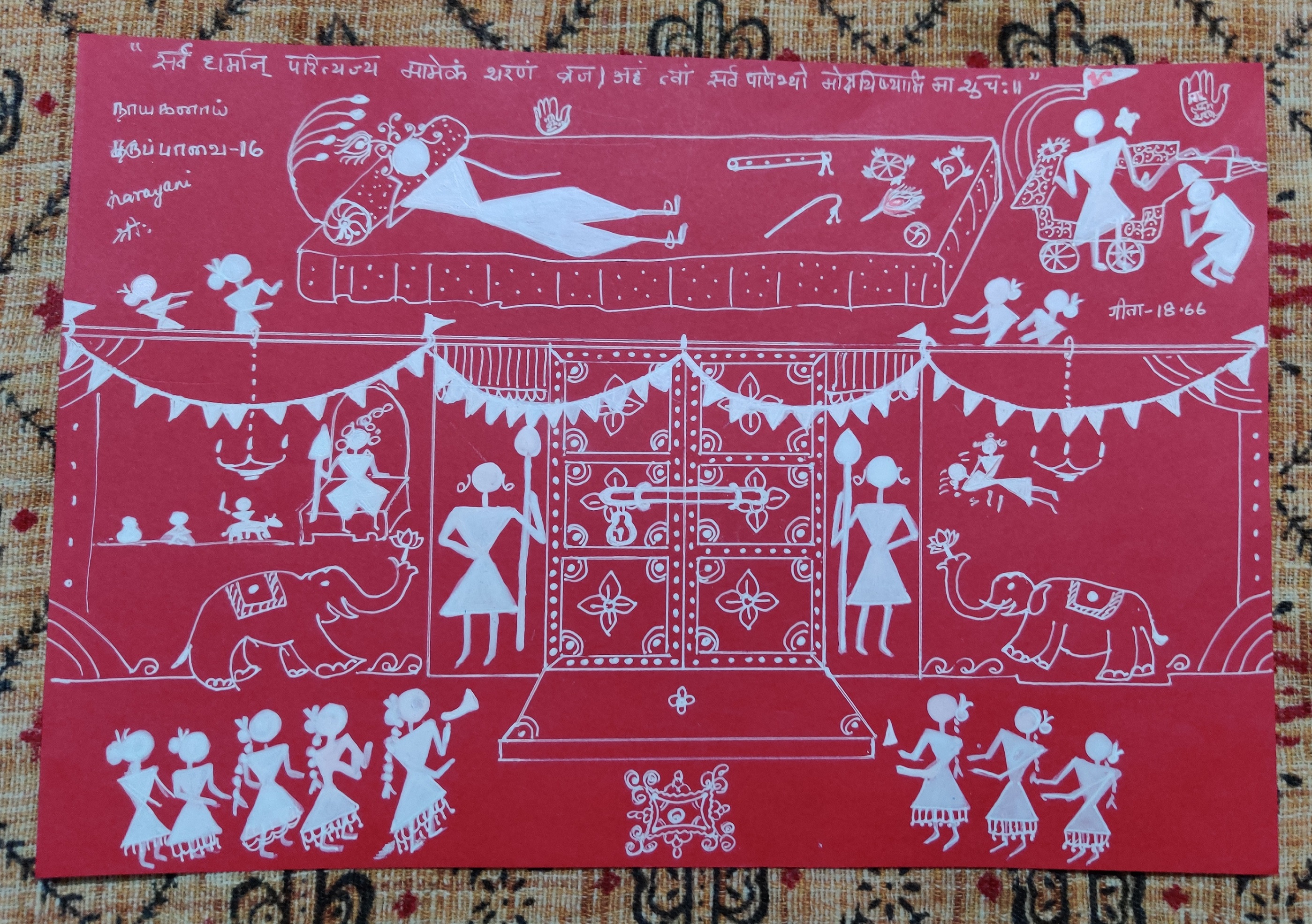 ANDAL, having assembled all her friends, now proceeds to wake up the inmates of Nandagopan 's residence.
 On reaching Nandagopan's residence, ANDAL requests the sentries, guarding the main entrance, to open the door studded with gems and decorated with flags and festoons. She says that she has come to get the parai-drum, which the blue hued mAyan, Krishna had promised to give them, to help them complete their vratham. Krishna has given them His word and he had better not go back on His word. The AyarpAdi girls have all come with pure heart, filled with devotion, to sing in His praise and wake Nandagopan.
 In the Srivaishnava practice one seeks the help of dwarapalaka, Acharyas and PirAtti, to reach Perumal. Here, ANDAL, seeks out to Nandagopan, Yashoda, BalarAman and ultimately, KrishNa.
TIRUPPAVAI  17 – AMBARAME TANEERE
PASURAM 490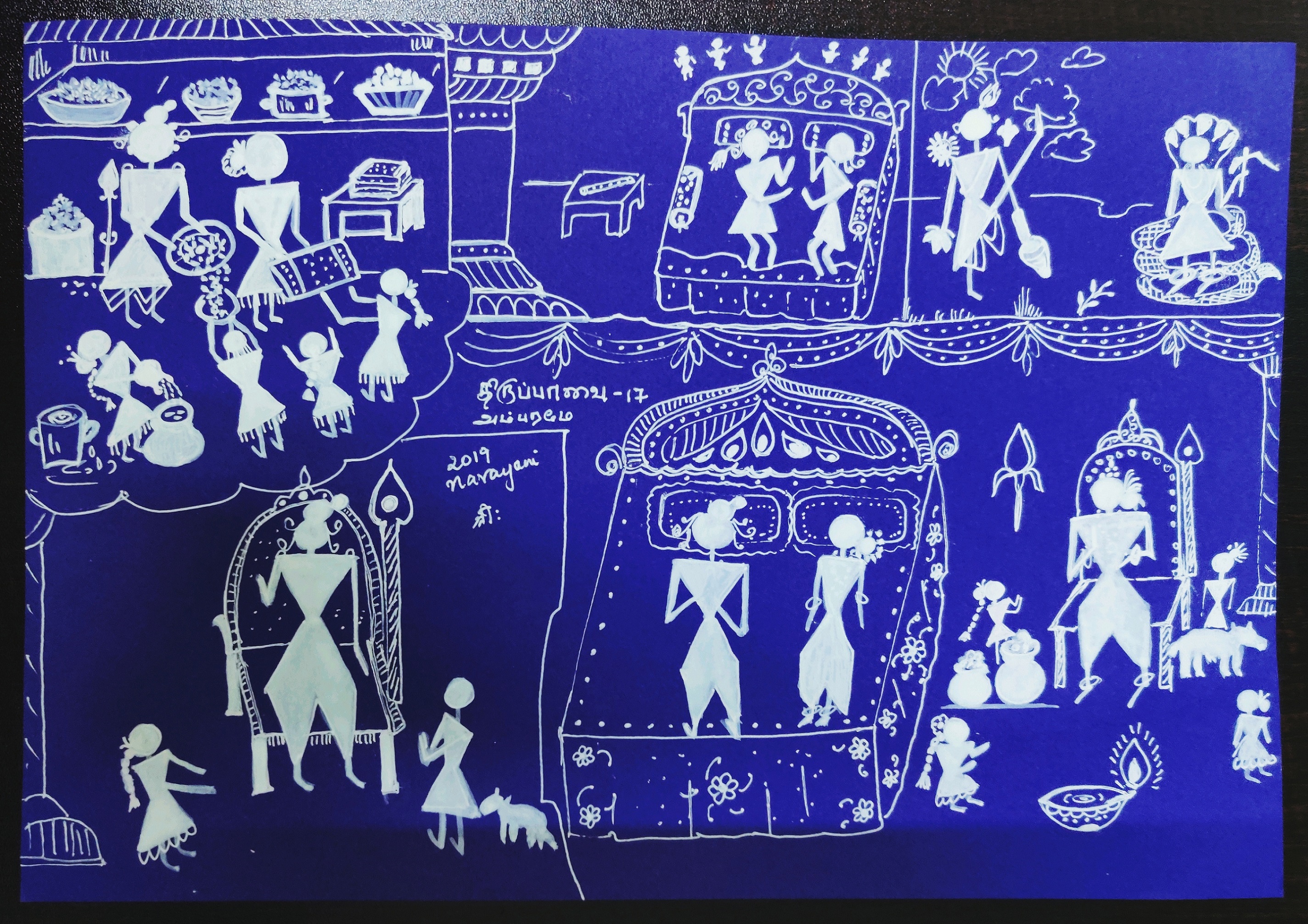 ANDAL and her friends stand at the chambers of the elders of kaNNan's family, to seek their permission before approaching HIM.
O King NandagopA! You who are known for your charity in giving away food, water and clothing! Kindly get up!! O queen yashOda! the compassionate leader of all women folk! The auspicious lamp of Gokulam (kula viLakkE), Our goddess (Em perumAtti), please rise up! O Lord of Lords, who measured all the worlds with your lotus feet and blessed every being, do not sleep anymore!! Yet kaNNan does not stir.  O prosperous and powerful balarAmA (baladEvA)!, whose feet are adorned with reddish golden anklets (sem poR kazhaladI), please wake up and awaken your younger brother(umbiyum)* too.
This pAsuram conveys the message that those who worship the Lord and wish to attain HIM, should contemplate upon HIS preceptors and seek their approval first.
TIRUPPAVAI 18 – UNDU MADAGALITRAN
PASURAM 491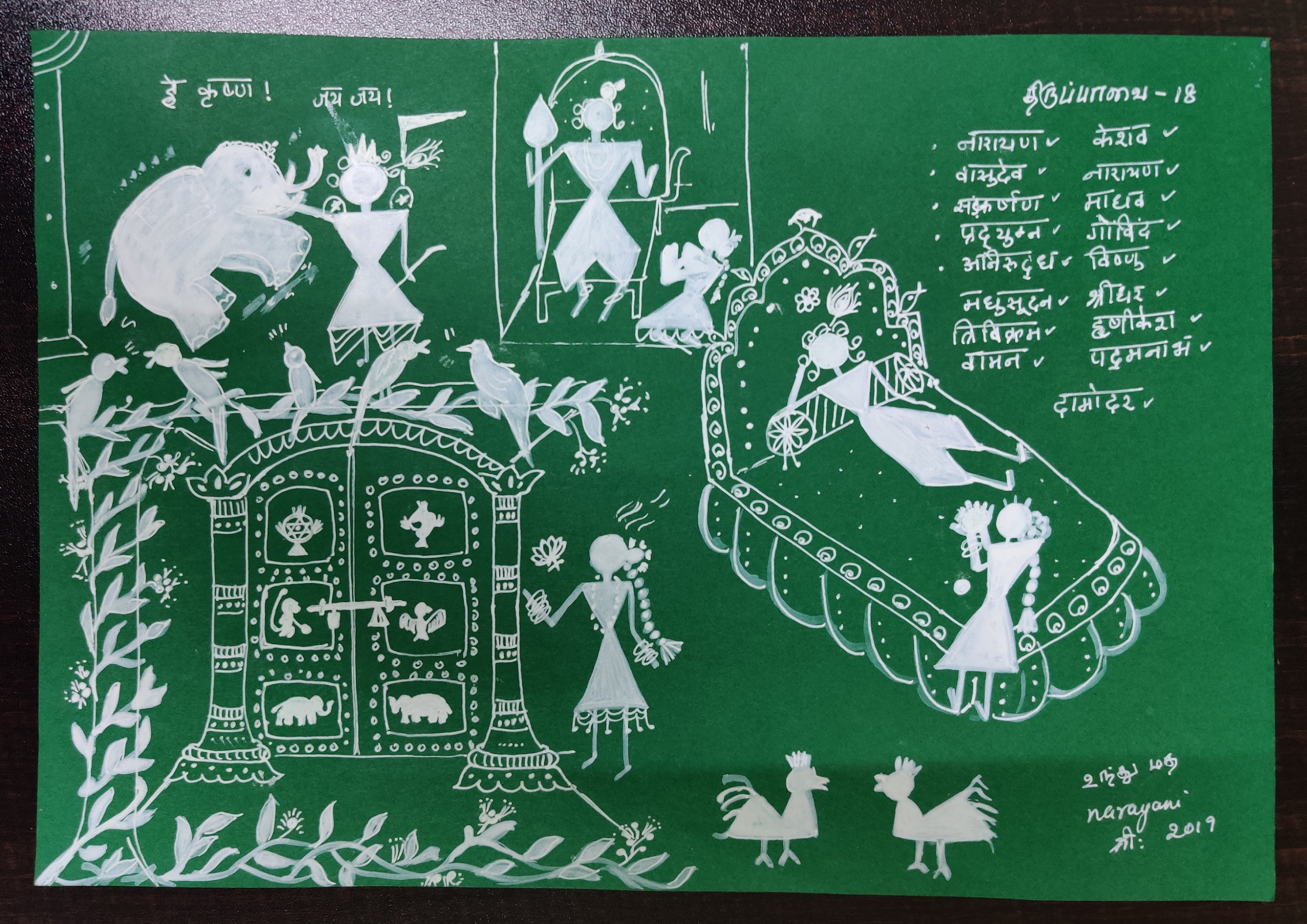 ANDAL and her friends now wait outside the chamber of Lord krishnA and His beloved consort Nappinnai. They try to wake up Nappinai .
O daughter in law of nandagOpA! (nandagOpAlan marumagaLE), he who is unmatched like an elephant in strength (undu madagalitran) with valiant shoulders, who will never leave a battle without victory (OdAda tOLvaliyan) and YOU dear Nappinnai ! One with fragrant hair tresses. Look! The cocks are crowing and cuckoos are sitting on the kurukkatTi ( madhavi pandal mEl)* flowers   singing melodiously.  O young lady! We wish to sing about your Lord (un maithunan). Delightful lady!  holding the play ball (of flowers) (pandAr viRali) in your lotus like soft hands, please come and open the door with joy, as we enjoy the pleasant sound created by the clanging of your shining bangles.
The highlight of this pAsuram is that we need the favour of the ever-compassionate Goddess Mahalakshmi to attain the supreme Lord nArAyanA.
TIRUPPAVAI 19 – KUTTU VILAKKERIYA
PASURAM 492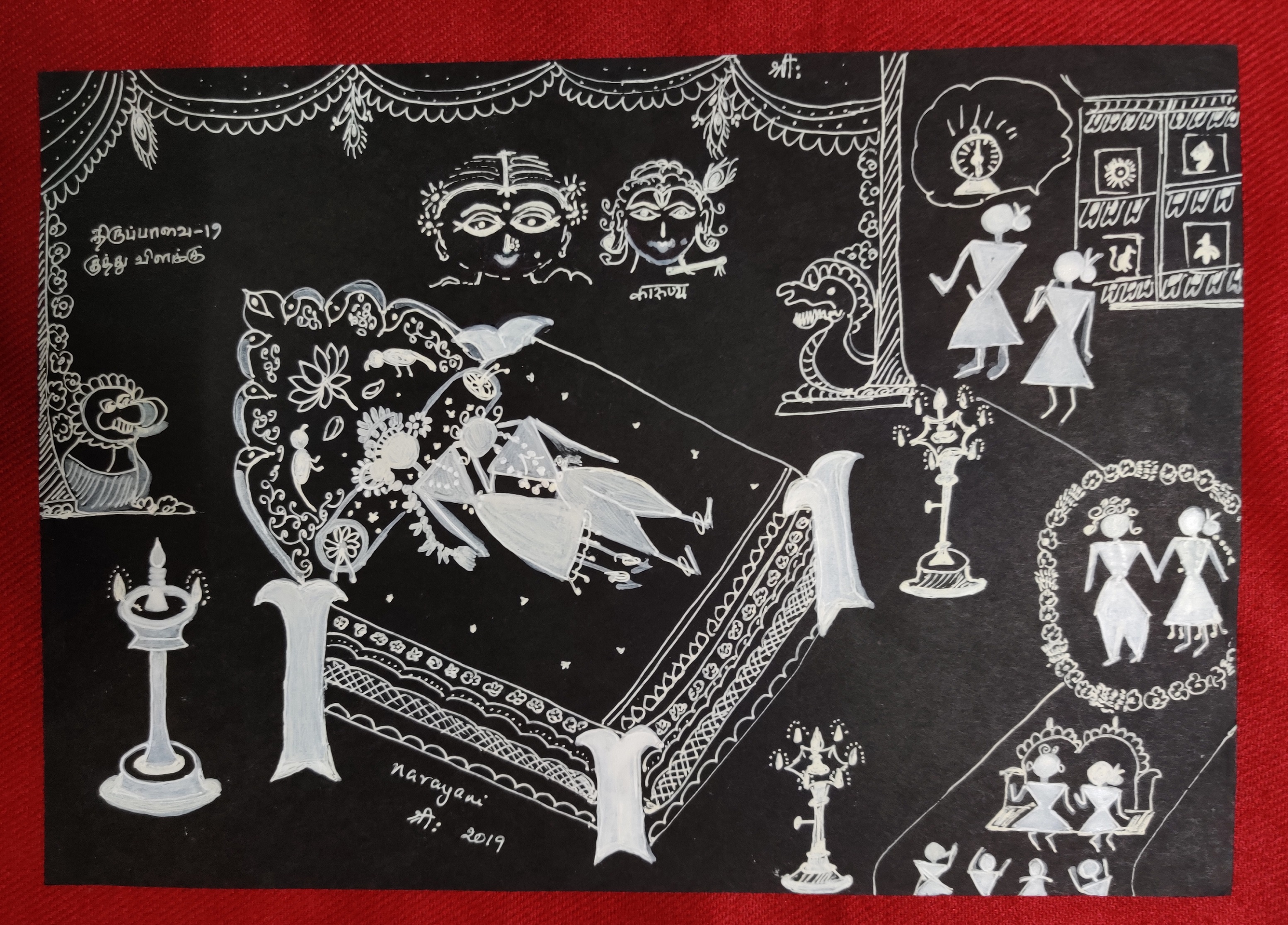 ANDAL and the gopis further glance into the divine chamber of the lord and request Nappinai to awaken kannan.
 O Lord, sleeping luxuriously in a room decorated with tall and beautiful lamps, the attractive bed which is gorgeous, pleasant, soft, fragrant and bright, supported by legs made of ivory from the tusks of the elephant (kuvalayApeeTam) ! ONE with broad shoulders! ( malar mArbA)  , YOU are enjoying yourself resting your forehead on the chest of nappinnai who has bedecked her tresses  with strands of  jasmine flowers  and its fragrance has spread  all around the room.   We plead you to arise and speak to us ! (Nappinnai stops Kannan from getting up). O nappinnai pirATTii*!   You have captivated kannan with your beautiful black eyes! You cannot bear separation from your husband *(un maNAlanai)* even for a moment . This behavior does not fit into your nature filled with mercy. We came with a hope that you will bring us closer to kannan. You please come out along with the Lord. We are not able to bear the separation from HIM *(pirivAtrugillAyAl)*. Yet the divine couple pretend to be sleeping.
 This pAsuram reveals that a true devotee of the PerumAl will always choose tAyAr (goddess Mahalakshmi) as the intermediary for reaching HIM.
TIRUPPAVAI 20 – MUPPATTU MOOVAR
PASURAM 493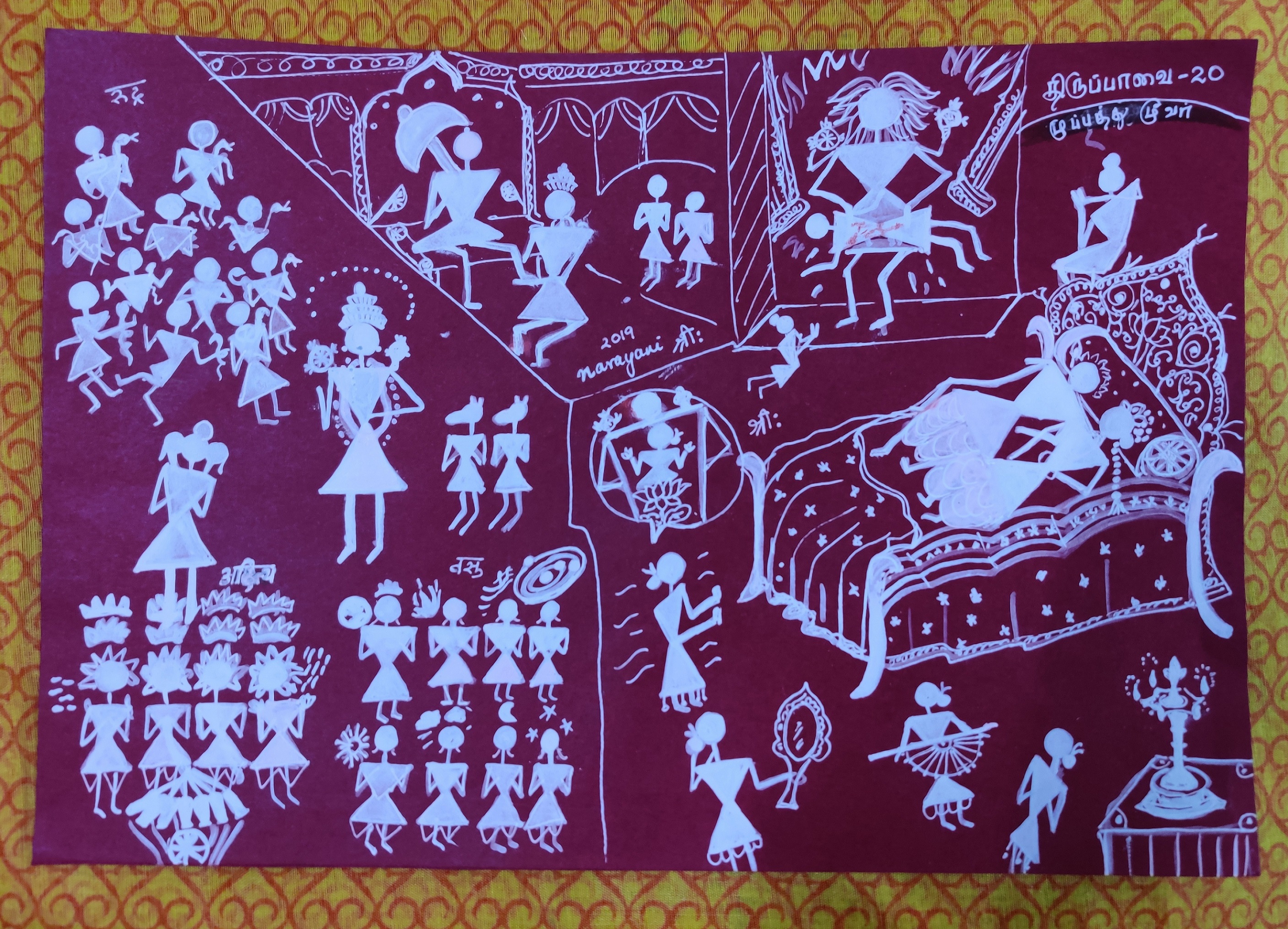 ANDAL and her friends praise the Lord to shower HIS divine glances on them.
O heroic One *(KaliyE)*! YOU have always hastened to protect the 33 devas *(muppattu mUvar )* whenever they were in  trouble , thus removing their anxiety . Please wake up. O, The protector of devotees! *(cheppam udayAy), won't YOU protect us? YOU defeat YOUR enemies with vigour, The Omnipotent* (tiRaL udayAy)*!  We seek only YOUR glances of grace. They turn to Nappinai pirAtti.  *O nappinnai*! One with a beautiful stature, rosy lips and slender waist! YOU are Goddess Sridevi! Kindly wake up your beloved one *(un maNAlanai)*.  Relieve us from the pangs of separation. Now, we wish  to collect  the hand fans *(Ukkamum)* and mirrors  *(thaTTOLiyum)* from kaNNan as gifts for the nombu and bathe us in HIS ocean of mercy . At last nappinai gets up.
This pAsuram insists that when we do saranAgati at the lotus feet of the leaders of the universe tAyAr and perumAL, we occupy a special seat in their hearts and we will be blessed with knowledge and bliss.
TIRUPPAVAI 21 – ETRA KALANGAL
PASURAM 494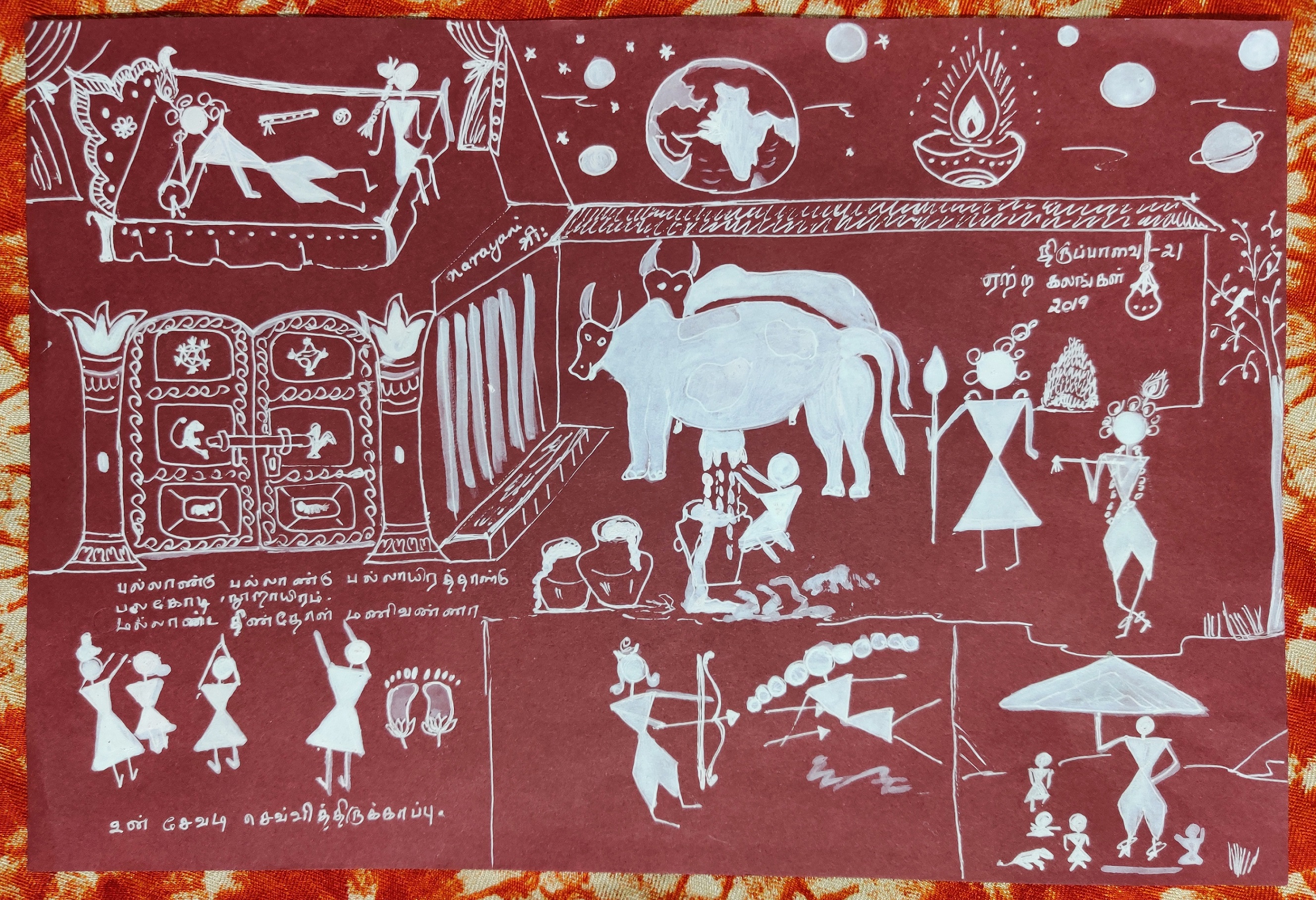 In this pAsuram, Nappinnai herself takes the side of the Gopis (Andal and her friends) and wakes the Lord on their behalf.
The vessels that are kept to be milked get filled and overflows by the in-numerous , generous and big cows of NandagOpar. Oh Lord, You are the son of that NandagOpar . Oh Lord who is always interested in protecting your bhakthas, You show the five states, such as PARAMAPADAM (Otramudaiyai), VYUHAM (periyay), VIBHAVAM (ulaginil) ARCHAVATARAM (thotramAi nindra), ANTARYAMI (sudare). Kindly please wake up from your sleep. Just as your enemies come and stand at your door step helplessly defeated, so have we come to You singing Your praise.
The hidden idea of the song is that of describing the "A good sadAChArya lakshanam". As the cow discharges milk at the sight of the vessel, a well learned AchAryan will dispense his knowledge at the very sight of a Sad-sishyan .
TIRUPPAVAI 22 – ANGKAN MANYALATTU
PASURAM 495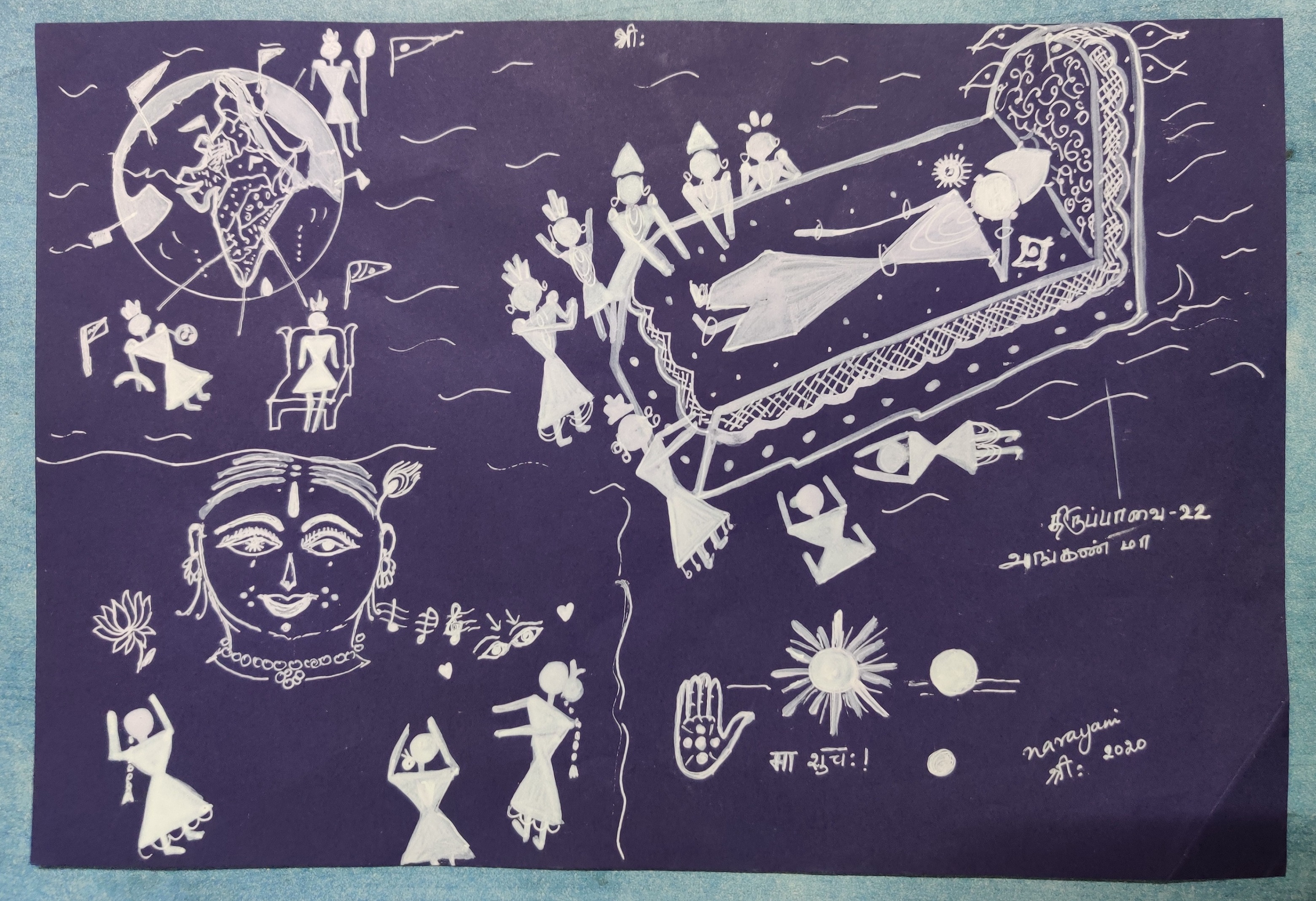 Here they appeal to The Lord to gently open His eyes and bless them.
In this vast beautiful Earth, the Kings shedding their Ego and self-esteem come and gather around your throne(cot) . In the same way even we have gathered around you with utmost servitude. Oh Lord!, with your exquisite eyes ,like a half opened Kingkini, resembling a Lotus flower ,won't you cast your look gently on us? That glance with Both Your beautiful eyes like the rising Sun and the Moon will free us from the curse of sins.
This pAsuram indirectly denotes that SharanAgathi is the only means to attain Him and He is the only means for attaining SharanAgati.
TIRUPPAVAI 23 – MARI MALAI
PASURAM 496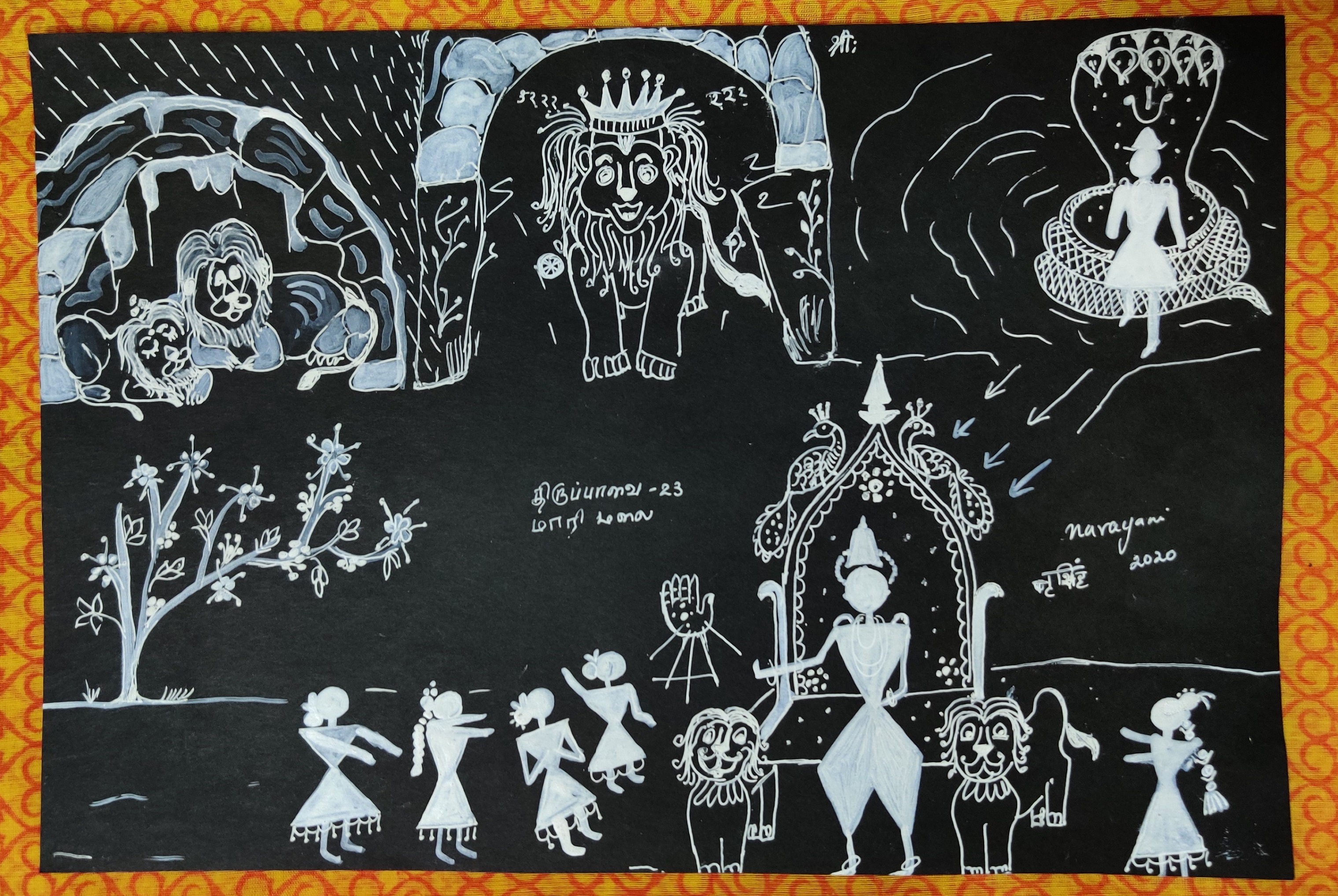 In continuation of the previous pasuram, ANDAL requests Lord Krishna to rise from His serpent seat at Sri vAikunTam and bless all His devotees. Narasimha avataram is portrayed symbolically.
During rainy season,the lion lies calm, sleeping with its lioness in the mountain caves. The moment it smells an enemy, it emerges fiercely from its den with its sparkling fiery eyes and raising its mane in all directions with a thunderous roar. Oh dark kAyA flower hued KRISHNA! Come out of your decorated glorious chamber and adorn the royal throne gracefully and enquire of us and investigate the purpose of our visit and shower your blessings.
This song establishes the absolute power and divya anugraham of Lord Narasimha to grant us all our boons and lead us to the divine path of Bhagavat Kainkaryam.
TIRUPPAVAI 24 – ANDRI IVVULAGAM
PASURAM 497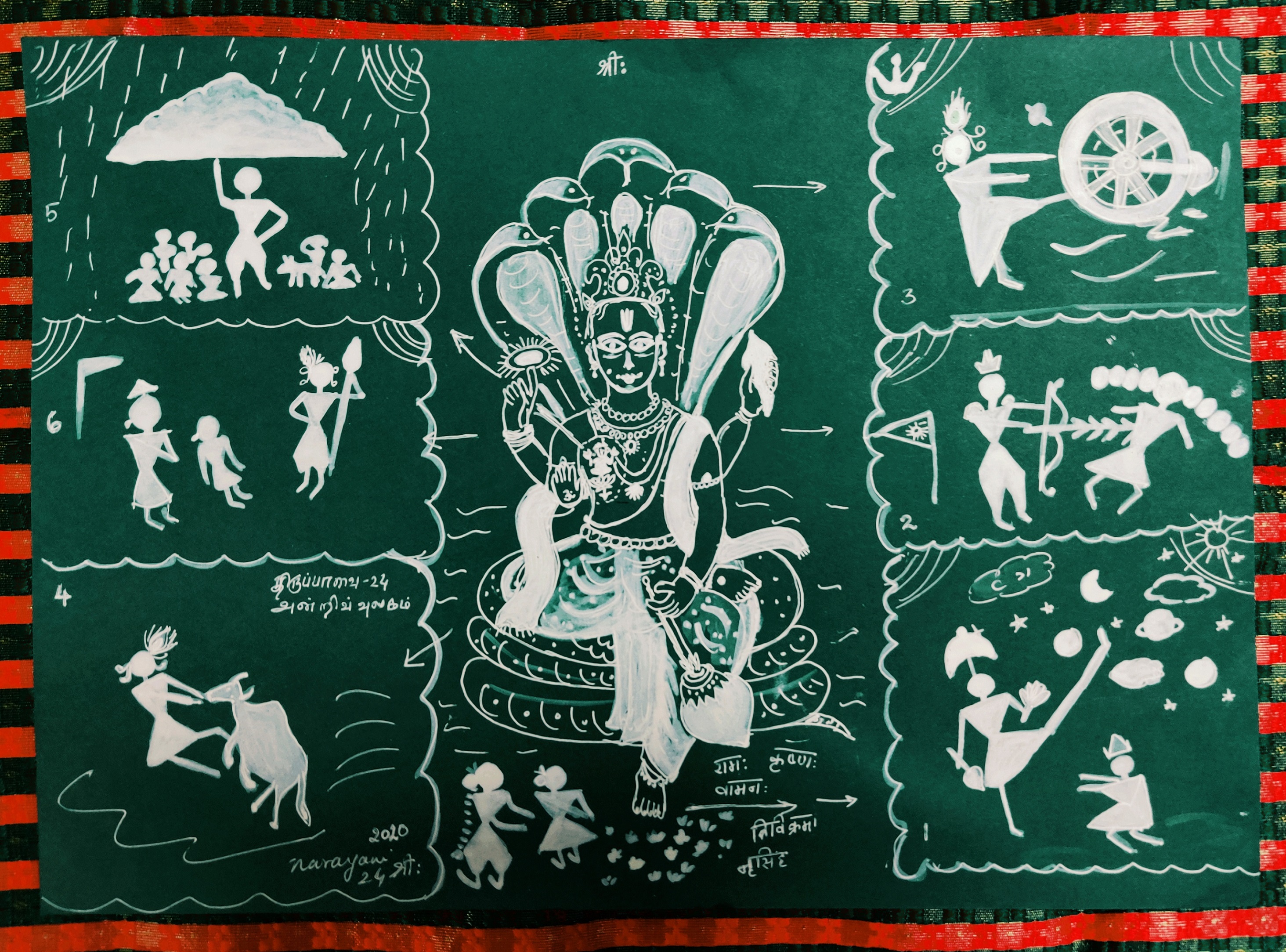 On seeing Lord seated on the royal throne. ANDAL assumes the role of a mother and whole heartedly prays for the well-being of her favourite Krishna.
She sings MangalasAsanam (PallAnDu) like her father PeiyAzhwar and expresses it six times. Her concern was that Perumal after taking several avatars in various Yugas has walked through to fulfill our wishes. She fears that His glorious Lotus feet(tiruvadi) would have pained him after many avatars.
1. *PallANDu* to Lord trivikrama. She praises his feet that measure the entire universe. *aDi pOtri*
2. *PallANDu* to Lord Kothandarama who vanquished the Lanka king Ravana and rescued Sita – *tiral potri*
3.*PallANDu* to little Kannan who shattered the bedevilled cart from its cradle – *Puzhagh pOtri*
4. *PallANDu* to the feet of the Lord who cleverly threw the demon-calf onto the wood apple tree and killed vatsAsura – *Kazhal pOtri*
5.*PallANDu* to the divine compassion that held Mount Govardan as an umbrella and protected the people of Brindavan – *Gunam POtri*
6. *PallANDu* to the spear that clears all evil and saves all.*vEl pOtri*
The sausheelya guNa (simple kindness) of the Lord through out His avatAras is brought out clearly in this pasuram by ANDAL as she sings pallAnDu for those gunas. As a beneficiary of His guNas, we shed our ahankAra and mamakAra, we are guided to balance our sattva, rajO and tamO guNas, we slowly learn to detach, shed our samsAra rasa and indulge in bhakti.
TIRUPPAVAI 25 – ORUTTI MAGANAY
PASURAM 498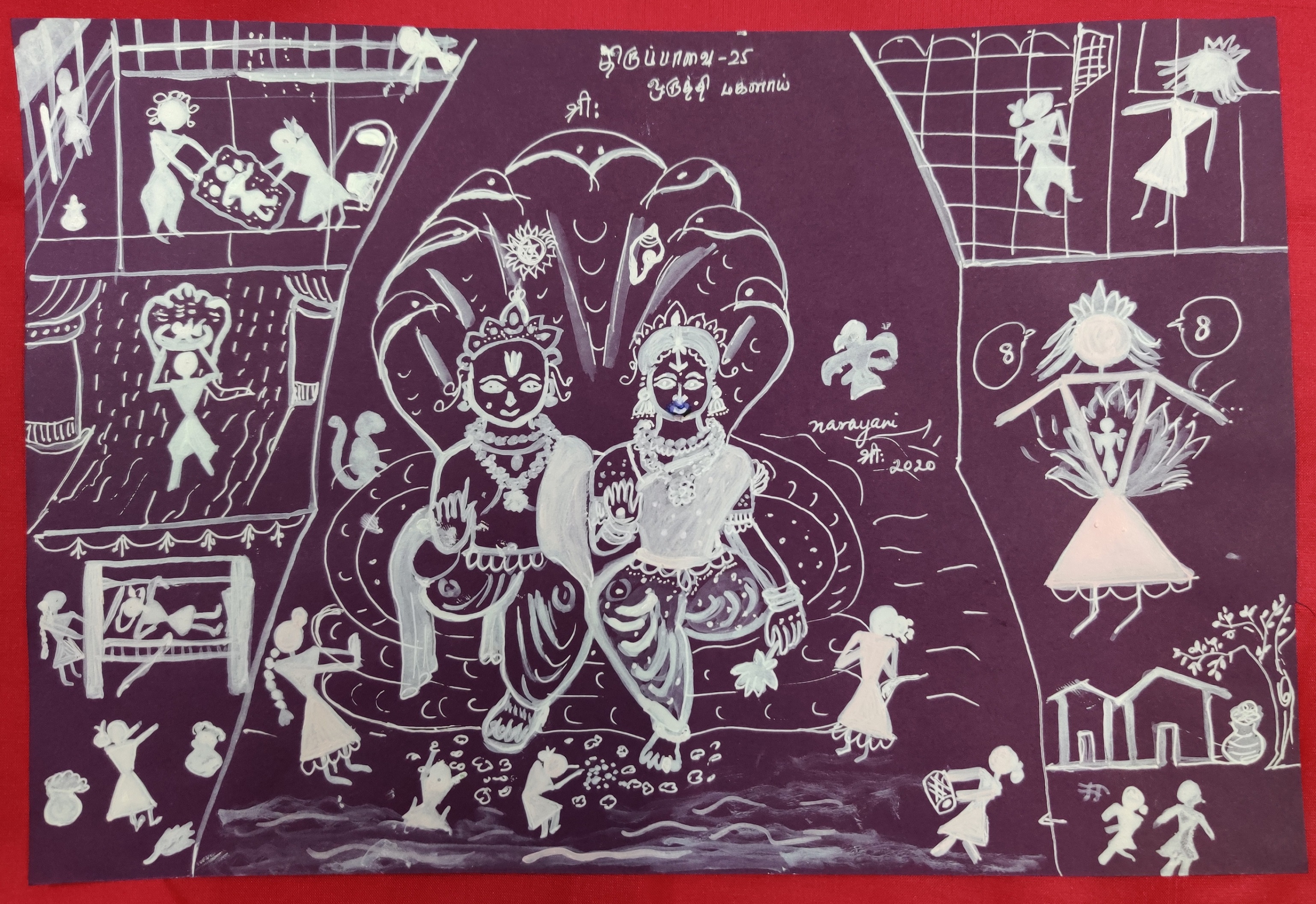 AndAl and the other Gopi girls, now sing in praise of Krishna and seek His anubhavam.
Oh Krishna! The one who is Omniscient! You, who were born to That Singular Divine mother, Devaki, and grew up in the secluded protection of the other Singular Mother, Yashodha, in order to stay safe from the asura king Kamsa (kanjan), who was planning terrible ways (karutTai pizhaipitha), to harm You. The fear you created in Kamsa is burning like a furnace in his stomach.
We have come to You( arutittu vandOm), pleading for mOksha( parai), that leads to the eternal wealth ( tiru takka selvam) and permanent servitude (sEvakam), so that we can get rid of the worries of samsAra.
ANDAL explains how only He can show us the path, give us the necessary equipment to reach Him and finally give Himself! He, being the Means and Fruit of our birth , and our ultimate goal is Bhaghavat kainkaryam.
TIRUPPAVAI 26 – MALE MANIVANNA
PASURAM 499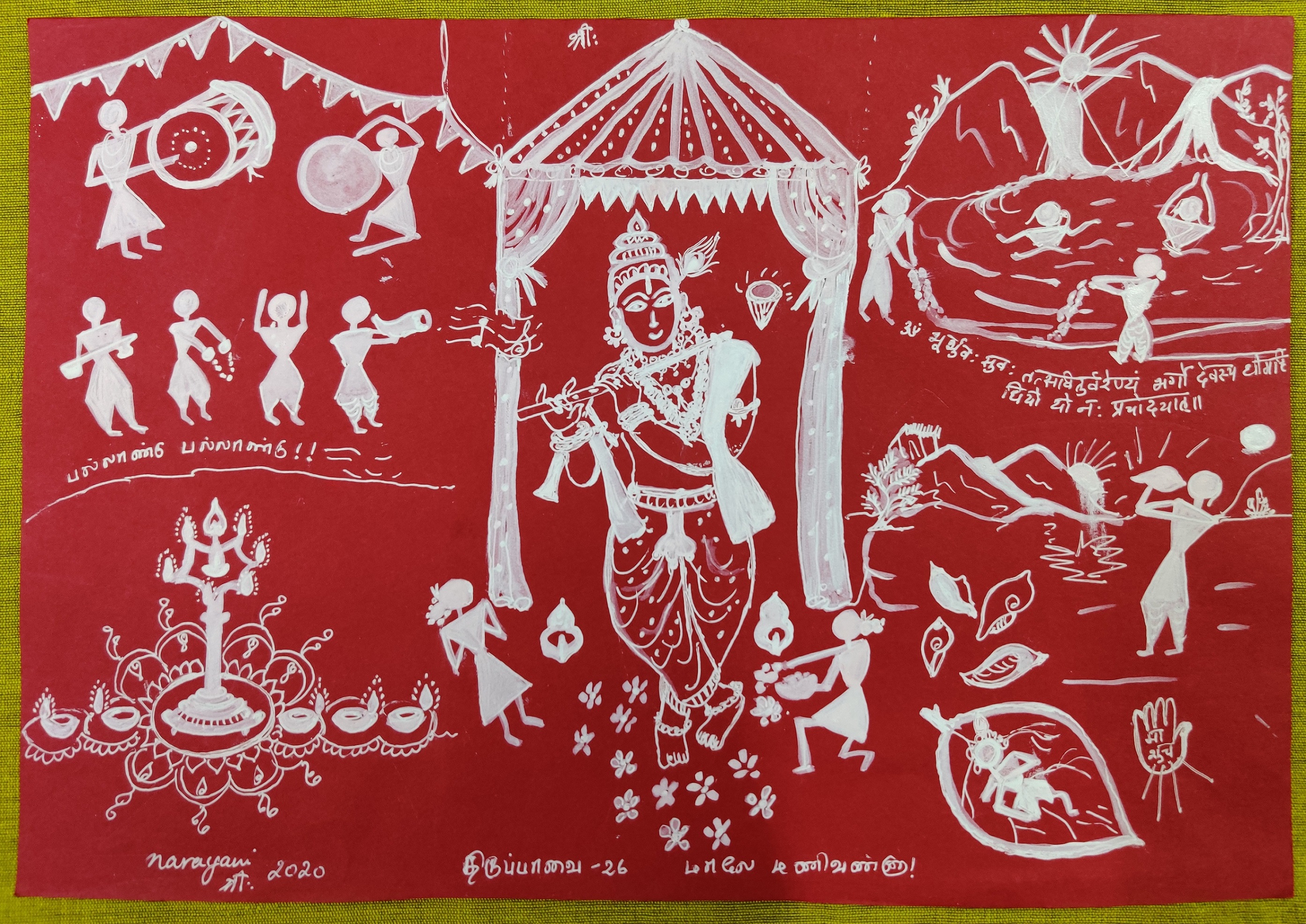 ANDAL reminds the Lord of their efforts on one side at the same time enjoying His sight on the other side.
Oh Krishna ! The blue hued gem, who makes us lose our senses! The One who lies on the Banyan leaf during the deluge! We are here, having performed the vratha as prescribed by the elders ( mElai Atchevanai), and after having had our bath, to ask You for favors. We want You to give us Your pure white conch, the panchajanyam, which creates thundering sound, that rattles the universe, the large drums, the tall, lovely, decorated lamps( KOla vilakku), the flags,( kodi ) festoons and canopy (vidhAnam), as we come singing in praise of You.
In this pAsuram, ANDAL lays emphasis on the need to follow the tradition as set by learned elders and the importance of shiShTAchAras and our AchAryas in prapatti.
TIRUPPAVAI 27 – KOODARAI VELLUM
PASURAM 500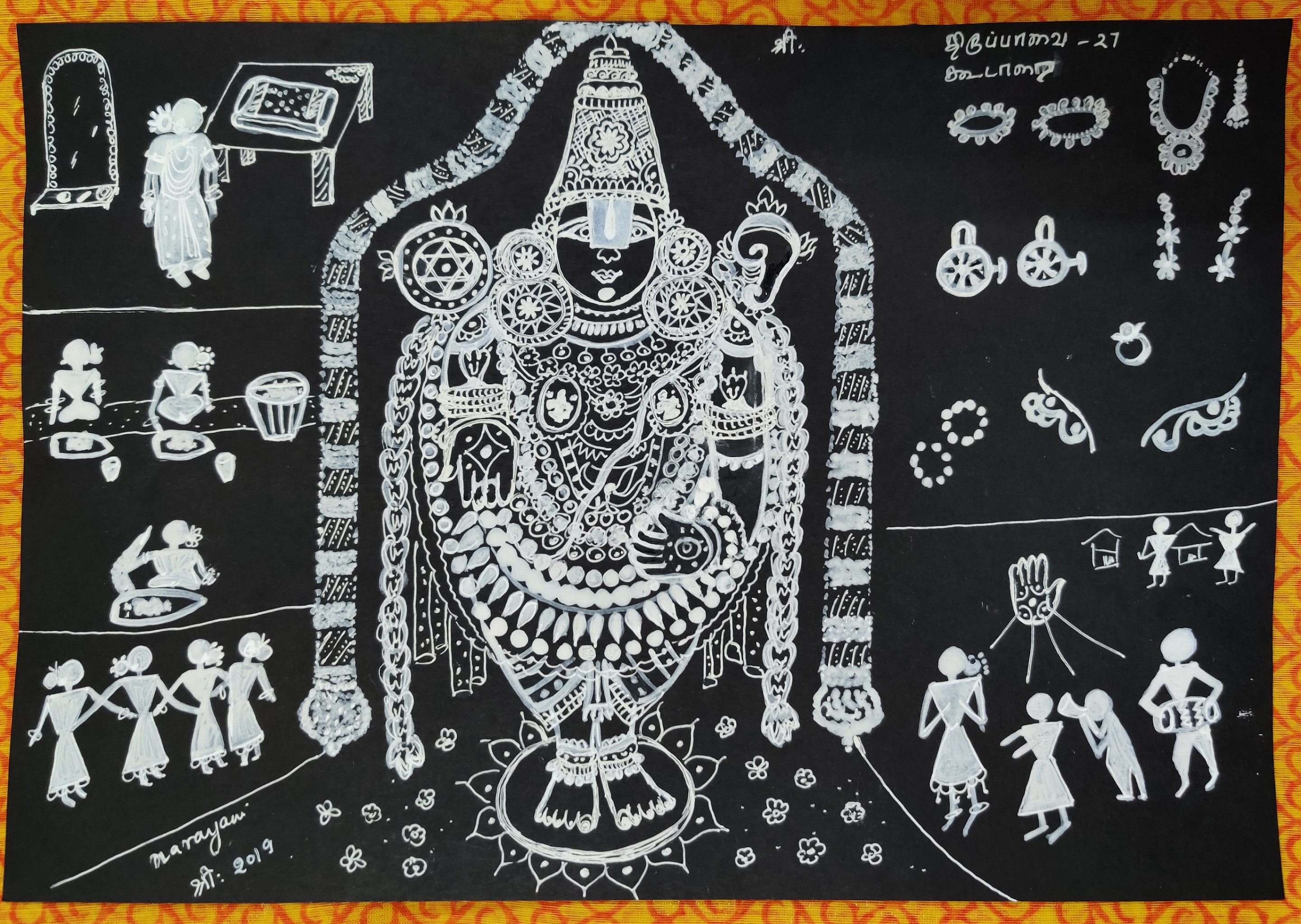 ANDAL and her friends rejoice on meeting KaNNan. They demand the gifts HE had promised.
O Lord gOvindA! Having the kalyAna gunAs of winning over your opponents! By singing your glories, now that we have won YOU, we deserve our gifts praised by the whole world. (ANDAL lists out the gifts), By singing YOUR glories, we have received the drum, (qualification to go near the Lord due to HIS kaTAksham). Now we ask for our gifts like bracelets (sooDakamE), chains (tOlvaLayE) , earrings (tOdE), ornament on upper part of the ear or mAttal ( sevippUvE) and anklets ( padagamE) , and many more. Provide us with beautiful clothes (Adai uduppOm) to adorn ourselves, In YOUR divine company with YOUR grace on us, we will have ksheerAnnam (pAr sOru), laden with sumptuous ghee (moodanai peydu) dripping down upto the elbow. Lastly, we will jointly enjoy seeing YOU in the vicinity showering Your katAksham upon us.
In the second pasuram, vayyattu vAzhveergAl, ANDAL showed us the path of vairAgya for the vrata, by advising a prapanna to refrain from wearing collyrium , garlands, consuming ghee and milk. But, in this pasuram, she considers the same things as bhagavat prasAdam, a well-deserved gift for a vrata strictly observed. The gifts are nearness to the Lord (sAmeepyam),residing in the same place (sAlOkyam), experiencing His roopA with jewellery and clothes worn by HIM (sAroopyam) and ultimately eternal bliss (sAyujyam).
'' koodi irundu kulirnRndu''–The pasuram emphasises that guided by bhAgavatAs (sadAcharyAs), a prapanna enjoys the proximity of the Lord along with other muktAs just like the nitya sooris.
KOODAARAI VELLUM CHAKRAM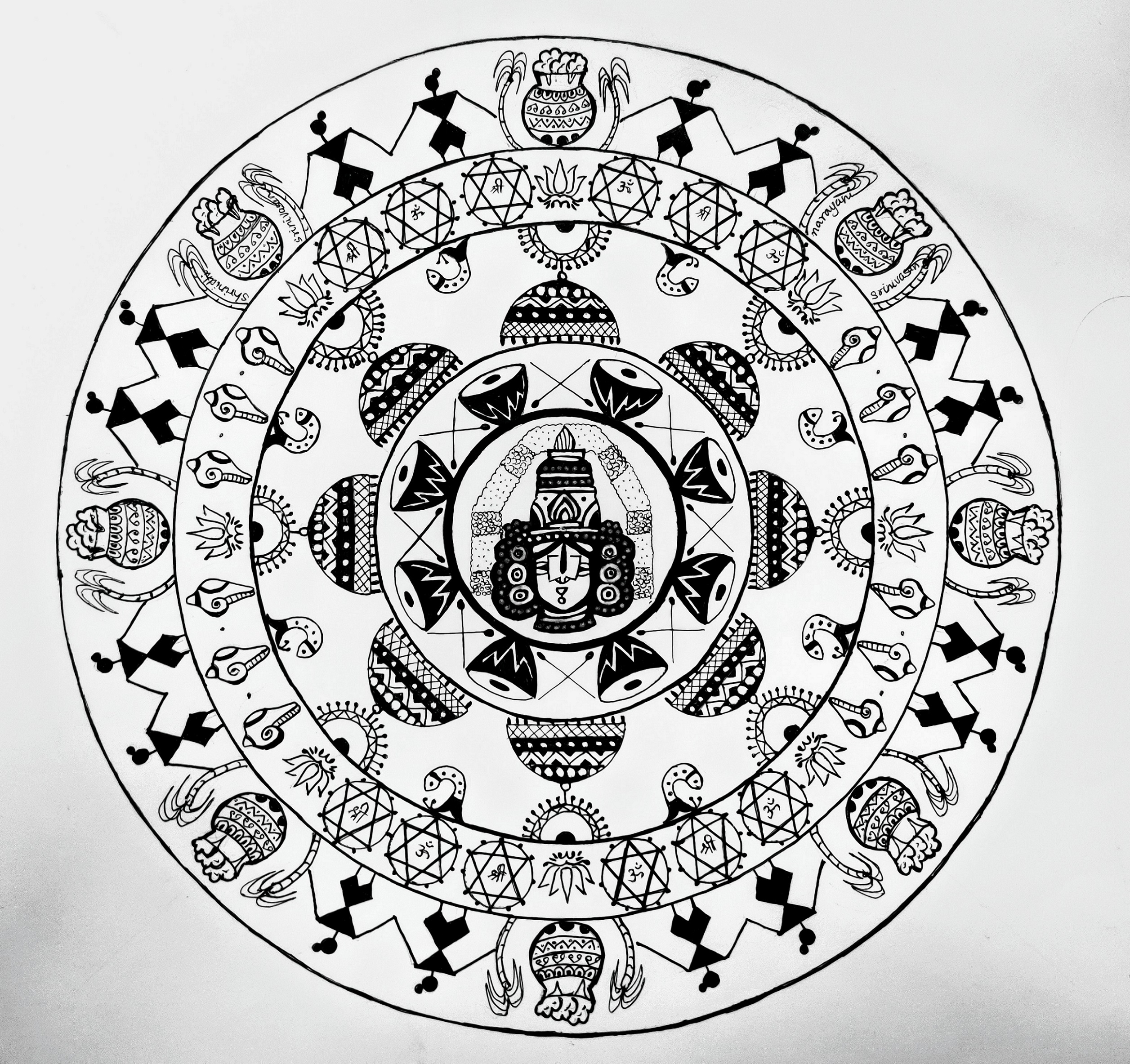 This is a pictorial representation of tiruppAvai pAsuram 27 in a combination art of ManDala, Zen and WArli Art. The chakra tries to portray an insight into the tattva (truth), hita (path) and purshArtha (goal) of life.
KoodArai vellum seer Govinda
Govinda, Shriman Narayanan is at the centre of the chakra, He is the ultimate goal to be achieved by jeevAtmas. He is the Ishwara tattva , the universal entity, the director of the whole universe and the one who is inside our heart as the "antaryAmi" bhagavAn. He makes sure that He wins over everybody some day.
pAdi parai konDu yAm perum sammAnam: – The hita, the means to attain him- the path of prapatti (surrender) to achieve him is portrayed in the following circles. The 8 drums (parai) represent the AshtAkshara mahAmantra which is made up of 8 aksharas. The jeevAtma resorts to surrender and further meditate upon and sing His divine names which is the means for a jeevAtma to become eligible for His grace (gift)
nADu pugazhum parisinAl nandrAga, sooDagamE, tOlvalayE, tODE, sevippoovE, pADagame
The path of prapatti is time-tested and praised by the great seers of the world. The reward for this is the purushArtham or the goal be attained by jeevAtmas.  It is subtly explained by the various jewelry that Bhagavan adorns. The bracelets, necklaces, earrings, ear cuffs represented in the third circle portray the protection which the jeevAtma gets when he experiences bhagavat anubhavam in HIs vicinity, namely feeling near Him (sAmeepyam), wearing His clothes and jewelry (sAroopyam), residing near Bhagavan with other muktas (sAlOkayam) .
endraNaiya palgalanum yAm aNivOm
The fourth circle contains Bhagavan's Chakra and Shankh which act both as his ornament and his weapons to protect us in times of dire need.  Symbolically it also represents the shankh and chakra mudras which a prapanna receives by His AchArya when he gets initiated as a prapanna (samAshrayana). This is indeed a moment of joy and feeling of being in eternal servitude of Shriman Narayanan and none other.
Adai uDuppOm adan pinnE pAl SOru, mooDaneypeydu muzhangai vazhi vAra, kooDi irundu kuLirndElor empAvai.
The last circle houses the objects of eternal bliss. ANDAL explains the experience of ultimate bliss through elements like wearing new dress, consuming sweet pongal dishes with a lot of ghee and most importantly being in unity with each other, taking other devotees also along with us to enjoy the ultimate bliss of the Lord (sAyujyam).
TIRUPPAVAI 28 – KARAVAIGAL PINSENDRU
PASURAM 501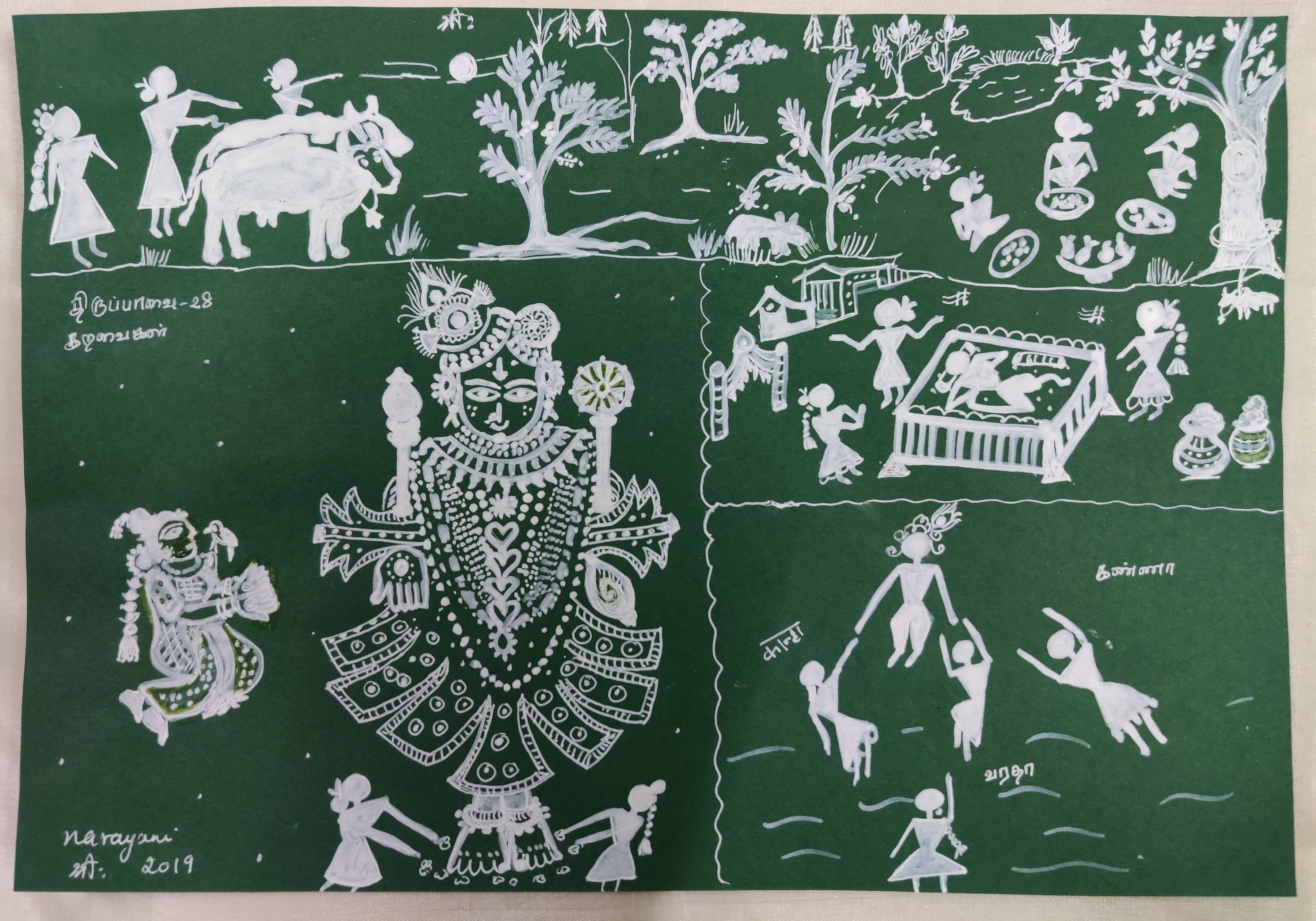 ANDAL and her friends totally surrender themselves to kaNNan or perform saranAgati.
Dear krishnA ! We are innocent cowherds who seek livelihood by tending cattle and as they graze, we go behind them, have food in the woods ( kANam serndu unbOm) . Our entire clan is naive, unintelligent, lacking general knowledge (aRivOndRum illAda) , We do not have the qualities needed to pursue bhakti. Yet, YOU,O flawless gOvindA ! chose to incarnate in the yAdavakulam.  Our commendable association (undannOndu uravEl) with YOU cannot be renounced at any time ( Ozhikka OzhiyAdu). We called YOU by petty names ( siru pEr ), yet YOU endeared to us unassumingly. Do not get angry (seeri aRulAdE).O merciful Lord ! This behaviour towards YOU was due to our unbounded love for YOU alone ( anbinAl undannai). Please forgive us with YOUR abundant grace. OUR master ! (iraivA), we wish to live a life that will please You. Bless us by giving us the paRai ( katAksham) .
In the first pasuram, ANDAL says that Shreeman nArAyanAn is the only means and goal, who can give us the gifts, (''nArAyananE namakkE paRai taruvAn''). In this pasuram, ANDAL states that they do not desire for perishable pleasures, they want nitya kainkarya purushArtham as the Lord is the master( sEshi) and the prapanna is sub-servient ( sEshan).
This pAsuram elaborates the path of saranAgathi to attain mOksham. Totally surrender to HIM, by worshiping with utmost devotion, by asking forgiveness, expressing gratitude and humbly renouncing the fruits obtained .
TIRUPPAVAI 29 – CHITRAMCHIRUKALE
PASURAM 502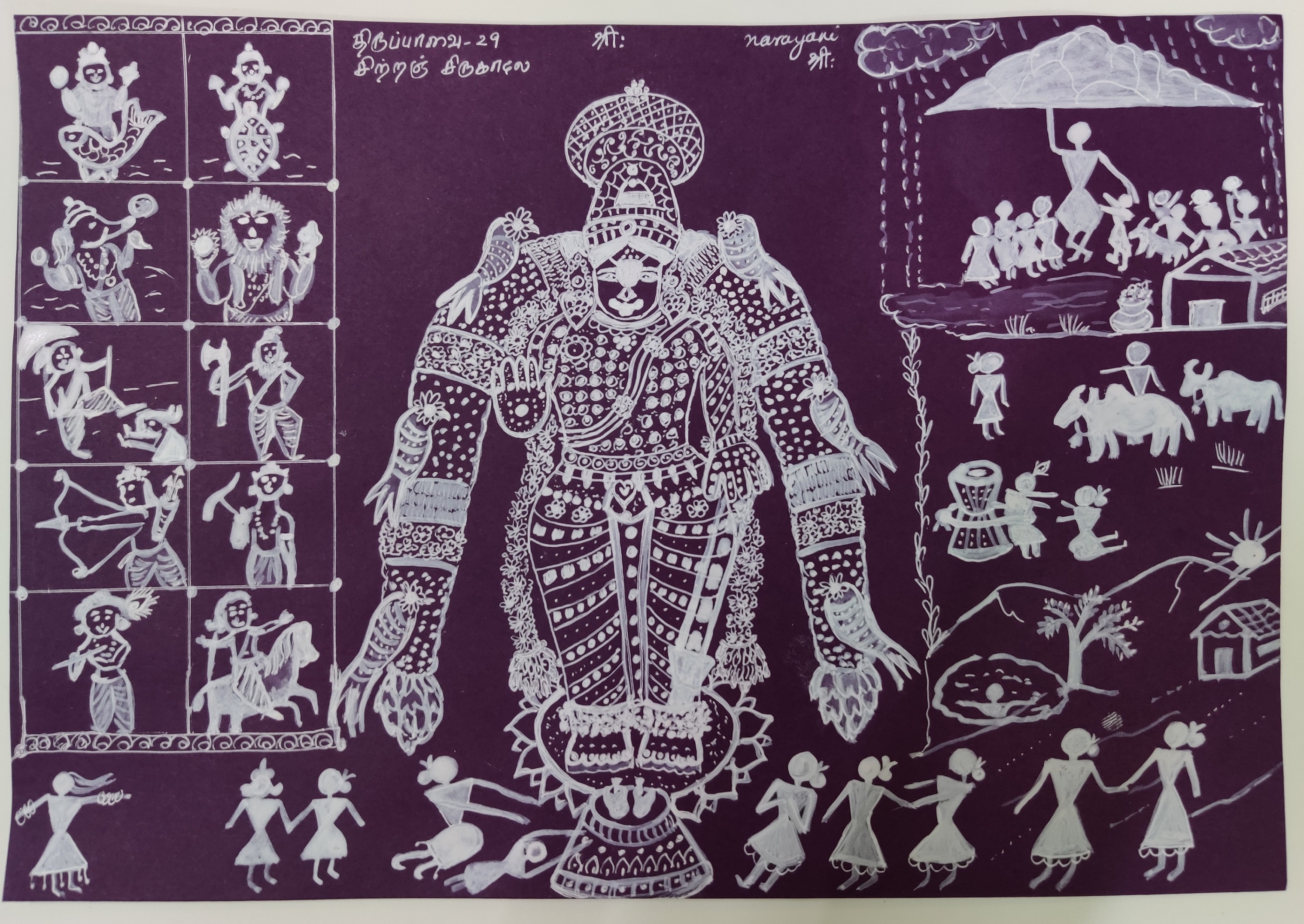 ANDAL explains the essence of *Sharanagati*. She invokes Lord Govinda for the third time in a row (first two in 27, 28). She narrates her story of nOnbu in short phrases as to how she and her friends possessed the basic two pre-requisites for surrender namely *Akinchanyam – utter helplessness* and *ananya-gatitvam – no other refuge*.
*chiRRam chiru kAle..* – ANDAL further points to the 5 limbs (angas) of prapatti. She explains to Lord Govinda: We did what should have been done i.e. we woke up in the early sAttvic hours of brahma muhoorta and worshipped your lotus feet singing your divine names sincerely (1. Anukoolya sankalpam) and we refrained from that which should not be done., ie. we refrained from hurting people and doing things not approved by the Lord. (2. prAtikoolya varjanam).
*peTram meyttu..* – We were blessed that you were born in our cowherd clan to protect us. So now don"t turn us down, please show your compassion. (3. kArpaNyam).
*utrOmE AvOm….unakkE nAm..* – Oh Govinda! We will surrender only to you and be yours not only in this janma but for many janmas to come. (4. mahAvishvAsam).
*maTrai nam kAmangaL mAtrElOr empAvAi* –  Oh gOvinda! Please protect us so that we do not divert away from you. (5. gOptRutva varanam)
The real meaning of the word "parai" is finally revealed in this pAsuram. "etraikkum ezh ezh piravikkum undannodu" – "ananta kainkaryam" eternal service of the Lord without separation is the ultimate bliss for a jeevAtma/chEtana.
TIRUPPAVAI 30 – VANGAKADAL KADAINTA
PASURAM 503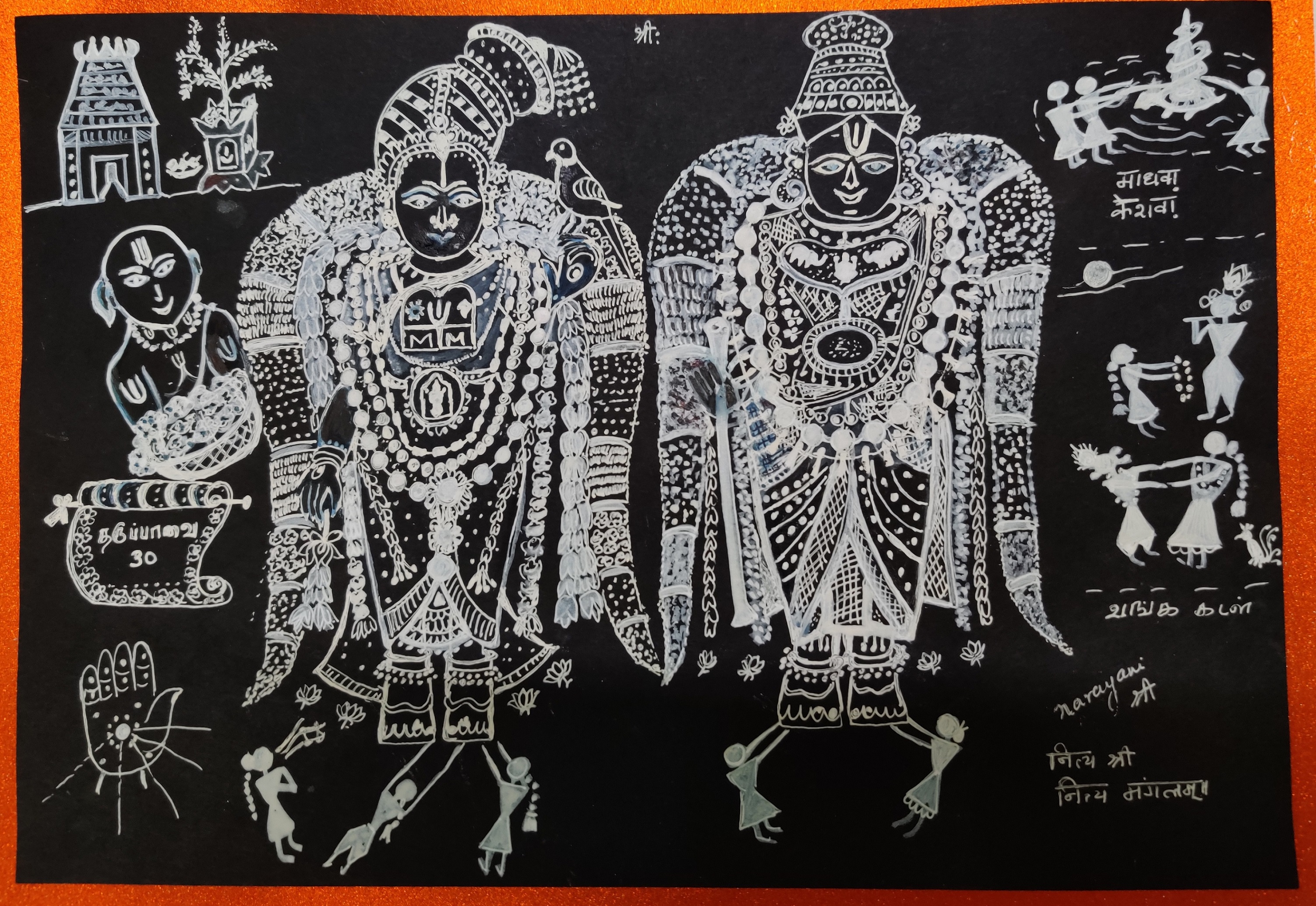 *PHALA SHRUTI*
ANDAL having found the path to bliss prays to the Lord to shower His divine grace on all .
As it is Shree, the consort of the Lord who recommends us to Him (purushakAram), ANDAL addresses the Lord as MADHAVA (the husband of Shri). Oh Lord MADHAVA, KESHAVA! The one with strong shoulders who takes the responsibility of protecting us, the one with a beautiful face with red eyes full of compassion! Just as you gave this KODAI, the daughter of Bhattar PirAn and all the bright gOpis the rewards of nOnbu, in the same way, please bestow your everlasting grace on all those who recite all the 30 tiruppAvai pAsurams without fail.
It is the magnanimity of the elevated souls to ask for the emancipation of jeevAtmas suffering in the world. So did ANDAL rise to do "purushakAram" so that we all enjoy the bliss that she experienced.
The last two pAsurams are the first two shlokas that are recited under the "SAtrumurai – the concluding part of nitya bhagavat ArAdhanam". They are then followed by PeriyAzhvAr's tiru pallAnDu.
Nitya Shree Nitya Mangalam.
ANDAL TIRUVADIGALE SHARANAM
AZHWAR EMBERUMANAR DESIKAN TIRUVADIGALE CHARANAM
ANDAL VAZHI TIRUNAMAMS
ANDAL VAZHI – 1
திருவாடிப்பூரத்து சகத்துதித்தாள் வாழியே!
திருப்பாவை முப்பதும் செப்பினாள் வாழியே!
பெரியாழ்வார் பெற்றெடுத்த பெண்பிள்ளை வாழியே!
பெரும்புதூர் மாமுனிக்குப்பின்னானாள் வாழியே !
ஒரு நூற்று நாற்பத்து மூன்றுஉரைத்தாள் வாழியே !
உயரரங்கற்கே கண்ணிஉகந்தருளித்தாள் வாழியே!
மருவாரும் திருமல்லி வளநாடி வாழியே !
வண்புதுவை நகர்கோதை மலர்ப்பாதங்கள் வாழியே !
ஆண்டாள் திருவடிகளே சரணம்
Tiru AdippUraththu segaththudhiththAl vAzhiyE – Glory be to ANDAL whose tiru nakshathram is the great Adi pUram , bhUmipirAtti was born as ANDAL. .
tiruppAvai-muppadhum chEppinaL VAzhiyE-she wrote tiruppAvai having 30 pAsurams.
periyaAzhuAr petREduththa pENpiLLai vAzhiyE – the girl child of periyaAzhwar.
Perumputhur mAmunikkup pinnAnAl vAzhiyE –EmpurumAnar who was born in sriperumbUthur is like her elder brother,because he fulfilled her wish of giving nURu thadA veNNai, akkAra adisil etc, to perumAn. AANDAL called him ANNA.
Oru nURRu nArpaththu mUnRu uraiththAL vAzhiyE- ANdAL sang tiruppAvai and also nAchiAr tirumozhi which contains 143 pAsurams.
Uyar azangarkkE kaNNi UgandhaLiththAL vAzhiyE-who was elevated by getting married to tiru arangan.
MaruvArum tirumalli vaLa nAdi vAhiyE – glory to srivilliputhur that is filled with fragrance of malli flowers everywhere .
van pudhuvai nagarK kOdhai malarppadhangal vAzhiyE – glory to srivillipuththur ANDAL"S LOTUS FEET.
சூடிக்கொடுத்த நல் நாச்சியார் கோதைக்கும்
தேடி அவள் கொண்ட ஸ்ரீ ரங்கநாதர்க்கும்
நாடி அவள் புகழ் கூடி உவகையுடன்
பாடிய பக்தர்க்கும் கேட்பவர் யாவர்க்கும் மங்களம் மங்களம்
chooDi kOdutta nal nAchiyAr
kOthaikkum
tEDi aval konDa shri ranganAtharukkum,
nADi avaL pugazh kooDi uvagaiyuDan
pADiya bhaktargalukkum kEtpavar yAvarukkum mangaLam mangaLam.
May auspiciousness prevail for AANDAL NACHIYAR who wore the Lords"s garland, for Lord RanganAtha who married her, for the bhaktas who sing her songs and for those who just hear her tiruppAvai.
ANDALVAZHI TIRUNAMAM – 2
திருப்பாவை வாழி திரு நாமம் -2
கோதை பிறந்த ஊர்!
கோவிந்தன் வாழும் ஊர்!
சோதி மணி மாடம் தோன்றும் ஊர்!
நீதியால் நல்ல பத்தர் வாழும் ஊர் !
நாண் மறைகள் ஓதும் ஊர்!
வில்லிபுத்தூர் வேதக்கோன் ஊர்!
பாதகங்கள் தீர்க்கும் பரமன் அடி காட்டும்!
வேதம் அனைத்துக்கும் வித்தாகும் !
கோதை தமிழ் ஐயைந்தும் ஐந்தும் அறியாத மனிதரை வையம் சுமப்பது வம்பு !
kOdhai pirandha Ur – where kodhai was born.
gOvindhan vAzhum Ur –where there is kodai there is govindhan.
Sodhi manNi mAdam thonRum Ur –the place with beautiful gOpuram.
needhiyAl nalla paththar vAzhum Ur –the place where honest devotees live.
nAn maRaigal Odhum Ur – where the four vEdas are recited all the time.
villipuththur vEdak kOnUr – It is srivillipuththur that houses the expert in vEdas.
PAdhagangal theerkkum – will make all the karmas vanish.
Paramanadi kAttum – will show us perumAn's tiruvadi for surrendering and doing kainkaryam.
vEdam anaiththukkum viththaAgum – the one that is seed/extract of all vEdhas, upanishadhs and purAnas.
kOdhai thamizh aiaindhum aindhum – andal's thamizh prabhandham 5*5+5(tirupavvai).
ariyAdha mAnidarai vaiyamsumappadhu vambu –( those who dosn't know those 30 pasurams ) are a trouble to this world since they would misunderstand.
vEdha's meaning and would debate or follow in wrong ways.
ANDAL VAZHI – 3
வேயர் புகழ் வில்லிபுததூர் ஆடிப்பூரம், மேன்மேலும் மிகவிளங்கும் விட்டுசித்தன், தூய திருமகளாய் வந்து அரங்கனார்க்கு துழாய் மாலை முடி சூடிக்குடு த்த மாதே நேயமுடன் திருப்பாவை பாட்டு ஆரைந்தும் நீ உரைத்த தை ஒரு திங்கள் பாமாலை ஆய புகழ் நூறுடன் நாற்பத்து மூன்றும் அன்புடனே அடியேனுக்கு அருள் செய் நீயே – தேசிகன் பிரபந்த சாரம்
ANDAL VAZHI 4
கமலமுடன் வில்லிபுத்தூர் விளங்கவன்தாள் வாழியே!
காரார் நற்றுழைக்கானத் தவரித்தல் வாழியே!
விமலமாம் திருவாடிப் பூரத்தாள் வாழியே!
விட்டுசித்தன் வளர்தெடுத்த இளங்கிழையாள் வாழியே!
அமலத் திருப்பாவை ஐயாறு அளித்தருள்வாள் வாழியே!
ஆக நூற்றெண்ணைந்து மூன்றுரைத்தாள் வாழியே!
அமுதனாம் அரங்கனுக்கே மாலையிட்டாள் வாழியே!
ஆண்டாள் தம் இணையடிகள் அனவரதம் வாழியே!
kamalamuDan villiputtUr viLa'ngavandAL vAzhiyE!
kArAr naRRuzhAikkAnat tavadarittAL vAzhiyE!
vimalamAm tiruvADip pUrattAL vAzhiyE!
viTTucittan vaLartteDutta iLa'nkizhaiyAL vAzhiyE!
amalat tiruppAvai aiyARu aLittaruLvAL vAzhiyE!
Aga nURReNNaindu mUnRuraittAL vAzhiyE!
amudanAm ara'nganukkE mAlaiyiTTAL vAzhiyE!
ANDAL tam iNaiyaDigaL anavaratam vAzhiyE
ANDAL TIRUVADIGALE SHARANAM.