nAchchiyAr tirumozhi
BHAKTI TO PARAMA BHAKTI
In tiruppAvai, ANDAL demonstrated to us, the path of bhakti and sharanAgati required to attain EmperumAn. She had a divine vision of the Lord and promised to be in eternal servitude. (unakkE nAm AtseyvOm).
As she was the very incarnation of bhoomi Devi, she wanted to unite with the Lord immediately. She felt like a fish out of water; she could not part with Him even for a moment. As she was nearing the age of marriage, she was worried that she would have to marry someone. She wanted to marry only Lord RanganAtha and without any delay. For this reason, ANDAL is called *nAreenAm uttama vadhu* – the best bride among all women, just like seetA dEvi.
ANDAL'S intense love for Krishna and her attempts to involve all the dEvas, chEtanas and achEtanas in her penance to marry Him immediately has been packed in a fervent 143 verses called nAchchiyAr tirumozhi.
(Aychchi (consort of) + nAyan (nArayanan)= NAYCHCHI)
Let us experience together, the tirumozhi that demonstrates the transformation from bhakti to parama bhakti.
NACHCHIYAR TIRUMOZHI TANIYAN- 1
By Shri tirukaNNa mangai ANDAN
அல்லிநாட் டாமரைமே லாரணங்கி னின்துணைவி
மல்லிநா டாண்ட மடமயில் – மெல்லியலாள்,
ஆயர் குலவேந்த னாகத்தாள், தென்புதுவை
வேயர் பயந்த விளக்கு.  
allinAttAmarai mEl AraNangin intuNaivi
malli nAdAnda mada mayil – melliyalAL
Ayar kula vEndanAgattAL ten puduvai
vEyar payanda viLakku
ANDAL is the friend of Sri Devi seated on the lotus with thousand petals; the beautiful peacock who ruled Srivilliputtur like a princess; the soft natured who is ever united with krishNa, the leader of the cowherds; she is indeed the light of the world.
NACHCHIYAR TIRUMOZHI TANIYAN- 2
By Shri Vanamamalai Jeeyar (1st  peeTam)
கோலச் சுரிசங்கை மாயஞ்செவ் வாயின் குணம்வினவும்
சீலத் தனள், தென் திருமல்லி நாடி, செழுங்குழல்மேல்
மாலத் தொடைதென் னரங்கருக் கீயும் மதிப்புடைய
சோலைக் கிளி,அவள் தூயநற் பாதம் துணைநமக்கே.
kOlach churi shangai mAyan sevvAyin guNam vinavum
seelattinaL ten tirumalli nADi, sezhum kuzhal mEl
mAlait toDai ten ara'ngarukku eeyum madippuDaiya
sOlaikkiLi, avaL tooya naRpAdam tuNai namakkE
We pray to ANDAL, the one who is famed for conversing with the shankh held by krishNa in his coral mouth; the beautiful parrot who incarnated in the garden of periyAzhvar in srivilliputtur (tiru malli), wore the garlands of the Lord around her beautiful tresses. Her divine pure feet is our only refuge.
The above taniyan is recited in some temples.
NACHCHIYAR TIRUMOZHI COMMENTARY
NACHIYAR THIRUMOZHI – 1
PASURAM : 504 – 513
TAI ORU TINGALUM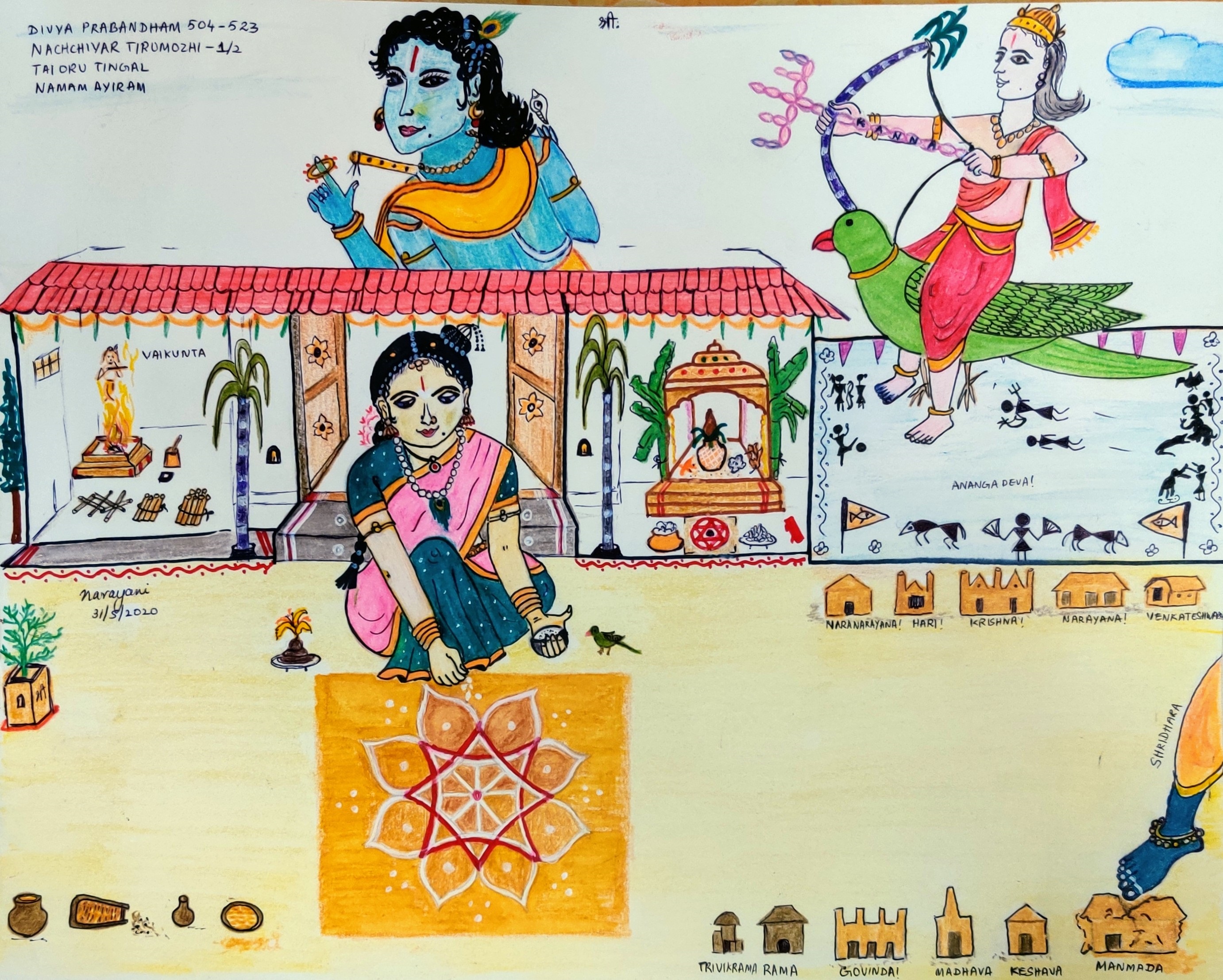 We have seen earlier that ANDAL initiated and conducted the pAvai nOnbu to get KaNNan as her husband by singing the 30 tiruppAvai pAsurams. Yet she did not get the anubhavam of uniting with HIM. After a lot of thinking she decides to pray to Manmadan or kAman, as it is believed that his flower arrows have the power of uniting lovers. Hence she prays to him to get her united with her EmperumAn.
504 manmadhanE!, throughout the month of tai month, I shall clean the floor and decorate with beautiful Kolams, for worshiping you. Then I shall fill the street with soft sand during the waning period of the first half of "mAsi" month so that it feels soft for your feet. I shall fast and pray to you and to your brother sAman asking ,  "whether I will succeed"? I would request you both to help me in getting the opportunity to personally serve "tiruvenkatamudaiyan", who carries the chakrAyudam which emanates hot fire sparks.
(kAman and sAman are the two children of KrishNa. kAman is pratyumnan who was born to Rukmini, Krishna's consort.   sAman is sAmban born to jAmbavati, another consort of Lord KrishNa.
505 kAmadEvA!, after spreading and decorating the path that you will come through with white pure silt , I shall bathe in the riverbed before dawn. Seeking your help, I will try and do yagnam offering ,dry sticks (முள்ளில்லா  சுள்ளி) devoid of thorns, into the fire and perform the nOnbu.  In return you will have to help me Unite with the blue hued "tirumAl", by writing HIS name on the  honey dripping flower arrows and targeting and shooting at the One who burst open bakAsuran's (crane) mouth.
506 In order to become one with "Lord tiruvengadanAthan", I prayed at your feet performing the nOnbu, offering flowers like OOmattam and murukkam , at all three times of the day like morning, noon and evening. Do not give a chance for me to say with a boiling heart, scolding you and pronouncing that "you are a liar". Make an arrow of flower bouquet and meditating HIS name "GovindA" in my heart ,please let me unite me with the astounding Light called "VenkatanAthan".
507 Oh glorious manmada since ancient times, I have written your name on the walls, further I have dedicated drawings of flags with sharks, horses, beautiful damsels with fans (சாமரம்) and sugarcane bow for you especially. Since my childhood, I have determined and prayed , that I shall be only for The dwArakAdeesh KaNNan (துவரைப் பிரானுக்கே ). Please ensure that you unite me with Him at the earliest.
508 manmadanE! It is not fair.   If the offerings that are kept by the BrAhmaNs to give in the yAgAs meant for the dEvas are smelt and taken by forest fox, how will it be? In the same way, other than "tirumal", I shall not surrender myself to any human being. I have dedicated my body and soul to Lord tirumAl who bears the Shanku and Chakkram on his  body.  I will not live if anyone ever tries to get me married to humans.                                           
509 kAmadEvA! with the help of the young expertise, who are well aware of the rules in the lead, I shall do the nOnbu, daily facing you on your path, with a clear mind until the auspicious "panguni Uttiram" day.  In return, you should make the vision (திருஷ்டி) of the divine eyes of the lotus hued Lord who has the colour of the dark black water filled rainy clouds, whose colour is like that of kAyAmpoo, and who has the brilliance of kAkkaNampoo, fall on me , and thus bless me.
510 manmadanE! , I shall worship you performing the nOnbu, with the help of well-versed scholars in the field chant the hymns, and spread rice kernels and sugarcane and offer prasadam made of rice, jaggery (karuppu katti) and aval. You should help me to make the divine hands of the Lord trivikrama who once measured all the worlds, touch and embrace my body. Will you give me this boon that will last in the world for ever?.
511 Oh smart and glorious manmadanE! , consider the plight that I am in, with a body full of dirt, and unoiled hair that is let loose, my mouth and lips have become dried and pale due to the observance of the nOnbu , eating only once a day . Now please listen to what I have to say. To add glory to my womanhood, you should try and help me get the bhAgyam of doing "pAda sEvA" to my Lord kEsavA.
512 I have been praying three times a day, whole heartedly bowing my head and offering flowers at your feet. If I don't become entitle to flawlessly serve the divine feet of "TIRUMAL", who is blue hued like the water that surrounds the world, I will have to cry "ammA", in distress and with a broken heart. You will have to bear the curse for that sin. The plight that you have put me in is very similar to abandoning the ox and starving it after extracting all the work from it in the field by its master.
PHALASRUTHI
513 In Th is last pAsuram Andal says, that she prayed at the feet of manmada who possesses the sugarcane bow and the flower arrows. She put forth the request before him to unite her with the Lord "MANIVANNAN", who killed the KuvalayApEtam elephant by plucking its tusk and slayed the BakAsuran bird by tearing its beak apart. She goes on to bless that those who recite these ten tamizh verses strung as a garland sung by ''KODAI', daughter of PERIAZHWAR, the chieftain of SRIVILLIPUTHUR which has mountain like castles, will certainly attain the Lotus feet of Lord THIRUMAL.
NACHCHIYAR TIRUMOZHI 2
PASURAMS 514 – 523
NAMAM AYIRAM SOLLI.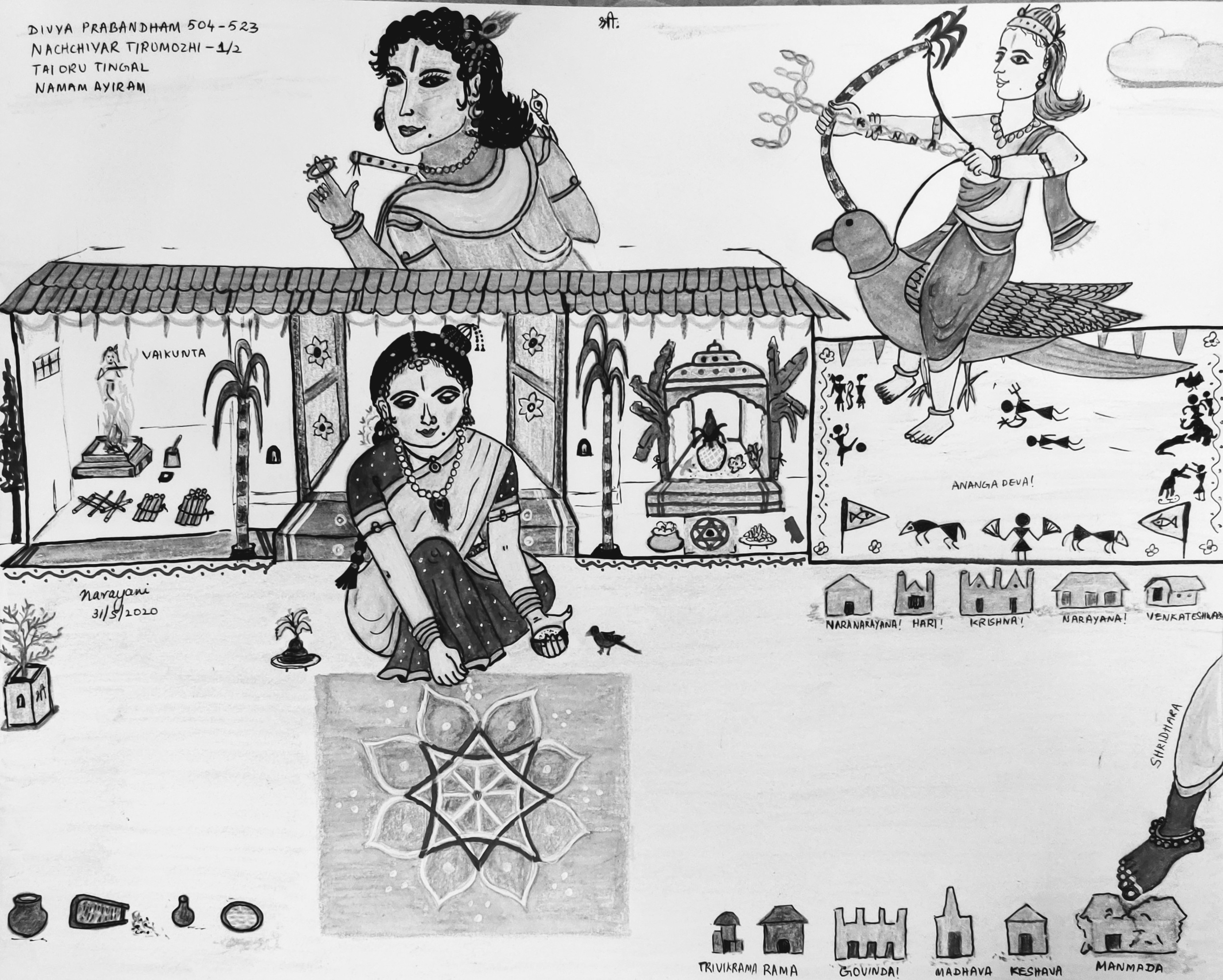 Will KrishNa bear if His devotees ignoring Him. In all his avatars KrishNa always incarnated to destroy the ego and vice and test the sincerity of His devotees. Mischief cooks in KrishNa's mind. He comes down to squash the penance of the young gOpikAs waiting for manmada's arrival. ANDAL narrates the sweet tiff and a hide and seek game that ensues between them.
"engal siRRil vandu sidaiyELE" means Don't trample/destroy our sandcastles.
514 Oh Lord Nara-nArAyaNa of badarikAshrama, praised by 1000 names by the celestials! People will only mock at us for marrying our mother-in-law yashOdha's naughty son. Yet our hearts yearn for you. We are making pretty sandcastles on the neatly decorated silt road because it is time of the panguni month when kAman comes to our streets to grant our wishes. Oh, mischievous Shreedhara! As we are seeking you only, do not trample our sandcastles.
515 Dear KaNNA, we have created these sandcastles with a lot of hard work, overlooking our resulting back pain. Please see properly and encourage us, atleast we will feel better. Why are you bent on destroying our cute sand houses? Where you the one who lying on the banyan leaf swallowed the whole universe to protect it? Where has that mercy gone? Oh, what sin have we committed to not be eligible for your mercy?
516 Oh kaNNA, the one reclining over the deep sea, the fierce lion Narasimha, the merciful Shree Hari who saved the elephant Gajendra. We made sandcastles with pure silt with a lot of strain only to attain you. Is it right for you yourself to destroy our tiny houses?
517 Dear punDareekAksha, dark like the rainy clouds, and having lotus like eyes ! You spell us with sweet words and canny ways. We know it all but when we see your innocent face, we fall for you. We don't feel like complaining again and again on the fear that we may lose you. So please don't trouble us by crushing our sandcastles.
518 Oh mischievous mAdhavA, kEshavA! We brought fine sand, sifted it nicely and built these sandcastles. Everybody around is astonished by our beautiful work. After all this, even if you destroy our sandcastles and our kOlams, we will not be angry with you. So why don't you also praise us like the people of the village do. Don't you have appreciative eyes?
519 Dear kaNNA, we are unintelligent and immature. Here, you put up a misleading exterior by spoiling our sweet sandcastles. But we hear that as Lord rAma, you built the sEtu bridge to Lanka to unite with SeetA Devi and vanquished the whole clan of asuras there. Oh raghuveera, we cannot match your might. We are unintelligent. Please have mercy on us!
520 Dear ocean colored krishNA, If you show your speaking skills to the well-read ones who can understand, it is worth it. What is the use of tricking pure hearted innocent children? Enough of it. We swear on all your wives. Stop pretending! Do not crush our cute sandcastles.
521 Oh kaNNA, you don't seem to listen. We filled the round mouthed small pots with white sand, brought them with care and sieved them with a winnowing tray (chulagu) and built our toy castles. You disturbed the sandcastles and kicked them in such a way that they cannot be remodeled. What do you gain out of this? Go away! krishNa says, "Beware, I am sarvEshvara and I have the chakrAyudha". The gOpis quote: "We are no more impressed. When we a have bitter tongue even sweets don't taste good. (kaittAl kaTTiyum innAmai – nenju kasandAl karupETTiyum inikkAdu)
522 Krishna goes away but stealthily enters from their backyard. Oh trivikramA, you measured the earth with one foot and all the upper worlds with the other foot! Is it befitting that the Lord of such fame does these petty mischiefs? We hid ourselves from you in our courtyards and tried to build new sandcastles. But Look! You have managed to enter there also. You first mesmerized us with your charming smile and then destroyed not only our sandcastles but also all our dreams. If some one sees us now, what will they speak about us krishNA!!
PHALASHRUTI
523 Thus, KrishNa enjoyed the lisping words of the young cowherds playing on the streets, akin to how ShreerAma enjoyed the adarAmRuta of SeetA Devi. Those who learn and recite well these pAsurams sung by the kOdai, the daughter of viTTuchittan of Srivilliputtur that flourishes with the sacrifices of the vEdic scholars, will reach the permanent abode, vaikunTham without any defects or cravings. (kuraivindri vaikuntam sEruvAr).
NACHIYAR THIRUMOZHI  3
PASURAMS  (524 – 533)
kOzhi azhaipadan
Pleading with Kannan to give back their garments.
The gopikAs were forlorn and yearning for constant companionship with Krishna. As Krishna was eluding them, they became desperate and decided to take a dip in the cool waters of the pond to calm down. So, they proceeded to the pond, very early to avoid the naughty Krishna,  who was the reason for their present predicament. Krishna, who had sneaked behind them , bundled up their garments and kept it atop the kurundai tree.
524 We chose to come early, before the crowing of the cocks, to dip and bathe in the cool waters of the pond. But now, the Sun ( Azhiyanselvan) has also risen! Oh ! Krishna! The one who reclines in Yoganitra on the Adiseshan ! We will not come to the pond henceforth without your knowledge. I plead with you, together with my friend. Please do not embarrass ( yEzhaimai) us anymore. Do give back our garments.
525 Krishna! Our Nectar! One who wears Tulsi, dripping with honey on your crown! The one who makes us lose our senses( mAlE)! One who is beyond human comprehension (mAyan)! How and why did you come here? We are not destined to enjoy communion with You. You naughty boy(vithagan)! The one who danced on the hood of kAlingan! Do give back our garments from atop the kurundai tree.
526 Krishna! Why are you teasing us like this? Our family and folks will never accept this. Don't you think it is unfair to be holding back our garments? Oh! The Valorous One, who destroyed Lanka with your arrows. We promise to give you whatever you ask of us. We will go away before anyone sees us. Do give back our garments.
527 Oh!Krishna! You are the one who destroyed Lanka! Don't you sympathize with us? We are still inside the cold waters, pleading with you, with tears streaming unrestrained and eyes brimming with tears. You seem to prove that you are the king of monkeys ( kurakkarasu), by jumping on the tree. Please give back our garments from atop the kurundai tree.
528 Oh dark complexioned Krishna! Vaalai and kayal fish bite our legs, as we remain in the pond, begging you to give our garments. Our brothers ( ammanaimArgal) will come with their spears to chase you off, for putting us to so much trouble. What sort of game is this? Don't take our dresses and climb higher up on the tree. Do give back our garments from atop the kurundai tree.
529 Oh! Krishna, who is adept at throwing up pots and dancing (kudathai…koothaada)! The stems that bear the large- petaled lotuses in the pond are hurting us. It is agonizing like the sting of the poisonous scorpions. Please stop playing pranks( padiRRu) and give back our silken garments.
530 Krishna! The Lord who protects the universe during the deluge( Uzhi ellAm unarvAnE)! We have become weak, standing for so long in the waters. We can't even go home, since it is far away. You are being unjust by not giving our clothes. We declare that we are completely entranced by you. But our mothers will never accept this. Stop climbing further up and please give back our garments.
531 Oh! Beautiful child of AyarpAdi! One who is in Yoganitra, with eyes like pure flowers. Those of us who have come to the pond are not only like your consorts (mAmimAr). Some are like your aunts and mothers too(maRRum). We sternly declare that what you are doing does not befit your stature. Please give back our garments from atop the kurundai tree.
532 Krishna! Did you escape Kamsa 's plans to kill you, and come to AyarpAdi at midnight, only to give us so much agony? Your mother Yashodha,  would not even raise her voice to control your mischief.  You shameless boy (magimayilee) , who drank the poisoned milk from the deceitful Putana! Please give back our garments.
533 PHALA SRUTHI
These ten pAsurams, which speak about the pranks of the dark hued Kannan , with the AyarpAdi girls , are sung by Kodai of Srivilliputhur.  This city is surrounded by golden corridors.  Those who learn and recite them will enter SrivaikunTHam and remain eternally with Madhavan.
NACHIYAR TIRUMOZHI 4
PASURAMS 534-544
teLLiyAr palar
kaNNan has disappeared. ANDAL exercises a game(koodal izhattal)wishing for good omens that will reunite her with her Lord.  kooDiDu kooDalE—In every pasuram ANDAL requests the insentient objects to pair and says, "May my wish of reuniting with Krishna be fulfilled".
KOODAL IZHATTAL
A game played ( several ways are there) in those days, praying to insentient objects to fulfil one's desire. Pairing in even numbers is  supposed to be a  good omen.
1)Draw a circle.  Take shells and close your eyes. Wish for your desire . Throw the shells inside the circle. Count the shells , that are inside out ,and pair them. Even pairs , indicates that one's desire will be fulfilled which is considered as a good omen.
2)Draw a circle.  The eyes are blind-folded. On the inner side of the circle draw consecutive circles. The end point should meet the starting point and the circles should be in even numbers.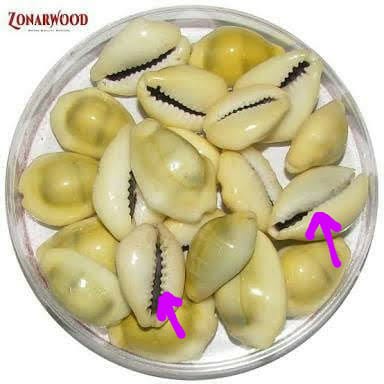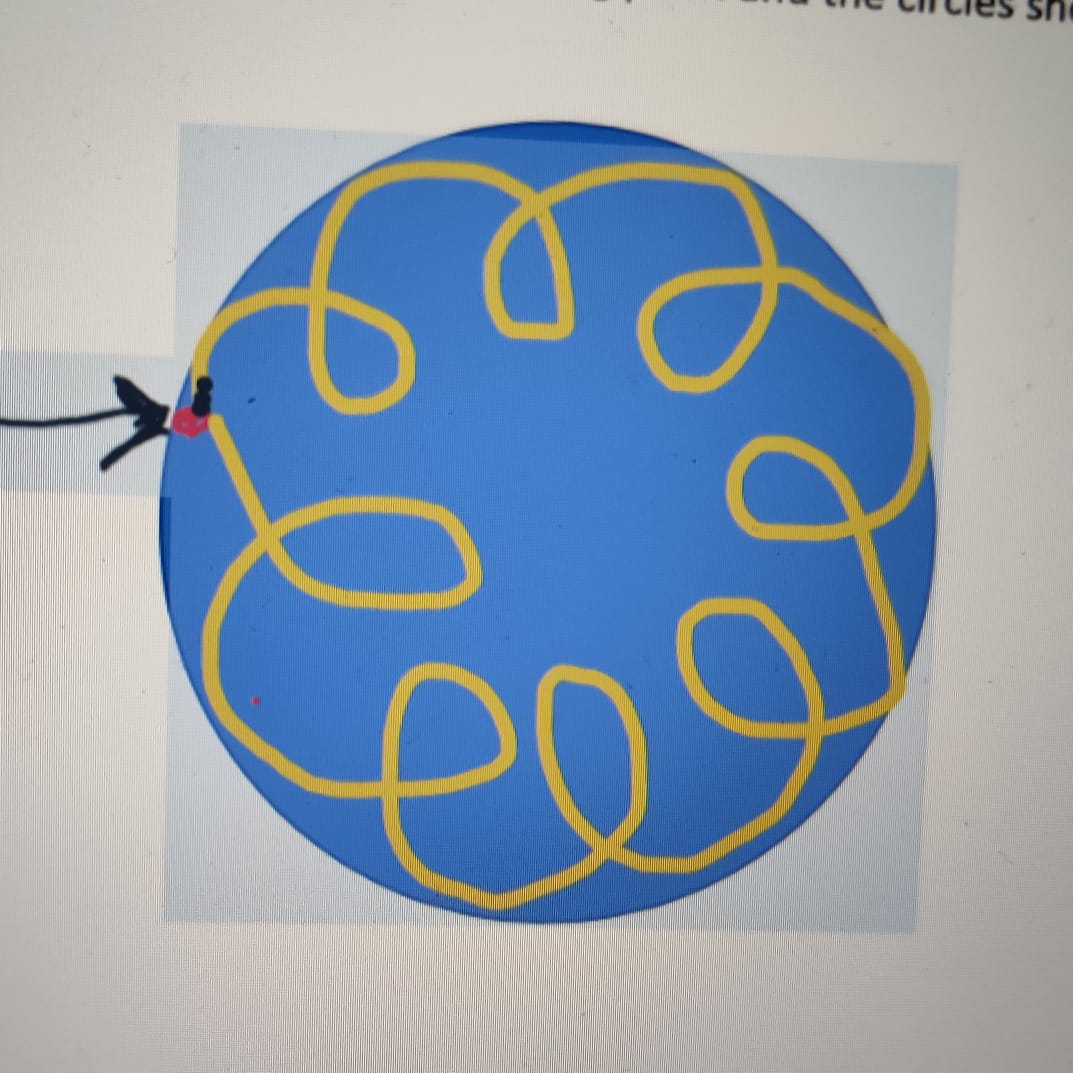 534 I pray to the Lord of TirumAlirunchOlai worshipped by pure minds(telliyAr palar) to bless me with the bhagyam of doing pAda sevA for my manALan as he goes into yoganidra. Please grant this wish. kooDiDu kooDalE
535 O! The Lord vAmanA! One without blemishes, residing in the forests of tiruvENkatam and the city of tirukkaNapuram, if it is true that you are going to grab my hand and embrace me, then may my desire be fulfilled. (kUttamagil). kooDiDu kooDalE
536 How I wish, kaNNan who is praised by Brahma and nityasuris (vAnavar), the proud son of the lustrous and beautiful Devaki and king VasudevA, comes and takes me away. Please , show me a good omen. KooDidu kUdalE!
537 I hope to be blessed and get reunited with the touch of that Krishna who removed the fears of the venomous snake kAliyan from the hearts of those in AyarpAdi, by dancing on his hoods, and His little feet that gave life to the dead kadambA trees. kooDiDu kooDalE
538 Krishna walked along the streets of Mathura, with lofty palaces, kicked the elephant and plucked out its tusks. I wish HE comes to my street (nan teruvin) looking out for me and takes me away. kooDiDu kooDalE
539 The liitle Kannan learnt to walk by felling the marudam trees, adopted crafty ways and killed kamsa (deceit incarnate) the king of Mathura, which has beautiful huge structures. I urge HIM to come and reunite with me. kooDiDu kooDalE.
540  BhagavAn got rid of SishupAlan who committed atrocities. kaNNan felled the marudam trees that came in His way. He conquered the seven bullocks to marry nappinnai and killed bakAsurA in the form of a crane. I crave to get reunited with this valorous kaNNan. kooDiDu kooDalE!
541 kaNNaN resides in the hearts of those who love HIM unconditionally, like the residents of DwarakA who always prayed for His welfare. His simplicity was his birth as a cowherd to protect the cows and the naïve people of vrindAvan. I am extremely impatient(Aval) to attain the One with the qualities of dayA towards HIS devotees! kooDiDu kooDalE.
542 KrishnA took the the form of vamanA as a brahmachAri, with a small stature, wearing the sacred thread bearing deer skin and a kamandalam. BhagavAn blessed the sacrifice(peru vElvi). He took trivikrama avataram and measured the two worlds(aNdamum nilamum), and the third was mahabali's head out of extreme mercy and kindness( not to kill him). Will this Lord come and reunite with me? kooDiDu kooDalE.
543 Krishna! , who is the inner meaning of the four vedas. HIS great concern and sympathy to protect Gajendran(the elephant king )when in deep trouble is laudable. He attracts one and all with his exquisite beauty (em azhaganAr) and forever resides in the thoughts of the intensely devoted gopis ! I wish my desire becomes true and my kannapirAn comes to fetch me! kooDiDu kooDalE
544 The beautiful curly haired kOdai, now finished playing the game along with the gopis with their highest form of bhakti. Those who read these ten pasurams expressing the gesture of the gopis, their inability to bear HIS separation and then uniting with HIM(Udal-koodal), complaining to kaNNan that HE has been unfair by disappearing and in turn kaNNan asking for forgiveness(unardal-punardal), will never experience the agony like AndAl. They will be blessed with eternal bhagavat kainkaryam.
NACHCHIYAR TIRUMOZHI 5
PASURAMs 545 – 555
mannu perum pugazh…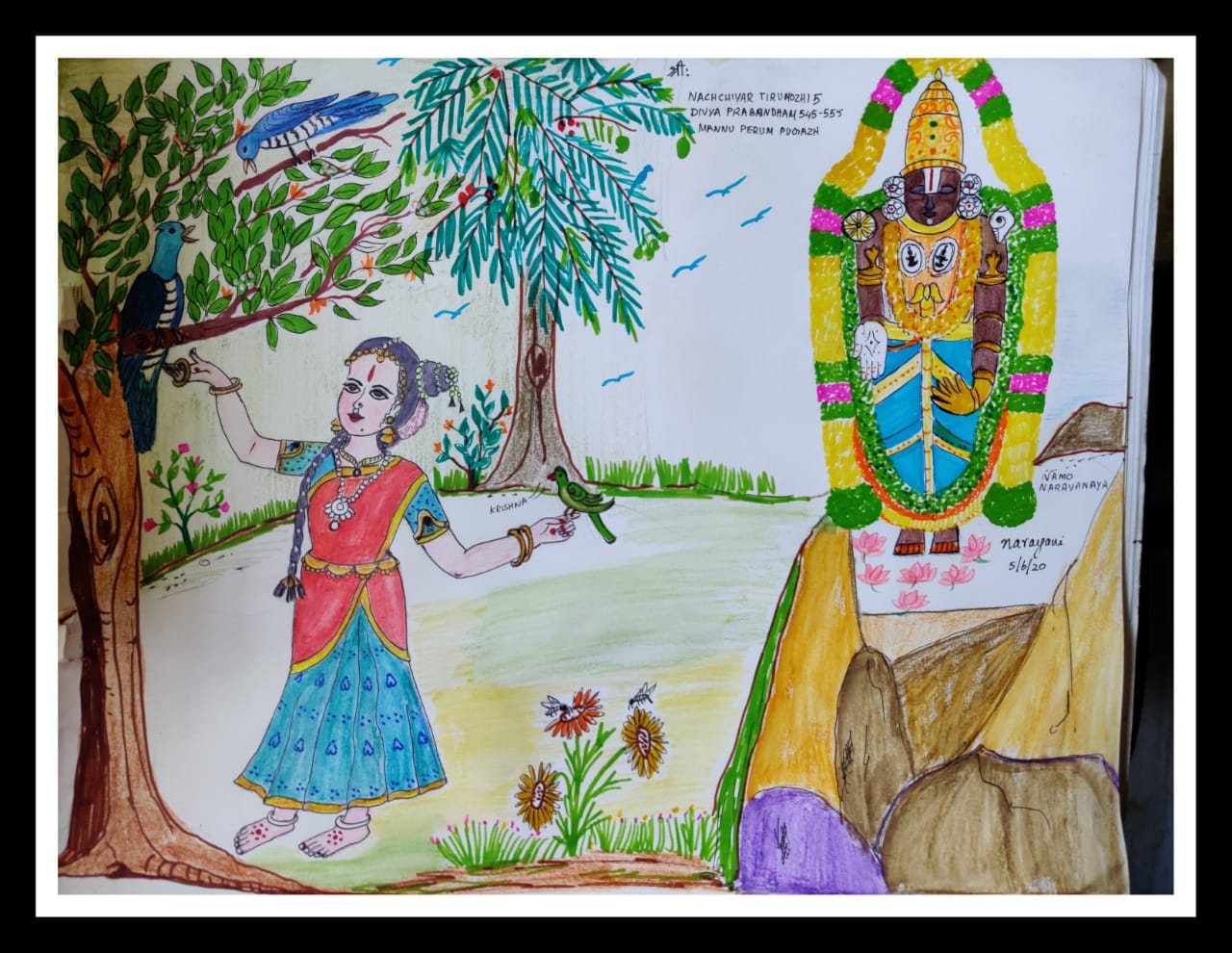 ANDAL gets a paired result in the kooDal game, but her ultimate wish of uniting with Kannan did not happen. Just then a cuckoo bird sings.  kOdai is reminded of the cuckoo bird that sang when she and kaNNan were in the grove once upon a time.  As she did not get any reply from "kooDal", she thought this bird has seen them then, it will be able to understand her plight. So, she pleads the cuckoo bird to bring KaNNan to her.
545 Oh, eternally and countlessly famed kaNNA! (mannu perum pugazh), the heart jewel of Shree (mAdhavan), the great blue hued gem (mAmaNi vaNNA), the bearer of the gem studded crown! I have become so thin yearning for your arrival that my bangles are becoming loose. I have lost so many of them now. Is this fair on your part? Dear Cuckoo living in the beautiful grooves filled with punnai, kurukatti, nyAzhal, and cherunti trees, please sing the tirunAmams of my coral lipped KrishNA loudly so that he is drawn to me.
546 Dear Cuckoo who sings sweetly after drinking from the honey laden shenbhaga flowers, my vimalan who holds the conch in his left hand is troubling me. He entered my heart and mesmerized me with his love but does not come before me. He is hiding and enjoying his leelA. Don't waste time with childish songs. Sing in such a way that would bring my Lord from tiruvEnkaTam.
547 Dear Cuckoo, you and your mate enjoy the fresh fragrance of the blossoming flowers and the "kAmaram" sound of the bees hovering around the pollen. When Indra's charioteer "mAtali" drove rAma to rAvaNa's kingdom, rAma beheaded rAvaNa with his powerful arrows. But I don't see him coming for me. Please sing and call my beloved ruby like gem Lord.
548 Oh Cuckoo, my bones have become thin due to separation. The eyelids of my spear like eyes have not been able to close. I am struggling to cross the ocean of separation because I do not have the boat of vaikunThanAtha for my help. You must be knowing well the grief of separation of the loved ones. Sing and bring my golden virtutous Lord who has the garuDa flag.
549 Oh Cuckoo, I know that my Lord has left Sri VaikunTham and is now reclining as vaTapatrasAyee in the our gracious swan filled SrivilliputtUr. Yet, I have not been able to see His lotus feet. Hence my two fish shaped eyes are refusing to close for sleep. Please sing sweetly so that the lord trivikrama who measures all the worlds will come to me. If you do that, I will allow my beautiful parrot reared by me with sweet milk filled with krishNa nAmas, to become friends with you.
550 Oh Cuckoo, you sleep among the fragrant flowering grooves. hrusheekEsha, worshipped by the devas in all directions who attracts everyone with his divya mangaLa vigraha is eluding me.  In His untiring game, I have become tired and frail.  Please do this help of brining my kaNNan to me immediately. In return for your song, I will place my head at your feet for the rest of my life.
551 Oh beautiful cuckoo, In my eager interest of uniting with the tirupArkaDal perumAl, I am undergoing so much distress. But you are enjoying in the cool grooves. You will be doing a great dharma by bringing my Lord adorned with the shankh, chakra and gadha in His hands to me. So please sing and call out to Him.
552 Oh cuckoo, you peck on the new red mango shoots of the mango trees in the grooves. My Lord is famous for his strong shoulders that are adept in holding the bow. I also know that he comes under the control of those who love him with deep devotion. So, I am sure that you can persuade Him to come here, by singing with your melodious voice. Let Him come and you will see my pranks too.
553 Dear cuckoo, you play happily in the groove filled with honey drunk bees. I am love trapped by the parrot colored Lord of Lakshmi (shreedharan). Listen to me properly.  You have two options. Option one:- You sing and bring the Lord holding the shank and chakra here, Option two: You bring my lost bangles so that they fit me again. If you want to live in this groove, you must do one of the two jobs. (A tricky question leading to the same result)
554 Oh Cuckoo, please help me. I am longing to do kainkaryam to the Lord who measured the universe with his lotus feet, but He thinks that the time has not yet come. Hence, He is acting against my wishes. Now you also don't stay in this groove to torment me more. If you want to live here, please bring my shriman nArAyanan.
PHALA SHRUTI
555 This tirumozhi in the form of pleading the cuckoo has been composed by kOdai, the beautiful eyed daughter of bhattar pirAn, the leader of the well versed scholars of Srvilliputtur. Those who recite this tirumozhi in praise of ulagaLandAn trivikrama will reap the same benefits of reciting the ashTAkshara mantra. (namO nArAyaNa)
(namO nArAyaNAya).
NACHCHIYAR THIRUMOZHI – 6
PASURAMS – 556 – 566
VARANAM AYIRAM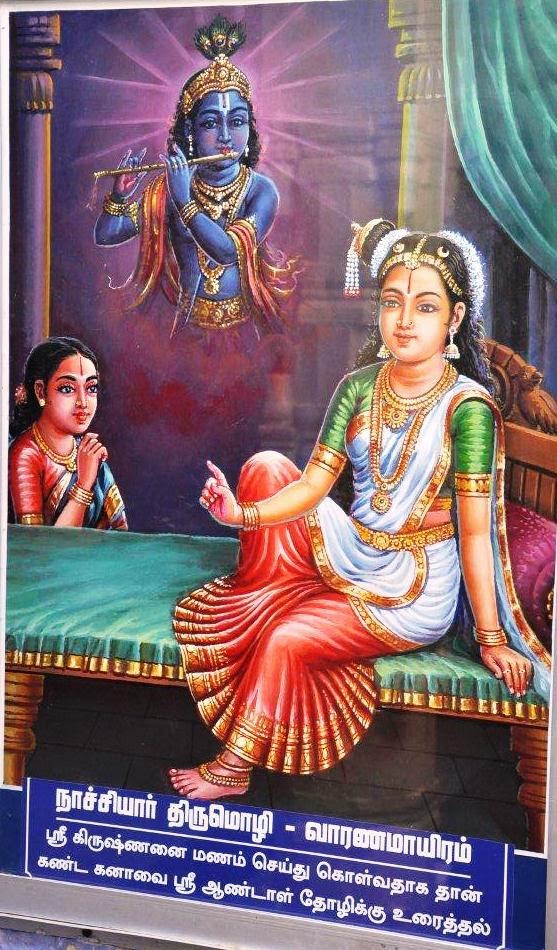 ANDAL is verbalising her dream about her marriage with krishNa, to her close friend .
Even after several requests made to the cuckoo bird to bring her master, it doesn't seem to have helped her. Considering her desperate situation, kaNNan decided to bestow on her the beautiful experience of 'THE WEDDING', through each and every ritual in her dream. Delved in that experience, she narrates the same to her close friend.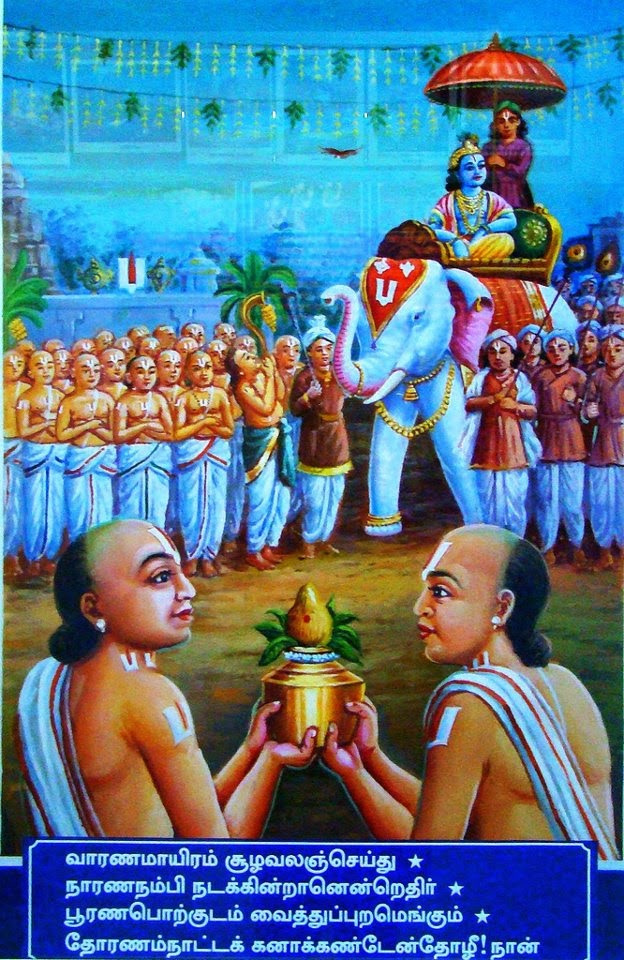 556 Oh my dear Sakhi! Listen to the dream that I had. Surrounded by thousand elephants, my master "NARAYANAN NAMBI", is majestically entering the hall and walking in front of me. I see the whole place decorated with tOraNams wearing a festive look, and the golden poorNa kumbham is also kept.
🌺Here the arrival of the groom is denoted . This is a kind of JHANAVASAM, or MAAPILLAI AZHAIPU where the groom is taken for a procession.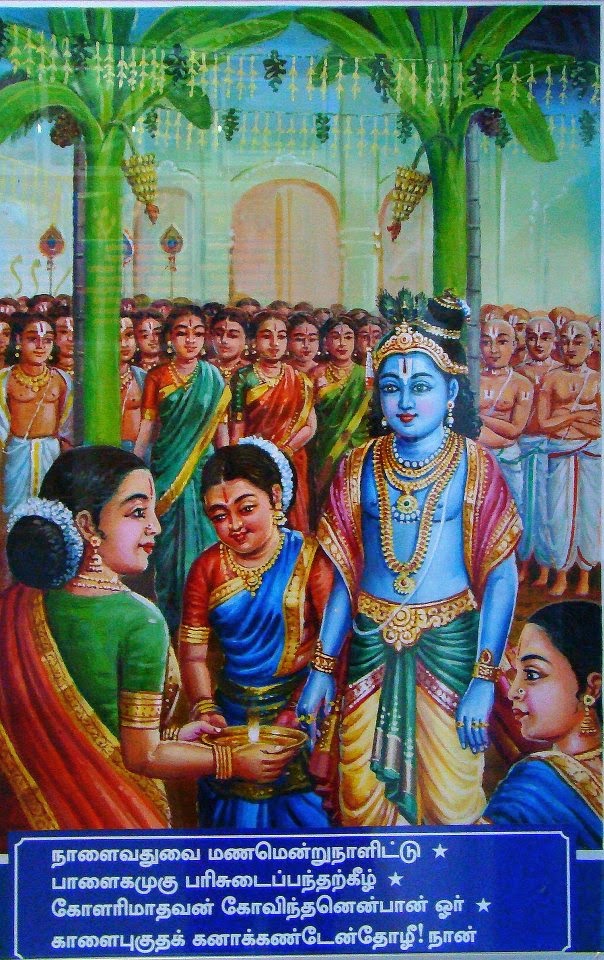 557 Oh tOzhi, after finalising the Muhurtham time for the wedding to happen the next day, I saw in my dream ,this handsome groomed young man, who is the master of Mahalakshmi called "GOVINDAN", walk past to the mandapam decorated with stems from pAkku (pAlai , Kamuku) like a Lion majestically.
🌺This denotes the NISCHAYATHARTHAM ritual in the marriage function.
558 The whole lot of the Devas along with Indra, came down from their heavenly abode here and made me as the Bride along with secret discussions from both the girls' and the boys' side. I even dreamt Sakhi, that the wedding saree (Koorai Pudavai) was given to me to be worn after the chanting of mantrams and the sister in law (nAthanAr) (anthari SUTTa) [Durga is the sister of Lord krishna] anthari came and garlanded me with sweet smelling flowers.
🌺Getting the blessing from Devas and elders – ANUGYAI, Wearing of KURA PUDAVAI.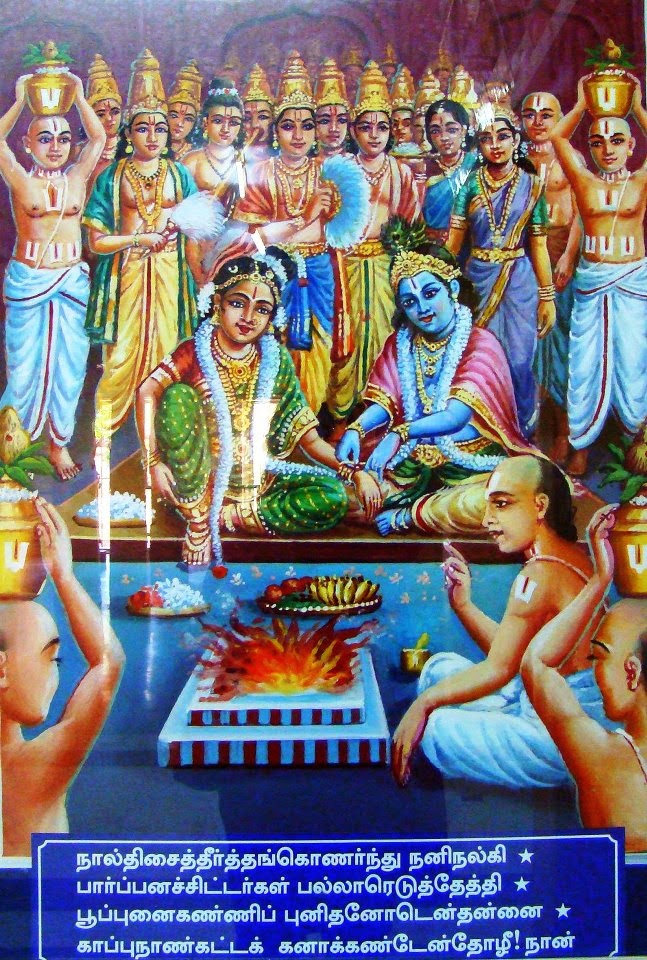 559 Oh Sakhi! several learned Brahmans, well versed in religious rituals brought sacred waters from all four direction, and after purifying it with mantras sprinkled it on our head (bride and the groom) and  blessed us with their resonating voice . I even dreamt that, along with the hand of my Lord KaNNan wearing a beautiful garland  ,they tied kAppu to my hands also.
🌺KAAPPU KATTUDHAL.- Tying the rakshabandhan for the safety of the bride and the groom.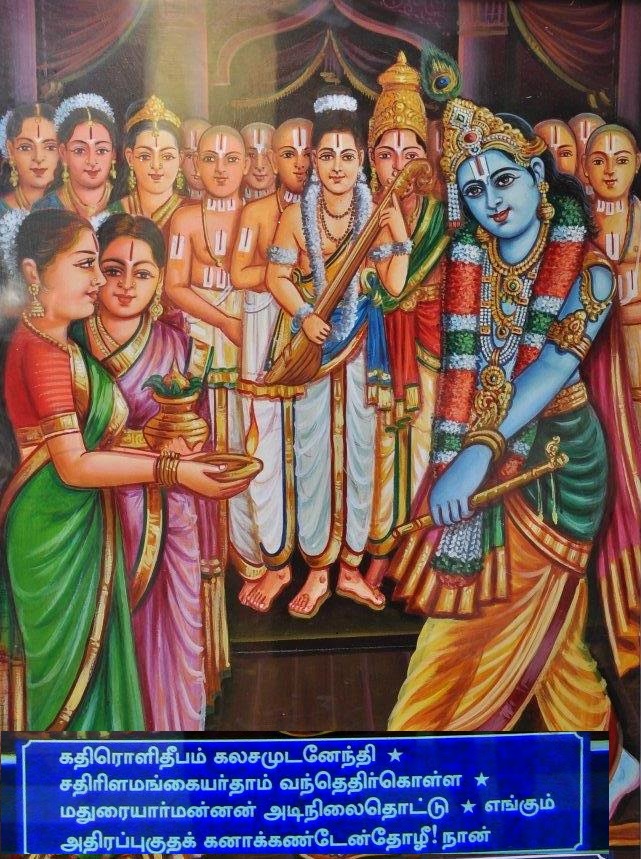 560 Oh tOzhi (friend), in my dreams, I saw young beautiful girls in stature and structure carrying mangaLa deepams shining like the bright Sun and golden kalasams in their hands and received the Groom. The King of MathurA, wearing His PAdukA entered majestically in a royal manner making the earth vibrate with His each step.
🌺PIDISUTHAL – removing all the negative and bad obstacles that might come in way.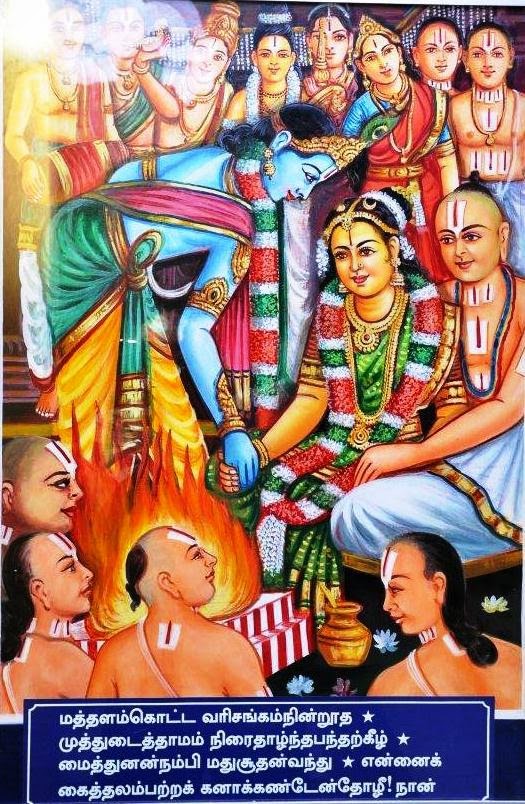 561 Oh Sakhi! As the Mangala vAdyams were being played and special conches with stripes were blown, this aunt's son MADHUSUDAN, (as ANDAL wishes to think herself as Nappinnai) came close to me and held my right hand (pANigrahaNam) under the canopy that was decorated with pearl strands, in my dream.
🌺PANIGRAHANAM – Giving the daughter in marriage.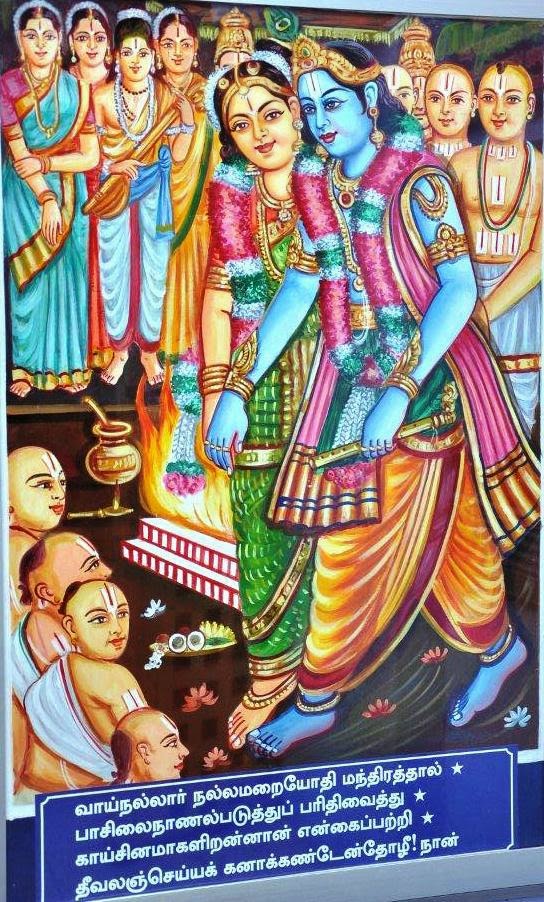 562 Oh tOzhi, While the vedikAs proficient in pronouncing the mantras chanted the hymns for the appropriate ritual and spread the fresh Darbai and place the samith (sticks for the Homam), I saw in my dream, KaNNan who resemble an angry war elephant held my hand and went round the agni performing  the Saptapati.
🌺SAPTAPATI – After uniting in pANigrahaNam, taking the vows of married life in seven steps.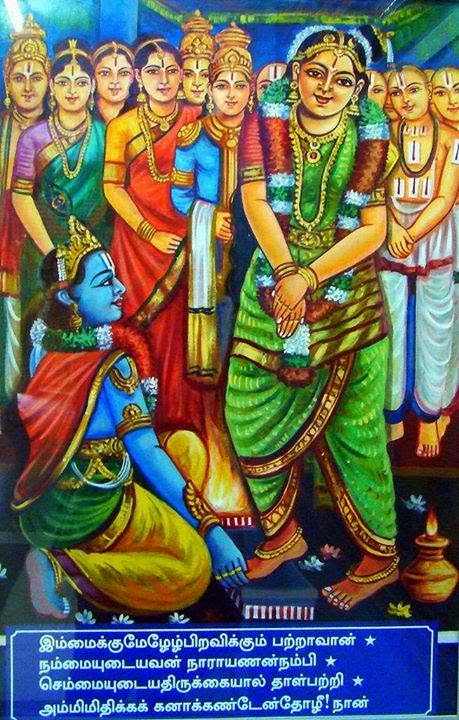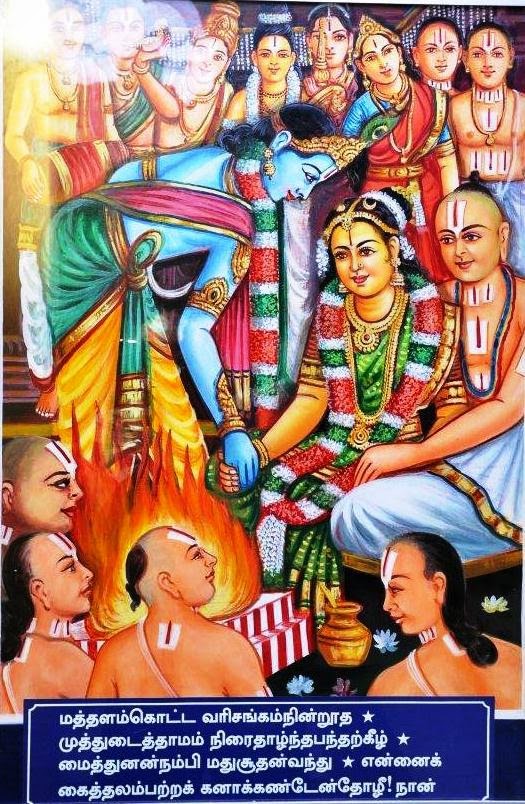 563 Lord NArAyaNan, who is our guardian and protector for this birth and for all the birth thereafter, with HIS red-hued divine hands, held my foot and placed it on the ammi. Such was my dream oh Sakhi!.
🌺AMMI MIDITTAL – Groom taking the toe of the bride and stepping on the stone.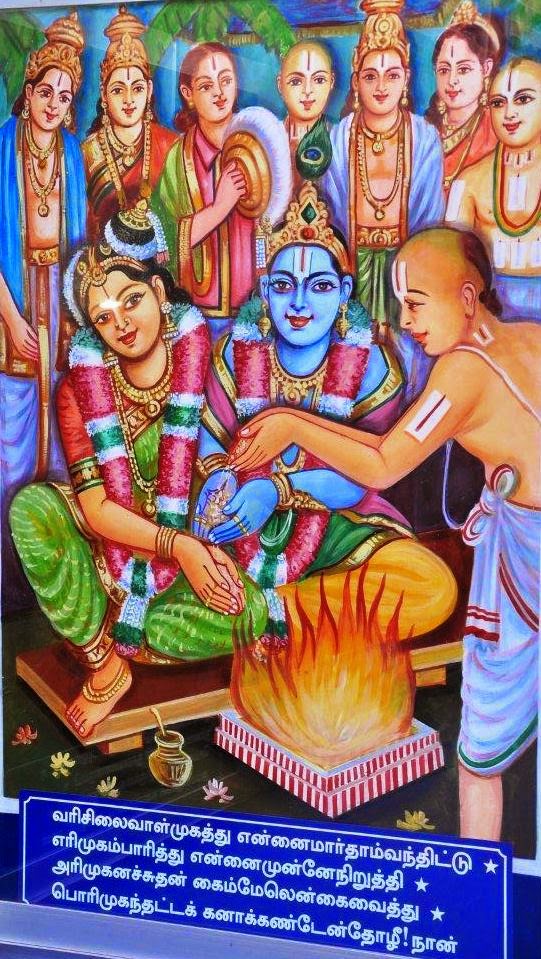 564 Oh tOzhi! I dreamt that, my brothers who have such beautiful eyebrows similar to an arched bow, and a bright face came together with a pride on their face showing their authority on this ritual, kindled the fire and persuade me to come and stand in front. They then placed my hand atop Achuthan's who is the very same kaNNan and filled it with pori (puffed rice) to offer in the Agni.
🌺This ritual"PORI IDAL", is called LAJA HOMAM, where the bride prays by offering the pori or the puffed rice for the longevity of the groom. Special importance is given to the bride's brother.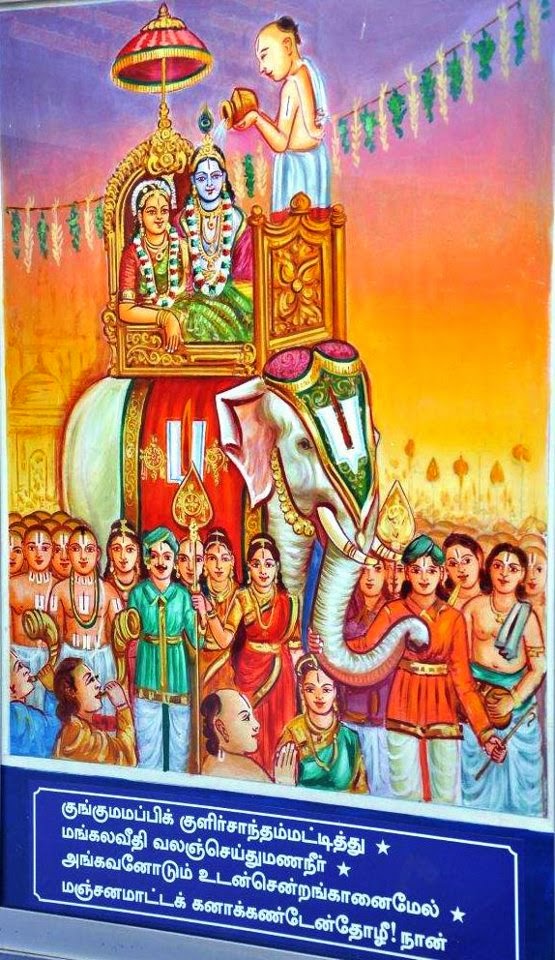 565. For all the heat generated due to the homam fire to reduce, cool kumkumam and sANDAL paste are smeared on both the bride and the groom's body to cool them off. Then I was made to sit on the decorated carriage atop the elephant along with kaNNan and were taken in procession through the street that were decorated for the wedding. Finally I took the holy bath 'mangala neerATTu' .
🌺This is kind of a reception after the marriage.
PHALASRUTHI
566 Thus KODAI, the daughter of Periazhwar of Srivilliputhur who is very famous among the vedic scholars who has dreamt of marrying KaNNan has sung these ten pAsurams in pure poetic Tamil language. Those profound in chanting these 10 verses,will be blessed with good family/good children.
NACHCHIYAR TIRUMOZHI 7
PASURAMS 567 – 576
Karpooram nArumO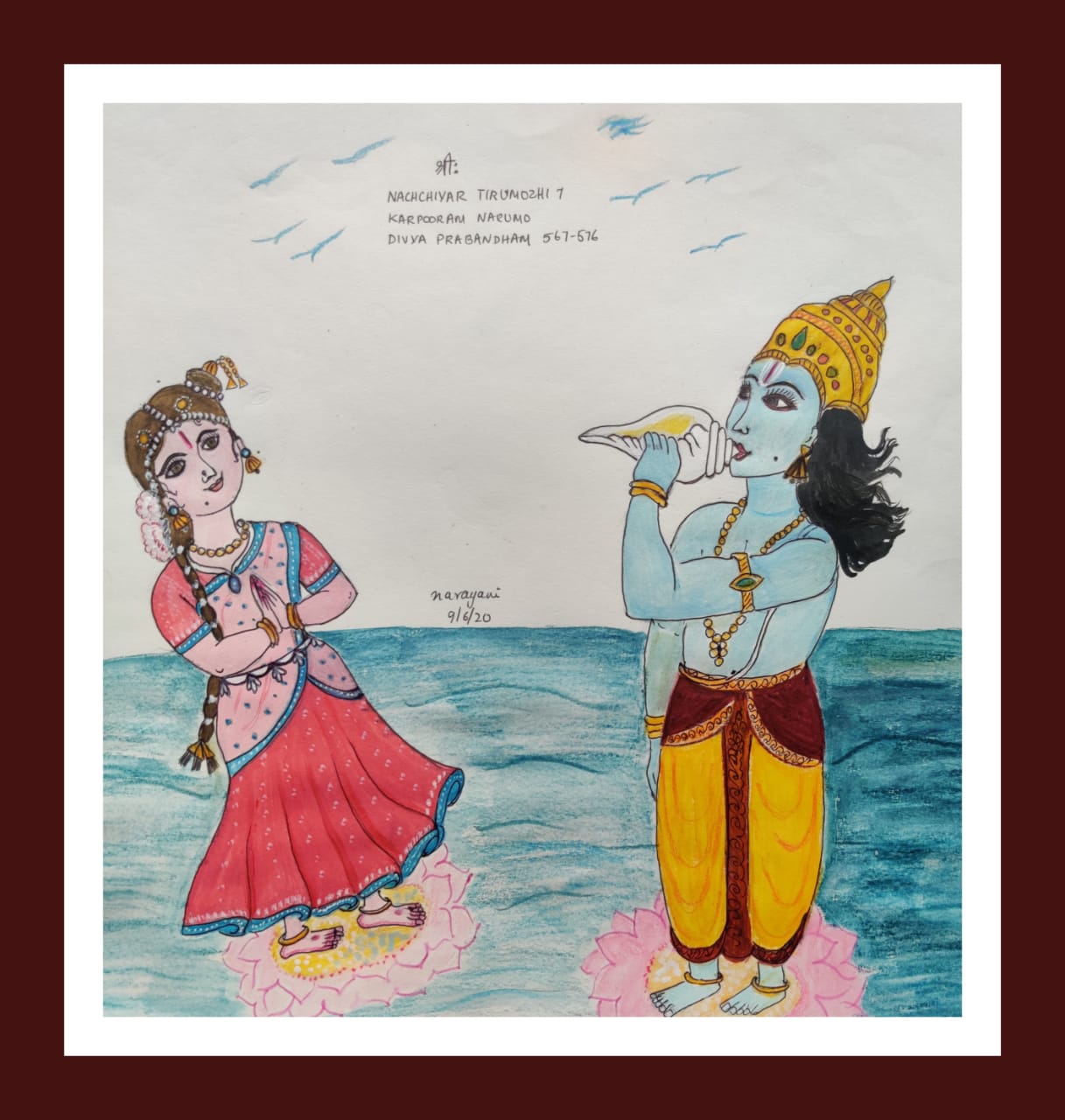 After immersing her into a deep dream, krishNa again vanishes. ANDAL, unable to reconcile that it was all a dream, remembers the "pAnchajanya", the conch of KrishNa which is closely associated with KrishNa and never separates from Him. ANDAL converses with the shankh and enquires about Him.
567 Oh pure pAnchajanya from the deep see! You are blessed to be held by kaNNan's beautiful lips.  Do they emit fragrance like that of karpooram (edible camphor) or that of a lotus?  Do his red coral lips taste sweet like candy? I am eager to know about the fragrance and taste of the mouth of mAdhavan, who broke the tusks of the kuvalayApeeTam elephant. maruppu (tusk) + ositta (broke). Can you explain?
568 Oh kind pAnchajanya! You were born in the sea, nurtured by the asura panchajana.  Though being from such a low origin, you are now blessed with the highest status of being held in KrishNa's divine hands. The wicked asuras fear defeat on hearing your very sound. Oh pAnchajanya conch, What an fortune!!
(The story of pAnchajanya – On the completion of Gurukula vAsam, KrishNa asks SANDIPANI MAHARISHI what gurudakshiNa would be apt. SANDIPANI Rishi asks KrishNa and Balarama to bring back his son believed to have drowned in the prabhAsa shEtra (sOmnAth). They find out that he was kidnapped by the asura PANCHAJANA (shankhAsuran) who slept in a seashell in the deep waters. They then dive into the deep sea, kill him and bring the conch. The son is then retrieved by blowing the conch.  SANDIPANI rishi then names the conch "pAnchajanya")
569 Oh beautiful huge pAnchajanya! conch, you show brightly over the dark strong shoulders of the king vAsudEva of North Mathura, just like the moon that shows up brightly over the autumn mountains.  How brilliant you look!!
570 Oh divine right coiled conch (valampuri shankh)! You are sitting close to dAmOdharan, on His shoulders, shone bright like the galaxy of the moon.  You seem to be talking secrets into His ears. Oh, what a fortune of closeness which even Indra does not possess!
571 Oh pAnchajanya! There are so many other conches with you in the ocean. But it is only you who is tasting the nectar of madhusoodanan's lips from time immemorial.  The other conches have not acquired the fame and greatness as you did. How lucky you are!
572 Oh valampuri shankh! You don't have to walk long and bathe in the holy rivers like the ganges to purify yourself. You easily climbed on the protective shoulders of my Lord who uprooted the two demon maruda trees.  How blessed are you to be seated well in the divine adarAmruta of the red lotus eyed Lord.!
573 Oh pAnchajanya! The best among the conches (sangu + araiyA=sangaraiyA), You have made the shoulders of the red eyed dark hued vAsudEva a cosy residence by climbing up like a swan that swims and finally enjoys the honey from the blooming red lotuses.  What a great asset of servitude you possess!
574 Oh pAnchajanya! What you eat is the nectar from the mouth of trivikrama who measured the world! Where you sleep is the cool hands of the ocean hued emperumAn!  All the gOpikAs are shouting in envy! And you are on and on with your krishNAnubhavam endlessly. Is this fair on your part to enjoy all yourself?
575  Oh mighty shankh! Sixteen thousand wives of krishNa are waiting for krishNAnubhavam. If you enjoy all the nectar of mAdhavan, leaving them behind, will they not come fighting with you?
576 Those who sing these 10 pAsurams in kOdai tamizh, composed by the beautiful srivilliputtoor bhattarpirAn kOdai, narrating the close relationship between the pAnchajanya and the Lord padmanAbha will also become closely related to the Lord.
NACHIYAR THIRUMOZHI  8
Pasurams (577 – 586)
viNN neela mElAppu
After having pleaded with tirumAl's shankam, and not having obtained any response,  ANDAL, fondly hopes that the rainy season will bring her Beloved to her. The pain of separation is too much for her to bear. She requests the dark clouds to be her messenger and convey her plight to the  PerumAl .
577 Oh Clouds! ( mEgangAl). You appear to have spread a blue canopy over the earth ! Have you brought along with you, ThirumAl, who resides in ThiruvEnkatam, which flourishes with crystal clear water bodies? Is it honorable on his part to let me suffer like this, with tears in my eyes?
578 Oh generous clouds! You rain gems and pearls in place of raindrops. Please tell me if you have any news from the blue hued (samathin niram) PerumAl, who stands on the VEnkatam hills. Here I am, suffering the separation from Him. The nights are becoming unbearable. My desire for Him is like a fire in my heart and even the gentle breeze fans the fire.
579 Oh Magnanimous Cloud! I have lost my lusture (oLi). I am drained of my colour. My bangles have become loose. I have lost my sleep, owing to my pining for Kannan. I am constantly singing in praise of Govindan who resides in ThiruvEnkatam which has cool waterfalls. But is it possible for me to exist merely by singing His glory?
580 Oh Clouds, laced with lightning! You remind me of the dark hued ThirumAl with PirAtti on his vakshasthalam. Please go and inform Him that I am yearning to unite with Him. Tell Him of my love for Him.
581 Oh Clouds ! You have gathered densely across the sky to shower down on VEnkatam, making all the flowers dripping with honey to fall from the trees. The Lord, who, with His strong, sharp nails, killed and tore into the asuran Hiranyan, is the reason for my predicament. Please ask him to fulfill my desire and return my bangles I lost because of my viraha thApam.
582 Oh Cool clouds!(thaN mugil) You gathered the water vapour from the oceans and became rain clouds, to fall on ThiruvEnkatam, which is the Abode of the Lord who retrieved the land from Mahabali. Just as the mosquitoes (ulangu) suck the essence from the vilangu fruit (wood apple) and leaves its shell, my desire for Him has left me drained. Please inform Him of my suffering.
583 Oh Clouds! You float on the sky above ThiruvEnkatam, where the Lord who churned the Milky Ocean studded with conches resides. Please submit my wishes at the feet of the Lord who has eyes like red lotuses. Tell him that my soul will rest only if I get to unite with Him.
584 Oh Monsoon Clouds!( kAr kalatthu mugil) You are laden and ready to give rains on the ThiruvEnkatam hills. I have been singing the praise of Lord Rama, who was victorious in the war He waged. I am now exhausted and ready to fall off like the drenched leaves of erukku (calotropis). Won't He give me the soothing message of accepting me one day?
585 Oh Clouds, resembling huge mad elephants, who have made ThiruvEnkatam their abode. Alas! The Lord who reclines on the Adiseshan has not heeded to my pleadings. ( ANDAL wonders if ThirumAl has lied to her, having acquired the traits of the snake which has two tongues.) Will people on earth ever respect Him if they come to know that He disregarded a tender girl , who had surrendered unto Him and believed Him to be her saviour.
586 PHALA SRUTHI
In these pasurams,  ANDAL sends the clouds as her messenger to the One who reclines on Adiseshan , expressing her intense love for
the Lord. Those who recite them with sincerity,  will, forever remain in the service of the Lord.
NACHCHIYAR TIRUMOZHI 9
PASURAMS 587 TO 596
Sindoora chempOdi
 Instead of carrying ANDAL'S message to kaNNan, the clouds showered abundantly on tirumAliruncholai. Unable to bear this disappointment  ANDAL insists on marrying none other than SundararAja perumAl of tirumAlirunchOlai.
587 The azhagarmalai now covered with colourful flowers and red butterflies all around seems to form a red carpet that reminds me of emperumAn's red lips! The butterflies and emperumAn seem to enjoy troubling me. I am so weak that my bangles are slipping from my hands! HE who churned the ocean ( in kurmAvataram), squashed the pride of mount mandArA and kept the essence with HIM(periya pirAtti), uses deceptive methods(suzhalayil ninru) sending the clouds, butterflies to torment me instead of coming in person.
588 The majestic elephants are sporting the corridors of tirumaAlirunchOlai having fun like emperumAN. The creepers of tarkodi mullai (arabian jasmine) and kArkoLL ( bedely emetic nut) remind me of HIS sweet smile and white teeth, but they seem to be making fun of my condition. Dear friend !( who fell unconscious seeing ANDAL's condition), now I have none to share my grief and helplessness.
589 O the dark coloured kayA (ironwood tree) and karuvilai(mussel shell creeper) flowers! you remind me of HIS tirumEni! His majestic shoulders are the sporting place of thAyAr (tiruviLayAdu tintOL). Now, instead of seeking me, kaNNan, enters my house, holds my hand forcibly and takes away my bangles. I am not able to bear this disappointment. Is this act of HIS, fair and decent?
590 O! the dark coloured cuckoos, peacocks, kAkkam and kayA flowers, the kalAp fruits , you all remind me of HIS dark hued tirumEni! For me you seem to be the five great sinners (aimperum pAdagargAL),as you are making me suffer a lot. All chetanAs and achetanAs seem to have joined hands to torment me.He is the master and we are his servants! Shouldn't we be united?HE gave his colour to you, instead, if you had refused, I would have derived some comfort.
591  ANDAL tries to be friendly with the nature now. O! beautiful ponds, lotus, the queen of flowers (semkaN karumugilin) and the bees, you are busy conversing with each other. Should you not relieve me of my solitude, as you remind me of HIS tirumEni and avayavAs? Tell me dear friends, where do I seek surrender ( sharaN satRuminE)for this torture? HE has not yet come to take me! 
592 ANDAL wants to attract the lord of tirumAlirunchOlai, surrounded by fragrant grooves by offering HIS favourite food, desiring to do permanent kainkaryam. Dear Lord! I orally vow to offer YOU,( vAy nErndu) a hundred big vessels filled with butter ((nUru tadA vil veNNai)as kaNNan loves this and another hundred filled with akkAravadisil (sweet Pongal). Though YOU are wealthy, my sincere offering will make YOU wealthier and in turn it will make goddess Mahalakshmi happy.( Eru tirumudayAn) . Will Azhagar come today and accept my offerings of butter (sharNAgathi) and akkAravidisil (eternal bhagavat kainkaryam)?
593 ANDAL conveys her sole purpose of existence. My Lord , in standing posture(ninra pirAn), resides in the fragrance filled tirumAlirunchOlai. If He overcomes the beauty of this nature around HIM, accepts my offerings (amudu seyda peril) of butter and sweet pongal with delight and decides to permanently reside in my heart, then for every vessel , I will offer a hundred thousand more(onru noor AyiramAga). My desire to do eternal flawless kainkaryam ( pinnum Alum seivan) , as prescribed by the elders will then be fulfilled.
594 kaNNan is yet to come! Night passes and sun rises too. O! dark sparrows! (kariya kuruvI), you got up reciting the name of HARI and seem to be announcing His arrival too! Which perumAl are you praising? ( avan vArtai uraikindradE). The Lord of this region(solai malai pErumAn) or the kaNNan of dwaraka who married me in my dreams (tuvarApati emperumAn) or vatapatrasAyee(Alin ilia—her kula deivam)? I wish your singing comes true (maruL pAdudal meymey). ANDAL thus convinces herself that they are speaking the truth.
595  Will I ever be able to gain proximity to the sound emanating from the pAnchajanyam touching HIS beautiful lips and from the sArngam while stringing the bow? Hearing these sounds, I can hold on to my life, yet I am lying here( in tirumAlirunchOlai) useless like the garland shaped bunches of flowers hanging from the ironwood trees( kOngu maRam) and the Indian laburnum( kOndrai poo), which are not offered to lord Vishnu.
596 The silambAru river carrying sANDALwood and agil eaglewood(kAr agilum—used for yagnam), rushes eroding the banks to reach the abode of the Lord of tirumAlinchOlai who is in standing posture. This garland of ten pasurams , each like a gem, has been sung by the most beautiful kOdai, with thick locks of hair ,swarming with bees ((surumbAr)who mistake it to be a bunch of flowers. Those who recite this with faith will enjoy eternal kainkanyam of the Lord without going through the agony like her.
Pasuram 9.6
*nARu naRum pozhil-*—-an interesting incident based on this pasuram.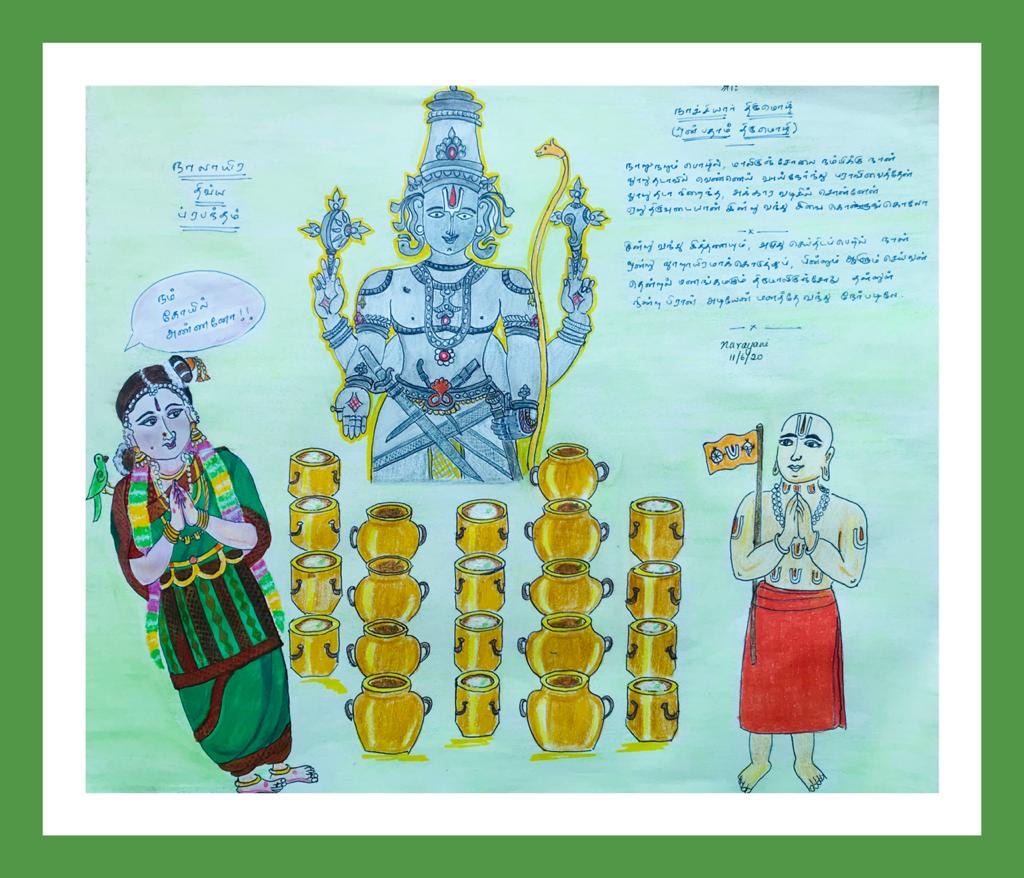 In this particular pAsuram ANDAL verbally vows to offer a hundred vessels of butter and another hundred vessels of akkAravadisil to SundararAja perumal of tirumAlirunchOlai. Before she could fulfil the vow, she merged with Sriranganathan.
Once Swami Ramanuja was doing nachchiyar tirumozhi kalakshepam. On this particular pasuram, EmperumAnAr , intuitively felt that he must fulfil her verbal vow. He immediately proceeded to tirmAlirunchOlai . Swami rAmanuja offered a hundred vessels of butter and another hundred vessels of akkAravadisil to sundararaja perumAL and thus fulfilled ANDAL'S vow. Extremely contended, he proceeded to Srivilliputtur( birth place of ANDAL) to thank kOdai nachchiyAr for giving him the opportunity to complete this kainkaryam. ANDAL was eagerly waiting to greet emperumAnAr. She came out of her archa sannidhi( inner sanctum), and thanked swami rAmanuja, for fulfilling her desire like a responsible elder brother and called him 'nam Kovil annanO' (my elder brother).
That is why in ANDAL VAZHI TIRUNAMAM, there is a phrase that says," perumbUdUr mAmunikku pinnAnAL vAzhi" meaning ANDAL became the younger sister of SWAMI RAMANUJA.
NACHCHIYAR TIRUMOZHI 10
PASURAMS 597 – 605
kArkODal pookkAL..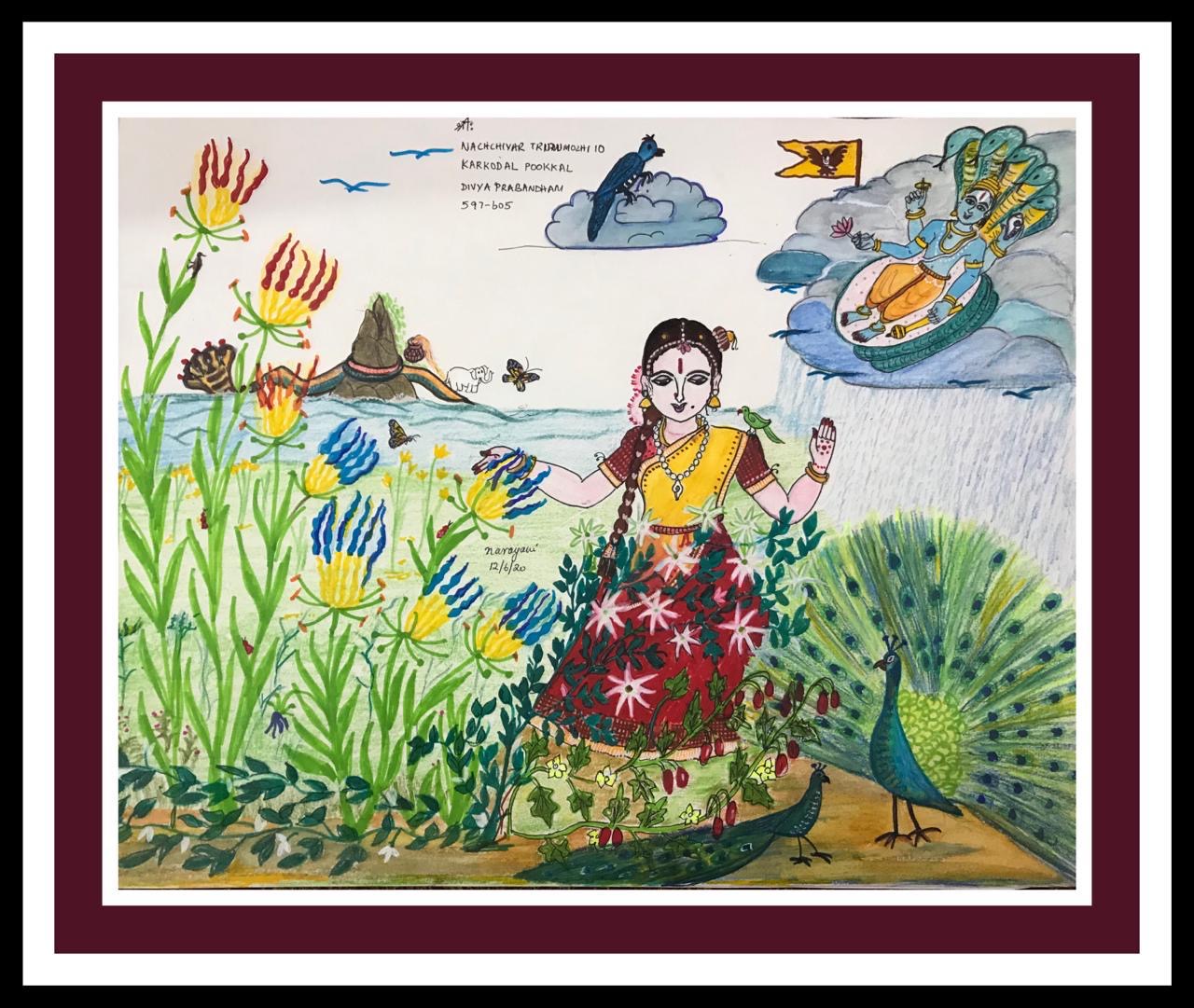 ANDAL continues to talk to the flowers and birds of the rainy season, as she gets more anxious.
597 Dear blue kODal flowers! (blue flame lilly). You bloom beautifully in the rainy season spreading blue color all over. Has kaNNan sent you as His weapon to wage a war against me and remind me of His blue colored tirumEni? Oh! Where will I go and complain? He controls every everything. I am not even capable of controlling my heart which is adamant in searching for His tuLasi garland. I am helpless!
598 Oh tonDri flowers (red flame lilly) shaking atop with the wind. You remind me of the chakram in the hands of the vEda mudalvan, the primeval deity mentioned in the vEdas. Do not burn me like you do with your enemies. Instead cool me down by carrying me up to join the group of the muktas (mARRu Olai paTTavargal).
599 Dear kOvai maNATTi (scarlet)! Your fruits are breaking my heart by reminding me of my Kannan's red lips. But He has twin tongues like that of His dear AdishEsha. With one tongue He says that He would come soon and take me. But with the other tongue He says that He never said so. Tired of His double standards!! Yet I am shamelessly pining for him. Look at my sinful condition!
600 Oh mullai pirATTi (jasmine) looking like a chakra (Azhi nangAy).  Your fresh white bloomy smile reminds me of my kaNNan's smile.  I fall at your feet! Please don't torture me.  When soorpanaka crossed her limits, Lord rAma has promised that he would not give up those who even pretend to be his friend and left her with little punishment.  Then why has he not kept up His promise in my case? Is it all a big lie? Or is it a lie that I am born to the great PeriyAzhvAr and deserve to attain you?
601  Oh cuckoo bird atop the tree! What kind of song are you singing? Look for the garuDa flag of tiruvEnkaTamudaiyAn. If my emperumAn comes to unite with me, then we will both together hear your sweet song. You please don't sing now. I can't bear it.
602  Oh peacock of tirumAlirunchOlai! Your beauty and color remind me of my blue hued kannapirAn.  Your long expertise in dancing is evident form your grace. But please stop your dance now. I am not able to relish it because of my separation from the Lord. My manavAlan perumAl resting on the anantAzhvAn has bestowed upon me the great gift of falling at your feet.
603  Dear peacocks, You are expressing your joy by spreading out your feathers and walking stylishly.  That kaNNan who entertains His cowherds and the cows by carrying pots (kuDam ADum koottan) has stolen all my joy, my bangles, my sleep and my beauty.  Is it nice of you to trouble me more?
604  Oh rain! While making the idols of the Lord, first a figure of wax is made, then it is coated with clay from outside and later the wax is melted out.  In the same way, my handsome Lord (azhagapirANAr) of tiruvEnkaTam once embraced me from outside and my heart melted from inside leaving me empty. Dear rain! Wait. You first unite us and then shower your rains on both of us.
605 Oh Ocean, You gave kaNNan your place to sleep.  But He churned you with the mountain and extracted the nectar. In the same way, He has penetrated my heart and perturbed me to a great extent.  I am sure you can understand my plight as you have also undergone similar sufferings. Why don't you explain all that is happening to AdishEshan?
606 Dear friend! My Lord who has Adisheshan as His bed is lying in pArkaDal. He is boundless wealth. He is the supreme. He controls everything. We are just small beings. We cannot do anything? But I have now found the way to reach Him. My father is the only way. He who has already tasted the krishnAmrutam is my AchAryan Shri PeriyAzhvAr. Let us take his guidance.
NACHIYAR tiruMOZHI – 11
PASURAMS (607 – 616)
tAm ugakkum…
Even after her desperate calls through various means that she came across, ANDAL was in deep despair as all her efforts were becoming futile. The womenfolk of the entire village including her friends, neighbors and elders had gathered around to find out the cause of her distress. While she briefed them about the adverse state that her "emperumAn" has put her into, still she does not loose her hope. She affirms that her Lord who had gone to the rescue of RukmiNi, a similar person like her, will definitely come to liberate her from her misery.
607 Oh! Ladies bedecked with jewellery, Aren't the bangles that I have worn on my hands willingly not precious and equivalent to the ''Shankham" that HE is willingly holding in HIS hands? HE, The "Lord RANGANATHA", who rests on The aggressive looking, fire-emitting AdisEshan,is not turning towards me and looking at me. Alas! What will my plight be?
608.Oh! good looking mothers', My Lord who resides in tiruvarangam, is like a sweet nectar for me. HIS thick dark black curly hair, HIS divine Lips, and HIS mesmerising Eyes including the divine Naval, from where arises the Lotus flower are all exquisite and impeccable. This "AZHAGIYA MANAVALAN", my swami has made my bangles slide off from my hand. It is no fault of HIS, as HE has rightly done it according to the name it bears "KAZHAL VALAI".(as it can be taken out of the hand). கழலும் வளை , ஆகையால் கழல் வளை.
609 My EmperumAn governs both the (ubhaya VibhUti) worlds, this earth surrounded by oceans as well as the Paramapadam without any inadequacy. HE is the one who rests in TIRUVARANGAM and governs flawlessly. He has taken away my sturdy bangles as though HE is bereft. She hopes that HIS poverty be taken care.
610 When ANDAL's friends who had gathered there putforth a question asking her, if KaNNan has taken your bangles in the midst of so many other ladies, is it not clear that he likes you more?
ANDAL replies stating that,
This charming Namperumal, who resides in TIRUVARANGAM, which has terraced high raised houses and forts, in order to satisfy HIS unfulfilled desire at the time when HE appeared as THE VAMANA, in front of the King MahAbali asking alms for three measure of land with water in HIS hands, has taken away my Bangles. Can't HE atleast come in person through my street and ask for it?
611 This cute VAMANA, taking a little water in HIS hand, measured all three universe and brought it into HIS possession. He is the One who reclines on ADISESHAN,at tiruvarangam where benevolent people live. Will this Periya Perumal steal my body also? Me who has nothing in my hand other than that.
612 What fear she had in the earlier pAsuram, she affirms it in this pAsuram stating that , this "PERIYA PERUMAL", who is present in the 'antaryAmi' state in every being had already taken all that she had in her hand. Lastly he has stolen her physical self too.
Tiruvarangam is rich with fertile fields by the waters of Kaveri that runs and flourishes it. This TIRUVARANGANAR the proud possessor can easily be felt and becomes reachable to the naive  and lowly whereas unreachable for those who think they can reach HIM with their own efforts. He is the embodiment of the four Vedas. As HE has already taken away all my belongings ,now has taken away the sole property remaining which is my body.
613 This SHRIYAH PATHI, who resides in this tiruvarangam temple , which is surrounded by indestructible fort even at the time of the deluge, was swept off by the beauty of Seetha PirAti at the time of HIS incarnation as RAmA and due to the separation suffered without eating and sleeping. Further he had to toil in building a dam across the tumultuous ocean. Now forgetting all HIS turmoil does He only think about HIS greatness in keeping me suffering like this.
614 After mentioning the hardship He had to undergo for Seetha in Rama Avatar,in this pAsuram ANDAL mentions about the hardship He had to take in VarAha avatar for Bhooma Devi.
In the bygone days, when BhoomAtha became fully coverd with moss all over her body as she was submerged by HiraNyAkshan, This'tiruMAL', took the form of a wild boar (VarAha) unmindful of it's state, dripping with dirty water. HE was not ashamed to take such a form low in order (MAnamilA pandri). The same "tirumAl", resplendently resides in tiruvarangam. It's becoming hard for me to live forgetting the vow that He gave me saying "I shall never leave you",during that time.
MAnamilA —  MAnam means measure . so alavidamudiyAdha panDri
615 Here in this pAsuram she goes to KrishnAvatAram. SiSupAlan with such confidence in marrying RukmiNi made all arrangements and waited gazing the sky. In the mean time, This KaNNan acted in such a way that RukmiNi held HIS hand as she wished. Isn't He the protector and saviour of all womenkind. The DivyaDesam that this Perumal resides is the very same "TIRUVARANGAM".
616 My father 'Periazhwar' would have heard and be focused in the truth that this "tiruVARANGANAR", affluent in thought, word and deed had uttered through HIS mouth earlier in the 'Charama Slokam". HE declares that  HE shows HIS warmth to those who worship HIM. Finally she prays that ,"You have to take care and protect me so as to protect Your declaration from falsehood".
*THREE CHARAMA SHLOKAS THAT PROTECT THE JEEVATMA*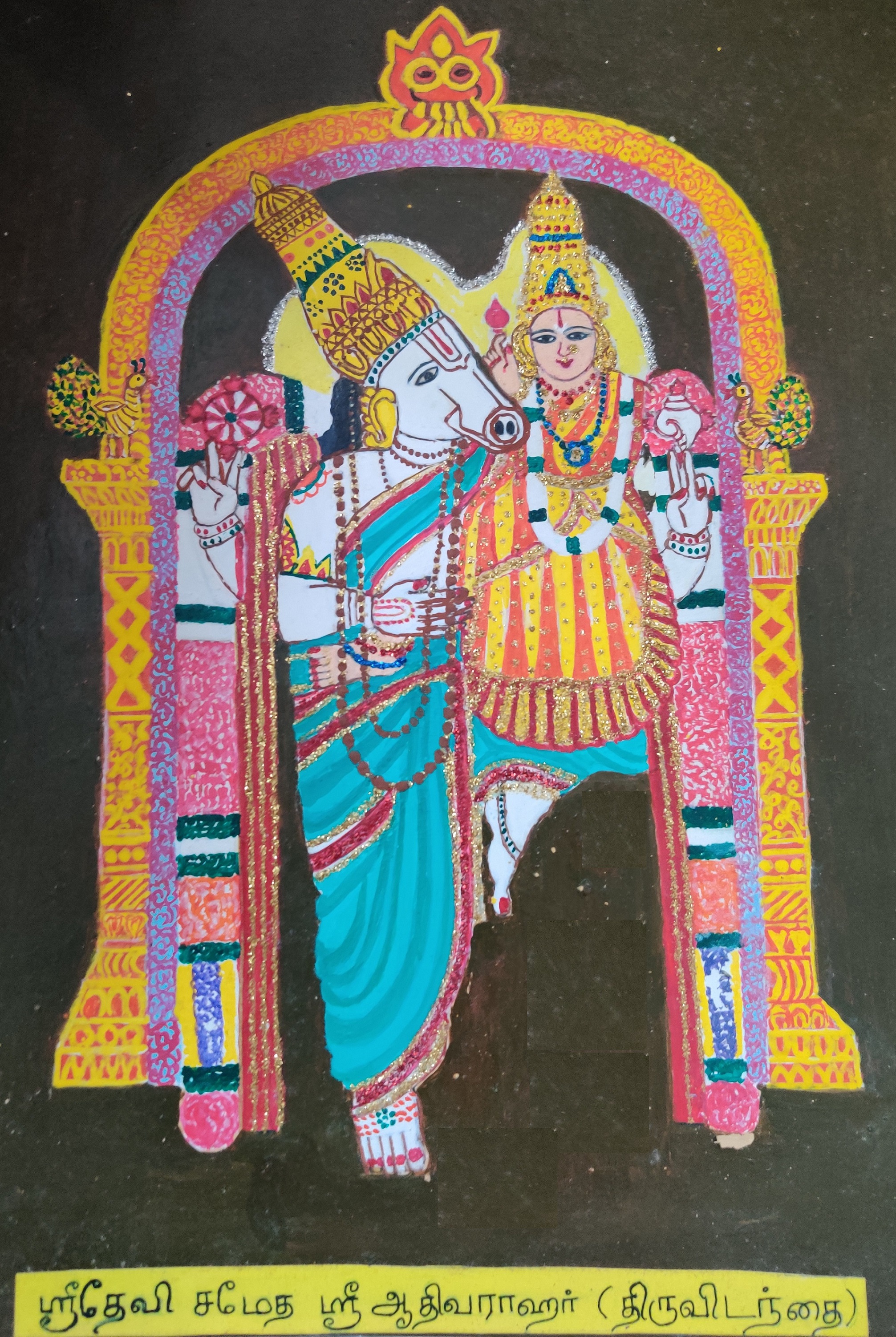 PASURAMS 614 and 616
*1 VARAAHA CHARAMA SHLOKAM*
Lord varAha says to Bhoomi Devi
स्थिते मनसि सुस्वस्थॆ शरीरॆ सति यो नर: ।
धातु-साम्यॆ स्थिते स्मर्ता विश्वरूपं च मामजम् ॥
ततस्तं म्रियमाणं तु काष्ठ पाशाण सन्निभं ।
अहं स्मरामि मद्भक्तं नयामि परमां गतिम्  ॥
ஸ்திதே மனஸி ஸுஸ்வஸ்தே ஶரீரே ஸதி யோ நர: |
தாது-ஸாம்யே ஸ்திதெ ஸ்மர்த்தா விஶ்வரூபம் ச மாமஜம் ||
ததஸ்தம் ம்ரியமாணம் து காஷ்ட பாஶாண ஸன்னிபம் |
அஹம் ஸ்மராமி மத்பக்தம் நயாமி பரமாம் கதிம்  ||
sthitE manasi susvasthE shareerE sati yo nara: |
dhAtu-sAmyE sthite smartA vishwaroopaM cha mAmajam ||
tatastaM mriyamANaM tu kAShTha pAshANa sannibhaM |
ahaM smarAmi madbhaktaM nayAmi paramAM gatim  ||
Oh Bhoomi Devi! The entire universe is my body (shareeram). I do not have births or deaths. When my bhakthAs surrender to me with faith when they are having sound mind and healthy body and contemplate on Me as the cause of the whole universe, I think of them in their last moments, when they are in death bed totally unconscious like a log or a stone and lead them to my Supreme Abode. (parama padam).
*2. RAAMA CHARAMA SHLOKAM*
Lord rAma's  assurance when Vibheeshana wanted to surrender.
सकृद् एव प्रपन्नाय तवास्मीति च याचते |
अभयं सर्व भूतेभ्यॊ ददाम्यॆतद् व्रतं मम||
ஸக்ருத் எவ ப்ரபன்னாய தவாஸ்மீதி ச யாசதெ
அபயம் ஸர்வ பூதெப்யோ ததாம்யேதத் வ்ரதம் மம.
sakRud eva prapannAya tavAsmeeti cha yAchate
abhayaM sarva bhootebhyO dadAmyEtad vrataM mama.
He who seeks refuge in me just once, telling me that 'I am yours', I shall give him assurance of safety against all types of beings. This is my solemn pledge".
*3. KRISHNA CHARAMA SHLOKAM*
Lord Krishna promises Arjuna.
सर्वधर्मान् परित्यज्य मामॆकं शरणं व्रज ।
अहं त्वा सर्व पापॆभ्यॊ मॊक्षयिष्यामि मा शुच: ॥
ஸர்வதர்மான் பரித்யஜ்ய மாமேகம் சரணம் வ்ரஜ |
அஹம் த்வாம் ஸர்வ பாபேப்யோ மோக்ஷயிஷ்யாமி மா ஶுச: ||
sarvadharmAn parityajya mAmEkaM sharaNaM vraja |
ahaM tvA sarva pApEbhyO mOkShayiShyAmi mA shucha: ||
Give up all dharmas and seek Me alone and My refuge. I will absolve you of all sins and liberate you. Do not worry.
NACHCHIYAR TIRUMOZHI 12
PASURAMS 617 – 626
maRRirundeerkaTku   ..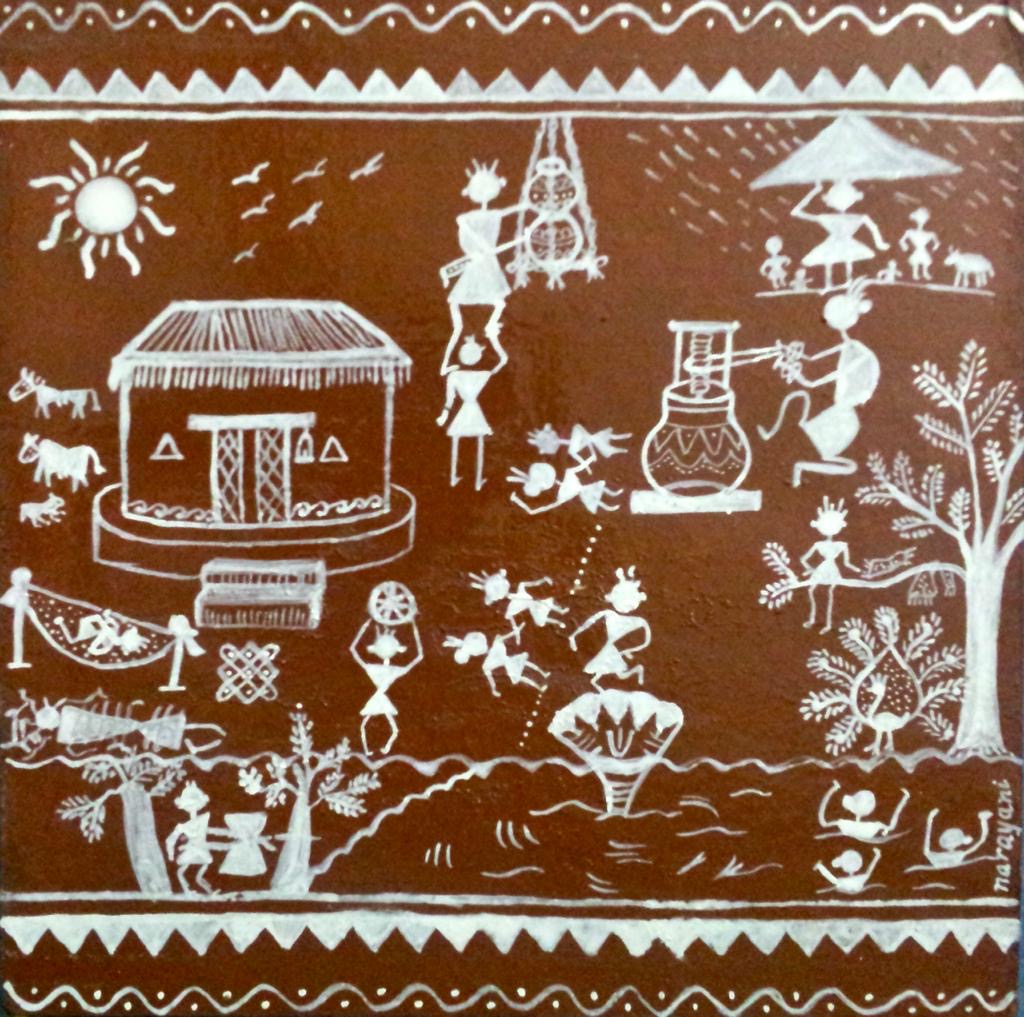 Seeing ANDAL's distress, her relatives try to console her and urge her to keep calm. But ANDAL has become very weak to get back to normalcy. She thinks that kaNNan is still in AyarpAdi and in turn pleads the elders of her family to take her to all the places where krishNa lived.
617 Whatever you people say are in contrast to my wants.  You will not be able to understand my love for mAdhavan. All your advice given to me will only be like a conversation between the deaf and dumb in vain.  kaNNan, born to dEvaki in mathurA, reared by His mother yashOdha in Gokulam, bravely faced the wrestlers who planned to kill him.  Take me to the city of mathurA where nambi kaNNan is present and leave me there to join Him.  (ennai uyttiDumin)
618 What is the use of feeling ashamed now. Everyone knows about my condition. If you all want to restore my health as it was before I thought of KaNNan, then take me to the birth place of the brahmachAri vAmanan (mAni uruvAy) who measured the worlds. Take me immediately to "AyarpADi" *Gokulam* and leave me there itself to join Him.  (ennai uyttiDumin)
619 Don't let the world talk that I ran away from my house to marry kaNnan, opposing my father and mother. Then you have to find ways to save my name and your name. Instead, you can prevent such an incident. Take me in the middle of the night and leave me in front of *Nandagopa's house.* I will quietly enjoy mAyavan's pranks with the little girls before anyone gets up. (ennai uyttiDumin)
620 I will not give myself to anybody else other than my Lord Govinda, who holds the chakra in His beautiful hand.  I do not want to live in distress here. Please reach me to the banks of the *YamunA river*, where kaNNan lives. (ennai uyttiDumin)
621 Dear mothers (ammanaimeer)! None of you will understand the disease I am afflicted with. Do not try some treatments in vain and get upset.  The cure for my disease is only one. Take me to the banks of the *lake formed by yamnuNa river*, where KaNNan jumped from the kadamba tree on to the hoods of the kALiyan and danced on Him victoriously.  Let me rejoice with Him. (ennai uyttiDumin)
622 The rainy clouds, the karuviLai flowers (shankh pushpam), the kAya flowers (Anjani/iron wood), and the lotus flowers remind me of Him and urge me to go near hRusheekesha (iruDeekEshan). Take me to *bhakta vilOchana kshEtram*, far inside the forest, where the tired and hungry KrishNa is eagerly eating the food offered to HIm with love and devotion by the Rishi Patnis living in the forest.  Let me also  quietly join them in serving Him. (ennai uyttiDumin)
623 My physical deterioration, my mental depression, my shamelessness, my loss of appetite all these will be cured only if I wear the tulasi garland worn by my Lord neervaNNan (ocean colored).  If that is not possible, at least take me to the "bhANDeeravana" (a forest full of banyan/vaT trees), where balarAma killed the asura pralambAsuran who carried him over his back disguised like a friend and tried to kill him. (ennai uyttiDumin)
624 Dear mothers! You are all portraying KaNNan in the negative ways like "He is a cowherd; He does not stay at home; He spends his whole day in the forest; He is stealing butter; He gets tied to the mortar, etc." You are all sinners. Let me not shout more. Can you not see His saulabhyam (his approachability and kind heart)? Instead take me to that *Govardhana Hill* which KaNNan held in his hands as an umbrella to save the cowherds from the torrential rains. (ennai uyttiDumin)
625 Out of distress, I put my parrot inside my cage. But it kept calling out "gOvindA! gOvindA"again reminding me of my eluding kaNNan.  So I starved the parrot but my condition became worse. Now it says "ulagaLandAn". I can hold no more. Don't take the blame of not being able to control me. Instead, take me to *dwArakA*, the kingdom built by krishNa, that is surrounded by palatial buildings. Let me unite with my dwArapati there. (ennai uyttiDumin)
626 PHALA SHRUTI
Those who recite the garland of these 10 tamizh pAsurams describing the humble plea of ANDAL to take her to the divya dEsams covering mathurA to dwArakA and composed by the deeply devoted kOdai, the daughter of Sri ViTTu chittan of Srivilliputtur surrounded by golden towers will be exalted to live in parama padam.
NACHIYAR tiruMOZHI  13
PASURAMS  (627 -636)
Kannan ennum karumdeivam
 ANDAL gets listless and the words of her friends and relatives, who try to comfort and console her, adds pain to her and drives her to despair. She pleads that, if she couldn't be taken to where Kannan lives, atleast, to give her some relief by getting her the ornaments and clothes which adorn Kannan,  which are, but, KrishnaprasAdham.
627 I have been constantly entertaining the vision of union with the dark hued Kannan. Now, when there is no news from Him, your advices and the gossip you speak of me, is like pouring tamarind water onto my festering wound. The stone hearted Kannan, does not care about the woes of this girl. Please bring the pitAmbaram worn around Kannan's waist, and fan me, so that I am relieved of my exhaustion.
628 I have been caught up in my desire for the One who lies in YoganidrA on the young, tender Banyan leaf. Your advices to talk me out of my desire, is like piercing me with a spear. Please bring the cool, green, fresh tulsi garland worn by the cowherd Lord, who went after the cows with a cane and played with pots( kudakoothu), in the AyarpAdi. The same Kannan lies in tirukudandhai kshEtram. If I wear it in my thick, soft braids, it will give me some comfort.
629 KaNNan, the slayer of Kamsa, with His bow shaped eyebrows ( karuvilli), and sly, piercing glances, has penetrated my heart and let it become sore and burdened. Wouldn't the Lord take pity on me and at least say ' Fear Not' ? Oh ladies! Without disappointing me, please bring me the vanamAlai that he wears on His chest, so that I can wear them and get comforted.
630 Who is there to console and give relief to me? KaNNan raided the AyarpAdi homes and enjoyed the loot. This dark young bull (kAr yEr) keeps me suffering and depressed (uzhakku uzhakkundu). If I get to drink the nectar from His Divine lips, it can revitalize me.
631 He will not show up even if I cried or prayed! He will not even comfort me or reassure me. My thoughts are full of memories of Kannan embracing and engulfing me. Kannan wears the peacock feather on his crown and goes behind the cows to graze them, playing the flute. Oh ladies, please collect the droplets of water that is sprayed in the holes of his flute, as he plays it , and spray it on my face.
632 ANDAL, in her depressed state of mind, sees the world as being unjust and devoid of respectability.  This unfair, heartless son of Nandagopan,  Kannan, is none other than tirumAl! Here I am, stricken and suffering like the horse-shoe (kulappu), that takes the beating.., and drained of energy required to even turn around. If you bring the Divine dust from the tiruvadi of the Lord,(whon has not kept His word to unite with me, and hence a liar), and smear it on me, it will help me retain my soul.
633 The whole world submits and obeys (meemeedhu) the rules laid by the One who has Garuda on His flag. But Mother Yashodha brought him up to become useless like the neem fruit( vEmbu).
(ANDAL,  now accuses Yashodha of being the reason for Krishna's behavior! He is tormenting ANDAL and other AyarpAdi girls,  because,  Yashodha was not strict with him and allowed him to be a tormentor)
I grew up with sole intent of uniting with Him. Please bind me up with Him , such that He holds me in a tight embrace.
634 The stone hearted gOvardanan has stolen my heart and left me hollow and lifeless. He doesn't even bother to see if I'm alive or not. Totally losing control of herself and helpless, she claims that unless she unites with Him, she could not get rid of her suffering.
635 I can rest in peace only if I can be of service( kuRReval) to Govindan. If I cannot perform the services in this birth, any amount of austerities I may undertake henceforth, can be of no use. Either I need to be accepted by Him and given a place in His vakshasthalam or He should tell me straight on my face that he has rejected me. Even this would be acceptable to me.
PHALASRUTHI
636 Those who recite these pasurams, sung passionately by ANDAL, whose eyebrows are like bows, and who is the daughter of Periyazhwar of SrivilliputtUr,  on Kannan  who tormented the girls of AyarpAdi,  and who was celebrated as the divine lamp of the AyarpAdi clan, shall not suffer the misery of samsAra.
NACHCHIYAR TIRUMOZHI 14
PASURAMS –637 TO 646
*paTTi mEyndOr*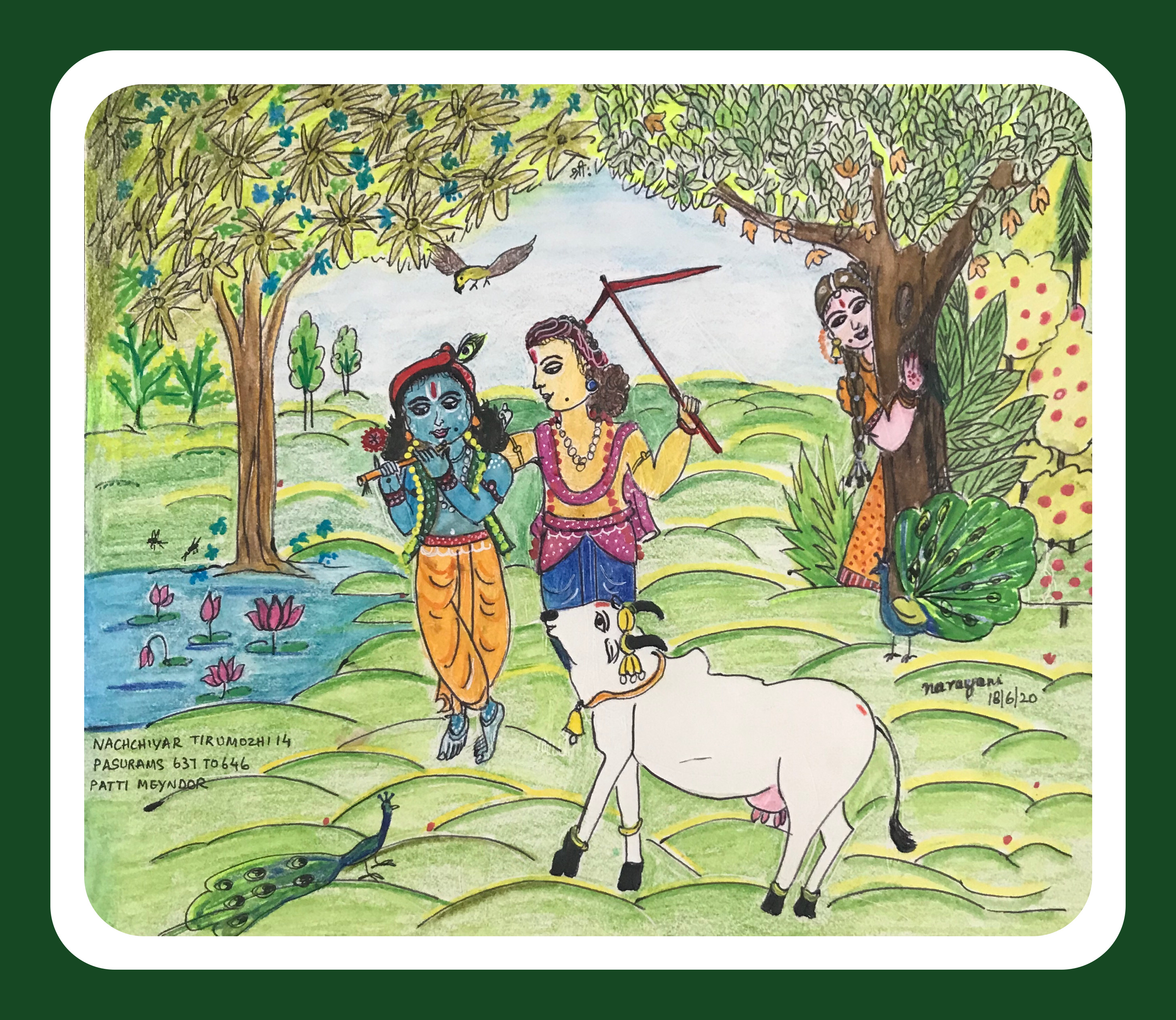 Finally ANDAL gets glimpses of kaNNan roaming in bRundAvan with his friends. She confirms this anubhavam from her friendly gopis.
 In first part of every pAsuram, ANDAL's paramabhakti results in search for kaNNan, describing HIM!
The second part is response from gopis who are experiencing the pEranubhavam of attaining kaNNan, as described by ANDAL.
The gOpis respond saying – virundAvanattE kanDOmE"- "Yes! We saw HIM in brundAvan".
637 ANDAL ASKS– Have you seen the acts (ingE pOdakkaNDIrE) of the dark hued bull (kAr endru), One who is willingly subservient to brother balarAma, playing to HIS heart's content with His friends(iTTIRu iTTu viLayAdi) ?
 GOPIS RESPOND —Yes! In bRundAvan, HE is seen tending to every cow dear to him , calling them by their names(inidu maRittu), providing them with water and teaching the calves how to drink(nIr ooTTi). *virundAvanattE kaNDOmE!*
638 🌷A young proud bull( kuTTERRai),who always smells of butter,( which I wish to experience), affectionately tends to the cattle, abducting the hearts of gopis in AyarpAdi,has left me pining for HIM( anuNga ennai piriviu seydu). Did you see this gOvardhanan anywhere?
 🌷Oh yes! Wearing the shining vanamAlA (vanamAlai miNuNga ninRu)which resembles lightning among the clouds, putting HIS arms around the shoulders of thousands of friends (gaNaNgalOdu), HE is playing with HIS sakhAs, in bRundAvan. virundAvanattE kaNDOmE!*
639 🌷HE is the embodiment of love(mAlAy), with all the kalyANagunAs, eminent among men (nambi), the only ONE who can rule over me(maNAlanai) and utters innumerable unrelated lies, did you see this liar kaNNan anywhere?
🌷Yes! We got the opportunity to see Garudan (vinatai siruvan)spreading his wings like an umbrella and protecting kaNNan from hot sun rays. We saw kaNNan playing under the shadow of his wings in bRundAvan. virundAvanattE kaNDOmE!
640.  🌷HIS beautiful enchanting red eyes are like a fully bloomed(kamala kaNN ennum)lotus flower ,which has bound me and I am completely under HIS control( HE being a svatantran). HIS black hued tirumEni attracts onlookers and I have fallen for it. Did you see this Isan kaNNan anywhere?
 🌷Yes! kaNNan is sweating profusely as HE is playing in the hot sun. The small drops of sweat on HIS dark tirumEni, resembles a pearl laden garment( pOrtta muttin kuppAya) spread on a baby elephant. We saw HIM enjoying in bRundAvan. virundAvanaTTE kaNDOmE!
641 🌷 mAdhavan( with Sridevi on his chest) and my gem of beauty(En maNiyinai)whom I had tied in my garment, escaped skillfully from my net of bhakti just like a wild boar escaping from a net laid to catch it. Being svatantran, HE considers us as HIS belongings(Edum onRum koLattArA).HE comes back when we reach the state of paramabhakti. Did you spot HIM anywhere?
 🌷Looking very youthful and handsome in HIS pItAmbaram which is flowing on the ground and HIS dark hued tirumEni resembling water laden clouds, we saw kaNNan walking majestically along the streets of bRundAvan (vIdiyAra varuvAnai). virundAvanattE kaNDOmE!
642  🌷Did you come across the mischievous cowherd boy(kuRumban), who has beautiful eyebrows like that of the sArngam? This beauty of kaNNan does not match(pORuttam illA) HIS nature of cruelty towards my affection!
 🌷In the backdrop of the black mountains , kaNNan's dark hued body(uruvu karidAi), HIS avayavAs seem like a blooming lotus and the shining ornaments resemble the rising sun. We saw HIM with this pleasing appearance in bRundAvan. virindAvanattE kaNDOmE!
643 🌷 kaNNan's heart is dark like HIS hue, as HE troubles those who love HIM , yet HE is complete in all aspects (pORuttam udaya nambi). HE promised never ever to leave me and vanished when I started believing in HIM! Did you see HIM?
 🌷Yes, we saw kaNNan, walking along with a very big group of friends , in bRundAvan, who could not stop admiring HIS beauty or worshipping HIM and WHOSE presence is constantly enjoyed (Ara perugu) . That scene looked like a huge dark cloud surrounded by a constellation of stars (aruthi tArA ganNgaL). virindAvanattE kaNDOmE!*
644 🌷Were you able to get a glimpse of that kaNNan with a beautiful dark tirumEni, holding the white panchajanyam (shankham) in one hand, sudarshana chakram in the other, wearing HIS red garment and one WHO(tirumAlai 0r Rangan) has abundance of mercy(aLi nanguDaya) towards HIS devotees?
🌷Yes, we saw kaNNan in bRundAvan, with HIS fragrance filled beautiful locks of hair (kuzhalgaL) flowing on HIS broad shoulders playing freely and happily, like bees intoxicated after consuming lots of honey from flowers. virindAvanattE kaNDOmE!
645 🌷Through HIS leelA , kaNNan first created Brahma from HIS cool, deep ,large navel (mA malar undi).Residing in the lotus sprouting from HIS navel, HE ordained Brahma to proceed (nAttai paDai enRu)with the rest of the creation. Did you see the blemishless ONE(vimalan) who created the world for the benefit of the jivAs?
 🌷Like an aggressive hunter we saw HIM in bRundAvan, hunting down the rakshasas who were in disguise (dhenukAsuran, kuvalayApeetam, bakAsuran), only to protect HIS children whom HE has created. This is due to HIS quality (gunam) of abundant mercy(* instead of leaving the jeevAs to protect themselves. HE comes to their aid whenever they call HIM with bhakti.) virindAvanattE kaNDOmE!
 *Finally , ANDAL sees her kaNNan in bRundAvan! *
 646 He rushed to relieve the sufferings(due to kAruNyam) of the mighty elephant gajendran (*kaLiRukku aRuL seida*)when it offered a lotus with paramabhakti. Similarly, pining.  to get united with HIM, kOdai suffered a lot and HE ultimately revealed HIMSELF to Her too. HIS paramakArunya gunam toward HIS devotees, is bound to become fruitful with an achAryan as an intermediary. Daughter of viTTuchittan (kOdai), asserts that those who recite these ten pAsurams will enjoy permanent kainkaryam at HIS feet without suffering like HER.
*ANDAL'S UNION WITH LORD RANGANATHA OF SRIRANGAM.*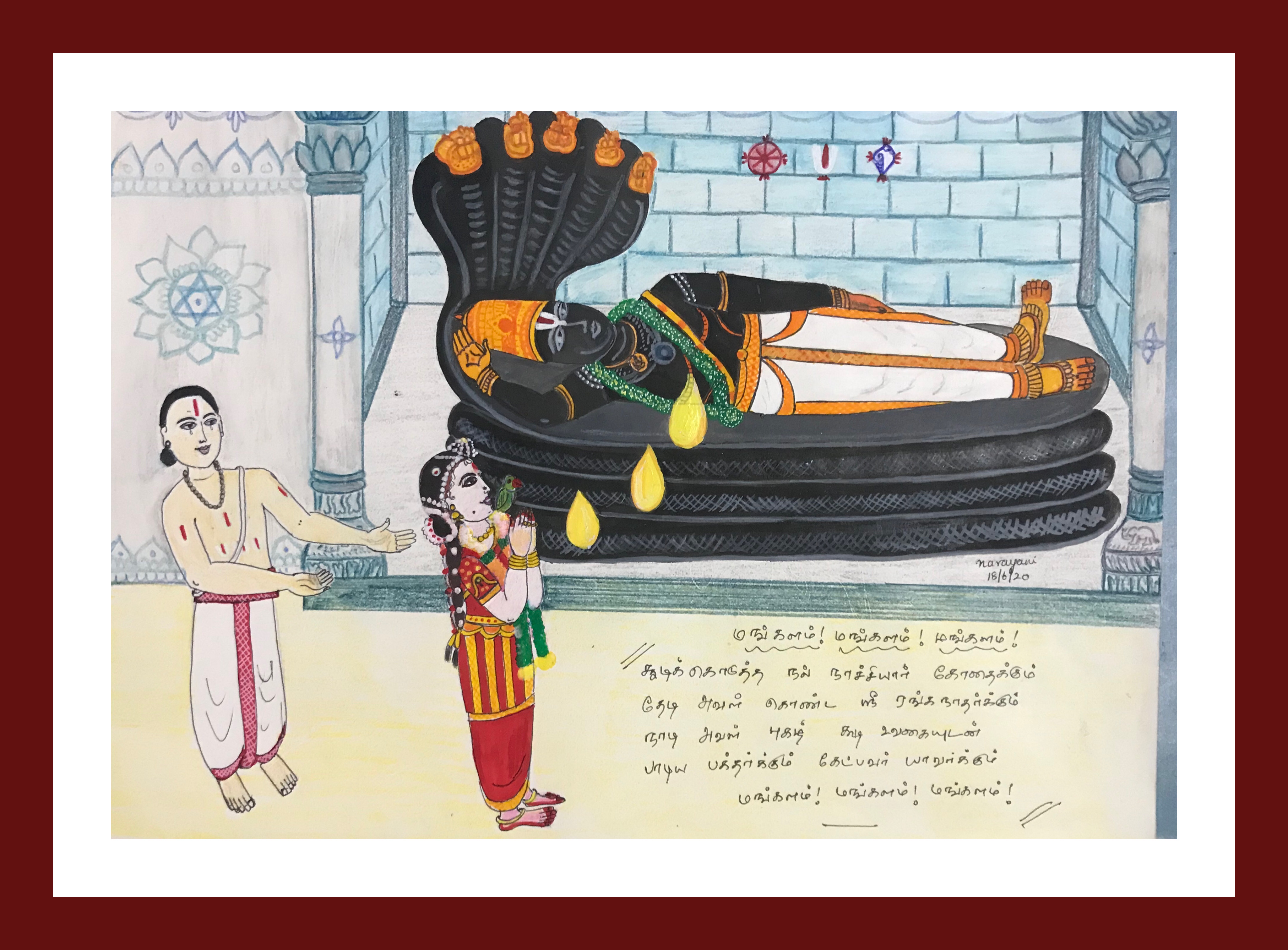 In the last decad of nAchchiyAr tirumOzhi , kaNNan, realising the paramabhakti of ANDAL reveals Himself to her. Her decision to marry only Sri Ranganathan of Srirangam, worries Periyazhwar. He prays to the Lord. Namperumal comes in his dream and tells periyazhwar to accompany ANDAL to Srirangam with all wedding gifts (streedhan) as HE desires to marry her. Accordingly , the Lord also instructed the archagar in Srirangam temple. PeriyAzhwar accompanies his beautiful daughter and they reach the Srirangam temple. Longing to get united with the Lord, on stepping into the garbha Graham(inner sanctum) of the temple, ANDAL merges with Lord Ranganathan(mUla mUrthy), before the marriage. Though PeriyAzhwar is extremely awestruck and happy at this sight, he pleads to the Lord that He wishes to see ANDAL getting married in the traditional way. Abiding to his request, namperumAL (as RangamannAr) proceeds to SrivilliputtUr and gets married to ANDAL(kOdai nAchchiyAr) in the ceremonial way in the presence of PeriyaAzhwar and Garudan.
Let us for ever sing the praises of our kOdai nAchchiyAr who had tuLasi as her mother, Shree PeriyAzhvAr as her father and AchAryan, Shree RanganAthan as her consort and Shri RAmAnujan as her brother.
ANDAL TIRUVADIGALE SHARANAM